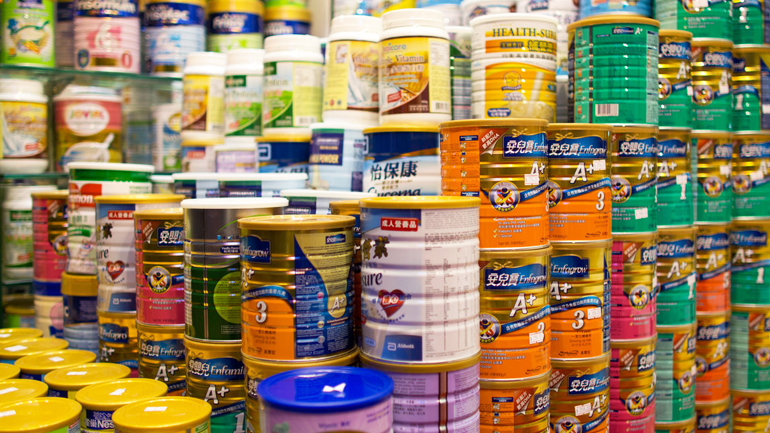 Asian consumers determined to improve their lifestyle are boosting the fortunes of Australian producers of premium baby milk formula, vitamins and honey, as the region's burgeoning middle class jumps on the health food bandwagon.
决意改善生活方式的亚洲消费者正在给澳大利亚婴儿配方奶粉、维生素和蜂蜜生产商带来巨大利润,因为亚洲迅速扩大的中产阶级掀起了健康食品热潮。
With their expanding wallets, middle class consumers are fueling a sharp increase in sales of high-quality products from Down Under, sending the profits and share prices of health foods companies – particularly producers of infant milk formula – into unprecedented territory.
随着钱包的鼓胀,中产阶级消费者推动了澳大利亚高品质商品销量的急剧增长,把健康食品企业——尤其是婴儿配方奶粉企业——的利润和股价推向了前所未有的高度。
"You've had almost three decades of incredible GDP growth in China and that has brought a huge amount of spending power to the Chinese consumer," IG Markets' analyst Angus Nicholson said. "And given the fact that there has been some questions around – particularly food, health and medical products – in China, there has been an increase in demand for foreign, top-quality brands."
IG市场经纪公司分析师安格斯·尼克尔森说:"中国国内生产总值已经出现了近30年的惊人增长,给中国消费者带来了巨大的消费力。"尼克尔森说:"鉴于在中国有许多问题——尤其是食品、卫生和医疗产品——对于外国高品质品牌产品的需求越来越多。"
The growth is being described as a shift from "mining to dining" as Australia transitions away from supplying China with key metals such as iron ore and coal towards feeding Asia's consumption boom. While much of the focus has been on soft commodities like beef and dairy, smaller Australian-listed firms that produce infant milk powder, vitamin supplements and honey are also benefiting from the increased appetite.
这一增长被描述为从"矿产到餐饮"的转变,因为澳大利亚从向中国提供铁矿石等重要金属和煤炭转向了满足亚洲的消费热潮。尽管大部分注意力都集中在牛肉和乳制品等软商品上,但产生婴儿奶粉、维生素补充剂和蜂蜜的澳大利亚小企业也从中国日益加大的需求中获益。
Supplements maker Blackmores last year had the Australian stock market's highest share price, jumping 534.03 per cent to A$217.98. Its net profit for the six months to end-December soared 160 per cent compared to the previous period, driven by sales to Chinese consumers, which made up 40 per cent of revenue. Bellamy's Australia, whose organic baby milk powder is nicknamed "white gold", saw its share price leap more than 700 per cent last year as its net profit spiked by 325 per cent in the second half. Rival formula producer a2 Milk Company is also enjoying strong demand. A firm tapping into the growing Asian craze for honey is Australia's largest producer Capilano, which recorded a 52.9 per cent surge in 2015 second-half net profit.
澳大利亚保健品公司澳佳宝去年股价高居澳大利亚股市之首,涨到217.98澳元,涨幅为534.03%。在中国消费者的购买力推动下,该公司下半年的净利润同比增长160%,而中国消费者占其总收入的40%。贝拉米澳洲公司去年股价飙升幅度超过700%,下半年净利润暴涨325%,该公司的有机婴儿奶粉被戏称为"百黄金"。该公司对手a2牛奶公司也从强劲的需求中获益。澳大利亚最大的蜂蜜生产商康蜜乐公司利用了亚洲对蜂蜜越来越强烈的狂热,其2015年下半年净收入暴涨52.9%。
Brands like Bellamy's and a2 are seen as trustworthy by the Chinese as they are sold in Australia's dominant supermarket chains Coles and Woolworths, Benjamin Sun of digital marketing consultancy ThinkChina said. "What they are thinking is if the milk powder is being drunk by Australian babies, it should safe for Chinese babies," Sun said.
提供网络市场咨询的澳大利亚国泰思科公司的本杰明·孙说,像贝拉米和a2这样的品牌被中国人看作是值得信任的,因为它们都在澳大利亚主要的连锁超市Coles和伍尔沃思出售。孙说:"他们的想法是,如果澳大利亚的宝宝喝这些奶粉,那对中国宝宝来说应该是安全的。"
But the baby powders' popularity has overwhelmed the two supermarket giants, which have imposed two or four-tin limits for each purchase. Even souvenir shops that usually stock stuffed toys and sheep skins now make room for formula, propolis and royal jelly supplements – honey products believed to boost health – as well as manuka honey.
但这些奶粉的受欢迎程度压垮了这两大超市巨头,它们不得已规定每次限购两罐或四罐奶粉。甚至连那些通常堆满毛绒玩具和羊皮制品的纪念品商店现在都给配方奶粉、蜂胶和蜂王浆补充剂以及麦卢卡蜂蜜腾出了地方。
The empty racks are the result of a burgeoning grey market where purchasing agents known as "daigou" help Chinese customers secure products in Australia and ship them to China, raking in a tidy profit in the process.
"代购"的大批兴起导致商店货架被一扫而空,他们在澳大利亚为中国消费者购买商品,然后寄回中国,从中赚取大量利润。
There are between 5,000-10,000 daigou – who can range from entrepreneurs to international students – in Australia, Sun estimated, adding they could make an average of A$100,000 each year. Likewise, shipping firms charging some A$5 per kilogram are easily found in suburbs such as Sydney's Burwood and Hurstville, which are popular with Chinese.
孙估算,澳大利亚有大约5000至10000名代购,从企业家到留学生,他们平均年收入可达10万澳元。同样的,在悉尼伯伍德和赫斯特维尔等郊区可以轻松找到快递公司,它们的收费大约为每公斤五澳元,深受中国人欢迎。
Although buying via diagou could see items marked-up by 100 per cent, Chinese customers seem happy to pay up, partly due to the now-relaxed one-child policy, which was introduced some three decades ago.
尽管通过代购购买的商品可能加价100%,但中国消费者还是愿意出这些钱,这在一定程度上是由于大约30年前开始实施的独生子女政策,而这项政策现在已经放松。
"People who were born in the 1980s now have a baby, so what's happening now is not an only child but also an only grandchild," Sun said. "That's the whole family including the grandparents supporting the one kid. That's why we call them one kid with six pockets."
孙说:"出生于20世纪80年代的人现在有了孩子,于是现在的情况不仅是只有一个孩子,而且是只有一个孙子女。包括祖父母和外祖父母在内的整个家庭都围绕一个孩子转。这就是我们所谓的六个钱袋子养一个孩子。"
Peter Barraket, who heads up "Mr Vitamins", a chain of supplements outlets in Sydney, said he noticed Chinese customers' behaviour change over the past two years, with shoppers becoming more organised and brand aware. He is now planning to grow the business by shipping directly to China.
维生素和运动营养产品生产商Vitaco公司销售经理彼得·巴拉基特说,过去两年他注意到了中国消费者的行为变化,他们越来越有组织和品牌意识。他现在正计划通过直邮中国来扩大生意。
A flagship store on Alibaba's business-to-consumer platform Tmall Global is being considered, although Barraket is careful not to market too heavily while stock levels remain low.
巴拉基特正在考虑在阿里巴巴集团旗下的企业对消费者电子商务平台天猫国际上开设旗舰店,但在库存量低的情况下,他又对大力营销持谨慎态度。
"We've only got enough to cater for our current demand," Barraket, Blackmores' former chief financial officer, said. "I'm actually trying to do a deal with a manufacturer for baby powder because once we start to advertise, we want to make sure we've got stock."
曾任澳佳宝公司首席财务官的巴拉基特说:"我们只能满足当前的需求。实际上我正努力与一家婴儿奶粉制造商合作,因为一旦我们开始打广告,我们希望确保有库存。"