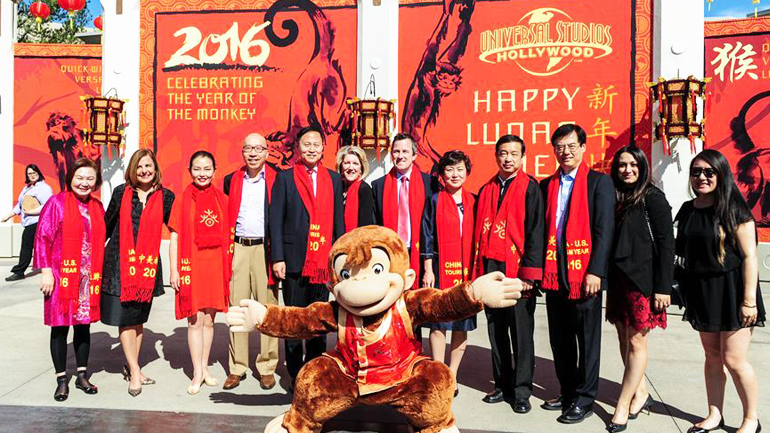 China and the United States launched the US-China Tourism Year 2016 at a ceremony in Beijing on Monday.
2016"中美旅游年"活动29日在北京开幕。
The tourism year was announced by President Xi Jinping and US President Barack Obama during Xi's state visit to the United States in September.
旅游年活动是去年9月中国国家主席习近平在访问美国时,和美国总统奥巴马共同提出的。
It aims to increase travel and tourism between the countries by enhancing the travel experience, increasing travelers' cultural understanding and expanding the appreciation of natural landscapes.
中美旅游年的设立,旨在通过提升旅游的整体体验,增进双方文化了解,促进对自然资源的欣赏和保护意识,进一步加强两国在旅游领域的交往,并以此促进两国间旅游贸易。
Li Jinzao, chairman of the China National Tourism Administration, passed on Xi's wish to see more Americans in China.
中国国家旅游局局长李金早传达了习近平主席希望更多美国人来中国旅游的愿望。
"The shortest direct flight between China and the US takes 11 hours while the longest takes 16 hours. The Pacific Ocean does not prevent people from visiting each other," Li said. "In 2015, total bilateral visits surpassed 4.75 million. We hope the number will surpass 5 million this year."
他说,"中美两国之间时间最短的航班需要11小时,最长的需要16小时。宽广的太平洋并未阻拦住我们两国人民相识相知。2015年,双边旅游人数超过了475万次,我们期待2016年能突破500万次。"
Major events scheduled include one with 1,000 American tourists visiting the Great Wall, to be held at the wall's Jinshanling section in Hebei province on March 25; a tourism promotion in the US titled Beautiful China-Maritime Silk Road; a high-level China-US dialogue on tourism to be held in northwestern China's Ningxia autonomous region; and a grand closing ceremony at the end of the year.
旅游年活动还包括一些其它的项目,如将于3月25日在河北金山岭长城举办的"千名美国游客游长城"活动;将在美国举办的美丽中国—海上丝绸之路旅游推广活动;中美双方还将在中国"塞上江南"西北宁夏自治区举行旅游高层对话,以及在年底举办盛大的闭幕仪式。
China has become the fourth-largest source of foreign tourists for the US and is expected to become the largest by 2020.
中国已经是美国的第四大国际游客来源地,到2020年,将有望成为第一大来源地。
Wu Xi, deputy chief of mission at the Chinese Embassy in Washington, said tourism is a good way to improve mutual understanding and trust.
中国驻美大使馆副馆长吴曦表示,旅游是增进双方相互理解相互信任的一种非常好的方式。
"Tourism is an important carrier to boost people-to-people exchange between China and the US," Wu said at a news briefing at the embassy on Feb 26 ahead of the grand opening ceremony scheduled on Monday in Beijing to mark the 2016 US-China Tourism Year.
在北京2月29日举行盛大的开幕式之前,2月26日,中国驻美大使馆召开了新闻发布会,吴曦在会上说,"旅游是促进中美国两国人文交流的重要载体。"
"It's an effective way to deepen the understanding and friendship between the two peoples and an important source to boost bilateral economic and trade cooperation."
"它是深化两国文化交流、增进人民友谊的有效方式,也是促进双边经贸合作的重要源头。"