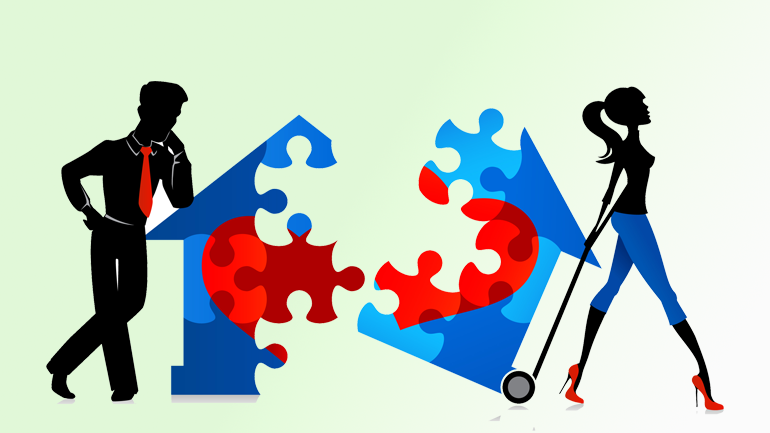 Li An is living happily with his wife again, one year after they applied for divorce following endless quarrels such as who should change the diaper.
昆明:李安一年后与妻子破镜重圆。一年前,他们因为没完没了的争吵(诸如该谁给宝宝换尿布)而申请离婚。
Last year, Li, 28, became dad, but arrival of the baby brought with it many problems, and the couple found themselves always fighting over nothing.
去年,28岁的李当上了爸爸,但是随着宝宝一起到来的还有许多问题,这对夫妻总是为了没必要的事情争吵。
At a civil affairs bureau in Dali Bai autonomous prefecture in Southwest China's Yunnan province, a member of staff would not, as they expected, grant them a divorce, but simply handed them a reservation form and told them to come back the next week if they still wanted to go ahead.
在中国西南部云南省大理白族自治州民政局,工作人员不会像人们期望的那样给他们颁发离婚证,而仅仅给他们一个申请表,告诉他们如果下周仍然想离婚,再回民政局。
"The seven days are a grace period," said Wang Zhaowei, head of Dali civil affairs bureau. "Many couples, especially the young, rush irrationally into decisions. They will probably change their mind after they calm down."
"七天是一个宽限期。"大理民政局局长王兆伟说。"很多夫妻,尤其是年轻夫妻,匆忙做出不理性的决定。他们平静下来后,很可能改变主意。"
The divorce rate is rising rapidly. In 2014, 3.6 million Chinese couples broke up, almost double the number from a decade previously. In the past, couples required permission from employers or community committees to divorce, and many put up with their spouses just to avoid public embarrassment.
离婚率近年来迅速飙升。2014年,中国有360万对夫妻离婚,几乎比10年前增长了一倍。过去,夫妻离婚需要获得工作单位和社区委员会的许可,因而很多夫妻为了避免公共尴尬,只好对配偶忍气吞声。
A 2003 regulation on marriage and divorce simplified the divorce procedure and allowed couples to divorce the same day at a cost of 10 yuan (1.53 dollars).
2003年颁布的婚姻和离婚法规简化了离婚程序,当天即允许夫妻离婚,花费仅为10元人民币(1.53美元)。
Reservations and appointments began in Dali on Feb 1, 2015. By the end of last year, 9,571 couples made reservations, but 4,531 of them, 47 percent, did not end up in divorce. In many other cities, similar reservation systems are in place.
大理在2015年2月1日开始实行保留和预约制度。截止到去年年底,有9571对夫妻进行预约离婚,但4531对夫妻(约占47%)最终没有离婚。其他许多城市也准备实行类似的预约体系。
These measures are not without their critics. "It is not proper for governments to put obstacles in front of people wanting a divorce, because Chinese citizens enjoy freedom of marriage," said Nie Aiping of Jiangxi Academy of Social Sciences. He suggests that interventions should be conducted by an impartial organization.
但这样的方式也引来了一些批评。"政府给想要离婚的人设置障碍的方式是不妥的,因为中国公民享受婚姻自由。"江西社科院的聂爱平说。他建议应由一个公正的组织来实行相关干预。
Liu Min in East China's Anhui province has been a divorce attorney for years. She believes that not all broken marriages can be repaired, because the causes of divorce vary.
中国东部安徽省的刘敏多年来一直从事离婚律师职业。她认为并不是所有破碎的婚姻都能够修复,因为导致离婚的原因各不相同。
"In the past people wanted to divorce mostly because of domestic violence and affairs, now it is increasingly common among young couples to separate after trivial disputes or interference of their parents," she said.
"过去人们离婚主要由于家庭暴力和风流韵事,现在年轻夫妻由于小事争吵或父母干预而离婚变得越来越普遍。
Most people born in the 1980s and 1990s are only children whose parents tend to interfere too much in their lives, Liu said. What's more, unlike their parents, they attach more importance to individuality and the quality of life.
大部分80后和90后都是独生子女,父母往往喜欢干涉他们的生活,刘说。而且,不像他们的父母,这些年轻人更加关注个性化和生活质量。
For the couples careering into divorce without careful forethought, marriage guidance offices have been set up next to registry offices in Beijing, Chongqing, Shanghai and other provinces. Psychologists are available.
对于那些没有慎重考虑就急着离婚的夫妻,北京、重庆、上海及其他省份均在登记处旁边设立了婚姻指导办公室,有心理学家提供咨询服务。
The registrars who handle dissolutions in Anhui province have been trained to tell whether a marriage can be saved or not, according to their statement and emotional state, according to Gao Jiamei of Anhui Provincial Civil Affairs Department.
安徽省离婚处的登记员接受过培训,能根据夫妻的陈述和情绪状态辨别这段婚姻是否能够被挽救,安徽省民政厅的高佳梅说。
A local government in the provincial capital Hefei has invited professional counselors to work alongside registrars. They help couples calm down and think over their relations, establishing a sense of responsibility leading to a rational choice.
在省会城市合肥,地方政府邀请了专业咨询师在登记处旁边工作。他们帮助夫妻冷静下来,仔细思考他们的关系,建立责任感,引导他们做出理性选择。
"Most couples eager to get divorced choose to postpone their decision after consulting," said Wang Wenjing, secretary-general of Hefei marriage counselors' association.
"大部分急于离婚的夫妻在进行咨询辅导后选择推迟他们的决定。"合肥婚姻顾问协会秘书长王文景说。
But marriage is, after all, deeply personal. To divorce or not, the choice finally lies with the couple themselves.
但婚姻毕竟是和个人紧密相关的。离或者不离,决定权最终在于夫妻本人。
Yang Jing, a native of Wuhu city in Anhui, has been married for five years and has a three-year-old son. She insisted on divorce because she did not have a say in her own family life — her husband's parents lived with them and decided everything for them. She talked with her husband several times, to no avail.
杨静是安徽省芜湖市市民,结婚已五年,有个三岁的儿子。她坚持要离婚,因为在她的家庭生活中她没有发言权—她公公婆婆和他们住在一起,为他们决定所有事情。她和丈夫谈过很多次,根本没用。
"Others may see me as crazy for divorcing a husband who has made no big mistakes," she said. "But I don't want to make do with marriage like this for the rest of my life."
"其他人看到我要跟没犯什么大错的丈夫离婚,可能会觉得我疯了。"她说,"但我不想余生都凑合过这样的婚姻生活。"