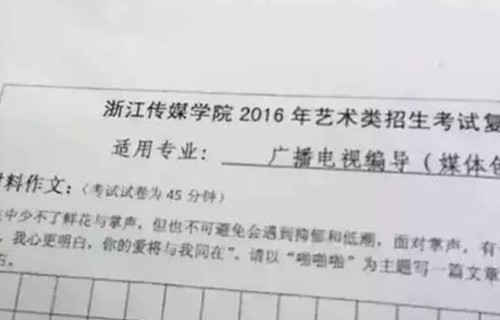 It's hard to keep up with the latest Internet slang.
要跟上最新的网络流行语,恐怕不是一件容易的事。
Take it from test writers at a university in East China's Zhejiang Province, who revealed how apparently unhip they are with an essay prompt that mistakenly used a popular euphemism for "sexual intercourse".
就拿中国东部浙江省某高校的考题来说,显然,这位出题者是跟不上时尚的,他在命题提示中,错误的使用了"性交"的网络流行委婉语。
"There are moments of flowers and applause in life, and there are also moments of depression. When facing applauds … Please write on the topic 'Pa Pa Pa,'" read the essay prompt, uploaded photos showed.
这张图片显示,命题提示语是这样的:"人生中少不了鲜花和掌声,但也不可避免会遇到抑郁和低潮。面对掌声……请以'啪啪啪'为主题写一篇文章。"
Applicants to Zhejiang University of Media and Communications's undergraduate media editor program had a sophomoric giggle over "Pa Pa Pa," which at one time simply represented the sound for "applause" in Chinese.
这个词,在中国一度只是表示鼓掌的声音,现在,浙江传媒学院广播电视编导专业的考生们却对这个"啪啪啪"流露出一知半解的傻笑。
However much like the English word "clap," a different meaning has been attached to the phrase.
尽管它和英语词汇"拍手鼓掌"意思相似,现在"啪啪啪"这个词已经被赋予了全新的含义。
The essay question went viral on social media, where users are well aware that the phrase has come to represent the sound of sexual intercourse.
这个试卷题目迅速在网上刷屏,因为网友们都清楚这个词的新含义。
A prospective student of the university who took the exam said the question caused him to "kind of freak out" when he read it, media reported.
据媒体报道,参加考试的一名考生表示,当他看到这个题目时,第一反应是"太污了,被吓一跳"。
The university has yet to comment.
该高校未对此作出回应。