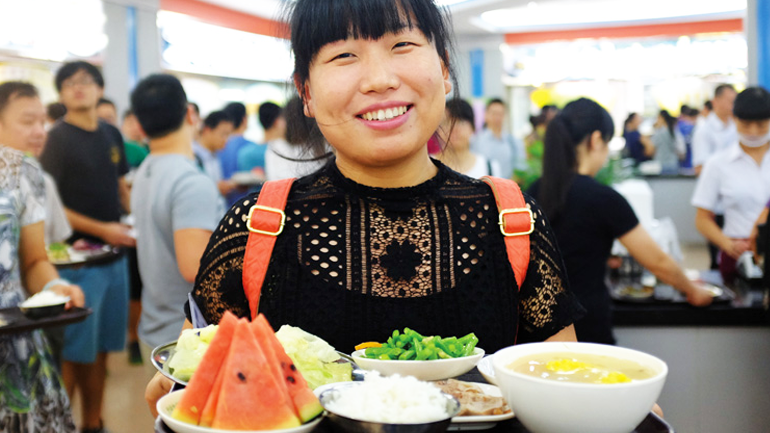 Chinese students in the United Kingdom can now get a "taste of home" in their campus canteens.
在英国的中国留学生,现在终于能在学校食堂吃到"家乡味"了。
The UK has 150,000 Chinese students, more than 89,000 of them in higher education, and college kitchens are adapting menus to provide authentic Chinese food for these students. In the last week of January, Scott Girvan, executive chef at the University of Glasgow, introduced new dishes more suitable to the Chinese palate.
英国现在有15万中国留学生,其中8.9万以上都是接受高等教育的。大学食堂正在改善伙食以提供正宗的中国菜。一月的最后一周,格拉斯哥大学的行政总厨斯科特格文,推出了更适合中国口味的新菜系。
"Before, it was a case of 'here's some sweet and sour chicken and that'll be great'," said Girvan. "It was a bit embarrassing." But Girvan had something of an epiphany into the eating habits of international students during a fact-finding mission to China.
格文说"以前,是这样的情况:'我们这里有糖醋鸡,非常不错。'其实,有一点尴尬。"不过,对中国进行实况调研后,格文对国际学生的饮食习惯有了一些新的感悟。
The 11-day trip in September was organized by The University Caterers Organisation after its research found that menu changes were needed to accommodate campuses' changing demographics. Fourteen TUCO members visited Beijing, Guangzhou, Shenzhen and Hong Kong and learned that Chinese food varies by region, and that offering menu choices from both the north and south of China was crucial. At Peking University's Nong Yuan canteen, for example, over 350 different dishes are prepared daily and 47,000 lunches served.
在调查中发现,改善食堂的菜单以满足校园内日益增多的中国留学生的饮食需求是非常必要的。于是大学备办食物组织在9月份进行了为期11天的探索旅行。14名TUCO成员访问了北京、广州、深圳、香港等城市,了解到中国的饮食习惯因区域不同而千差万别,为中国南方和北方人提供不同的菜单选择非常重要。比如北京大学的农园餐厅,每天要准备350多种不一样的菜式,以及4.7万份午餐。
Inspired and enlightened by the Chinese food, Girvan and other TUCO colleagues returned home to implement the lessons they had learned.
受中国食物的触动和启发,格文和其他同事返回英国后,决定实践他们所吸取的经验。
Peter Griffiths, president of the British Culinary Federation, said: "Asian-influenced food has become more popular over the last several years. Standards have had to move in the right direction to pacify and meet people's expectations. Without doubt, more authenticity and quality of produce prepared correctly can only increase demand and sales."
英国烹饪联合会会长彼得格里菲思表示,"亚洲风味美食在过去几年中变得越来越受青睐。标准曾一度向正确的方向迈进,以安抚和满足人们的期望。毫无疑问,通过正确的方式加工出来的更加货真价实的产品,一定会增加市场需求和销量。"
Girvan said he's confident this will be the case. Dishes now being prepared include chicken and ginger, salt and chili ribs and steamed mackerel.
格文表示他对这点很有信心。现在正在准备着的菜肴包括生姜炒鸡、香辣排骨和清蒸鲭鱼。