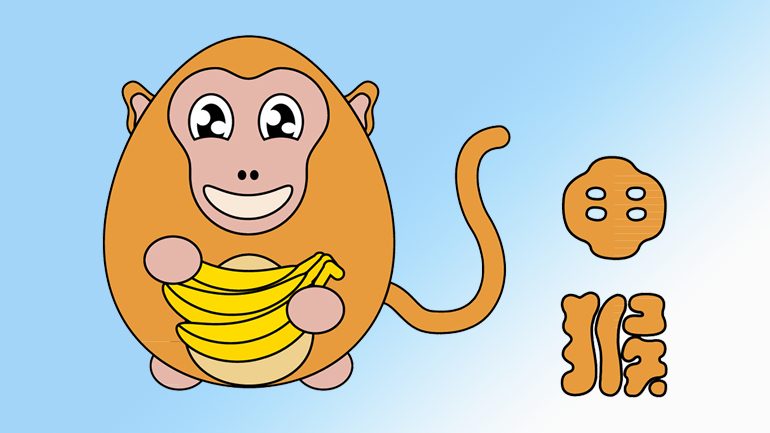 The leading characteristic that best describes the Monkey personality is a spirit of innovation, best evoked in the West by Renaissance artist Leonardo da Vinci who was born in a Monkey year.
属猴人的主要性格特征可被恰当地描述为一种创新精神,这一点在猴年出生的西方文艺复兴时期的艺术家列奥纳多·达芬奇身上充分地展示了出来。
Extremely curious and thirsty for knowledge, Monkeys are never happier than when absorbing facts and information and, possessed of a near photographic memory, usually retain all that they have learned.
对知识的好奇心和求知欲,使得属猴的人认为,最快乐的事莫过于汲取真理和信息同时还拥有一个过目不忘的记忆力,从而都能记住他们所学到的知识。
Bored with mundane, day-to-day details, they are love confronting a challenging problem that calls upon their considerable genius.
属猴的人对世俗的日常琐事感到厌烦,他们喜欢面对一个具有挑战性的问题,因为这样能够激发他们的非凡天分。
Famous people born in the Year of the Monkey: Julius Caesar, Daniel Craig, Bette Davis, Jake Gyllenhaal, Eleanor Roosevelt, Betsy Ross, Diana Ross, Will Smith, Elizabeth Taylor, Harry S. Truman, and Leonardo da Vinci
在猴年出生的名人:尤利乌斯•凯撒、丹尼尔•克雷格、贝蒂·戴维斯、杰克•吉伦哈尔、埃利诺•罗斯福、贝特西•罗斯、戴安娜•罗斯、威尔•史密斯、伊丽莎白•泰勒、哈里•S•杜鲁门和列奥纳多•达芬奇。