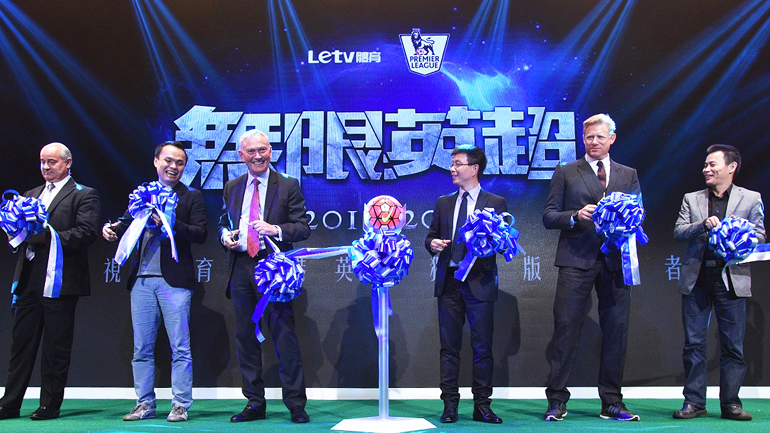 A huge bet by Li Ruigang, a Chinese tycoon, on Chinese Super League football broadcast rights appears to have paid off after the broadcast company he heads resold a portion of them this week at an apparent profit.
中国传媒大亨黎瑞刚高价买下中国足球超级联赛转播权的豪赌似乎已见成效。他执掌的公司本周转售一部分转播权,斩获可观利润。
Mr Li's China Media Capital and subsidiary Ti'ao Dongli were widely thought to have paid far over the odds in their Rmb8bn purchase of the five-year broadcast rights to China's most prestigious football league last October. The deal is made up of Rmb2bn for the first two years and Rmb6bn for the next three, according to CMC.
黎瑞刚的华人文化产业投资基金与旗下体奥动力去年10月以80亿元人民币买下中国最负盛名足球联赛的五年转播权,人们曾普遍认为他买贵了。据华人文化产业投资基金介绍,这笔交易由头两年的20亿元人民币和之后三年的60亿元人民币组成。
But on Tuesday LeEco, the upstart online video company with a number of hit shows on its LeTV platform, announced it had paid Rmb2.7bn for the first two years, demonstrating that faith in Chinese football continues to grow at the heart of the business establishment.
但在23日,网络视频新贵、在其乐视平台上有多档热门节目的乐视全生态宣布,已斥资27亿元人民币购买头两年的新媒体独家转播权,表明商界核心对中国足球的信心有增无减。
The confluence of money, politics and sport has for the time being created a virtuous cycle of rapidly escalating value across the industry. Chinese clubs have been racing to snap up top players from Europe and Latin America to attract fans and win games.
眼下而言,金钱、政治和体育融合,形成一个良性循环,推动整个行业的价值扶摇直上。中国各俱乐部竞相从欧洲和拉丁美洲招募优秀球员,以吸引球迷和赢得比赛。
"You have to give a lot of credit to Ti'ao Dongli and CMC, whose massive cash injection into club coffers has sparked much of the spending spree," said Mark Dreyer, who runs Chinasportsinsider.com, a sports blog. Lei Zhen Jian, chief executive of LeTV's sports broadcasting arm, said: "The CSL has great potential and this will aim to amplify the effect of the CSL."
"你得肯定体奥动力和华人文化产业投资基金的作用,他们的巨额注资使俱乐部财源充足,催生了当前很大一部分支出热潮,"体育博客网站Chinasportsinsider.com的掌门人马克·德雷尔表示。乐视体育首席执行官雷振剑表示:"中超具有巨大潜力,而此举将力求放大中超的影响。"
However, Cameron Wilson, founding editor of Wild East Football blog, said "the key here is how much of this TV rights money actually ends up with the clubs".
不过,博客网站Wild East Football的创始主编卡梅伦·威尔逊表示,"这里的关键在于,这些电视转播权资金最终有多少落到俱乐部手里。"
LeTV is primarily an online video portal that also produces a dedicated line of smart TVs and smartphones which stream its broadcasts. At a press conference on Tuesday the company was vague on its plans to recoup its investment, saying only that it planned to charge viewers. "Paid content is the future of high-quality sports programming," said Yu Hang, vice-president of strategic co-operation.
乐视主要是一个在线视频门户网站,它还制造一系列专用智能电视和智能手机,能够对它的广播内容进行流传送。在23日举行的一个新闻发布会上,该公司对于其计划如何收回投资语焉不详,只表示它计划对观众收费。"收费内容是优质体育节目的未来,"乐视体育战略合作事务副总裁于航表示。
LeTV Sports broadcasts about 4,000 events every year, but until now has lacked the rights to any of the most prestigious games. Last year it failed in its bid to acquire the Super League rights because it lacked enough production experience.
乐视体育每年广播大约4000场比赛,但此前缺乏转播最负盛名的赛事的权利。去年该公司竞标中超联赛转播权落败,因为它缺乏足够的制作经验。
Mr Li says his bet on football will pay off. The figure CMC paid for the rights in October took industry insiders by surprise, given that TV rights for the 2015 season cost only Rmb80m. Mr Li bid more than twice what the runner-up bidders offered.
黎瑞刚表示,他对足球的押注将带来回报。华人文化产业投资基金去年10月为转播权支付的巨大金额让业内人士感到意外,尤其是因为2015年赛季电视转播权的价码只有8000万元人民币。黎瑞刚的出价是报价第二高对手的两倍多。
"The only question anyone was asking," said Mr Dreyer, "was how on earth can they expect to make money from this? Just a few months later it seems they are well on course to doing so."
"当时人们在问的唯一问题是,"德雷尔表示,"他们到底期望怎么从这笔投资赚钱?短短几个月后,看起来他们在这方面进展不错。"