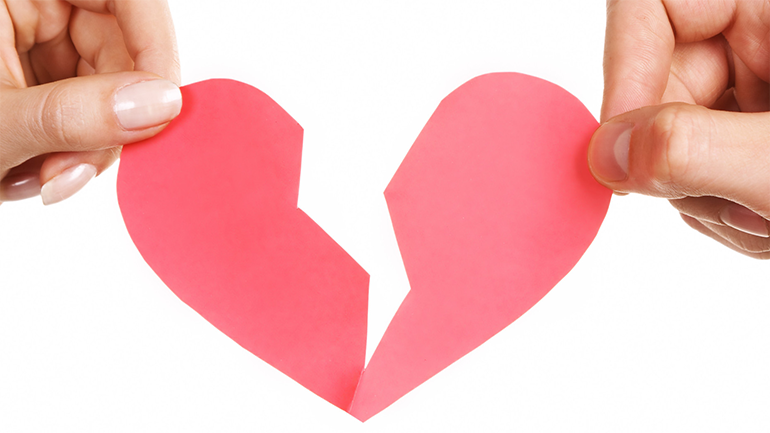 The "seven-year itch" has turned into a "five-year itch" among Chinese couple who stand to experience a marriage crisis between three and five years after tying the knot, Beijing News reports, citing a recent marriage report. The "seven-year itch" is the psychological theory that happiness in couples starts to deteriorate after seven years together, increasing the chances of a break-up.
最新一项婚恋报告显示,夫妻结婚三到五年开始出现婚姻危机,婚姻由之前的"七年之痒"变为"五年之痒"。"七年之痒"是一种心理学理论,指夫妻关系在一起生活七年后开始变差,甚至增加离婚的风险。
Couples who have been married for three to five years are the least happy, with 11.1 percent saying they would not stay with one another in the next life while another 8.9 percent say they would not consider marriage at all, according to "Chinese marriage status report in 2015."
根据2015年中国人婚姻状况报告,结婚三到五年的夫妇是幸福指数最低的;11.1%的人表示不愿意和伴侣厮守一生;8.9%的人表示根本不想考虑结婚。
The study, jointly released by Peking University and Baihe Marriage Research Institute, found that women, especially those who have kids, feel more pressure and less happy than men, for they have to work, take care of children and the elderly, buy groceries and do the cooking as well as most household chores.
这项调查由北京大学和百合婚恋网共同发布,调查显示,女性,尤其是有孩子的妇女比男性更感到压力,她们必须得内外兼顾,又要工作又要照顾孩子和老人,还需要操持家务。
Extra-marital relationships have equally occurred among men and women, accounting for 20 percent each, with nearly 10 percent of surveyed couples admitting that both have had relationships outside marriage.
婚外恋在男性中发生比例和女性一样高,各占20%,调查中近10%的夫妇承认彼此都有过婚外恋。
Zhou Xiaopeng, president of Baihe Marriage Research Institute, said the "itch" indicates that couples are more demanding in marriage than before and the costs for extra-marital relationships or a divorce are becoming increasingly lower so that many now seek a "replacement" rather than "fixing the problems" as a solution.
周晓鹏,百合婚恋网首席,说道,"痒"表明夫妻双方对婚姻更加苛刻,而寻找婚外恋和离婚的成本比以前大大降低,很多人宁可寻找一种"替代人"作为解决方法,也不针对"自身问题"来解决婚姻危机。
The two-month survey, conducted both online and offline, collected nearly 80,000 effective samples, covering respondents in 31 provinces, municipalities and autonomous regions, as well as Hong Kong, Macao and Taiwan.
这项调查持续了两个月,调查分为线下和线上,共收集到八万份有效问卷,覆盖了31个省、直辖市和自治区以及香港和澳门地区。