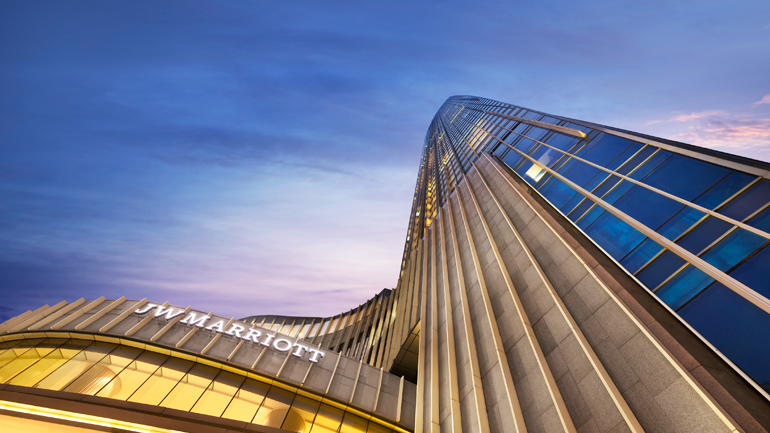 As China's slowing economy is spooking investors world-wide, Marriott International Inc. is doubling down on the country's growing middle class.
在中国经济增长放缓引发全球投资者担忧之际,万豪国际集团却进一步加大了对日益壮大的中国中产阶级消费市场的投资。
The Bethesda, Md.-based lodging giant has struck a deal with a Chinese firm, Eastern Crown Hotels Group, to open at least 100 hotels under Marriott's midtier Fairfield brand in various mainland Chinese cities over five years, according to Marriott officials.
万豪高管称,万豪已与中国企业东呈酒店集团达成一项协议,未来五年将在中国内地多个城市开设至少100家Fairfield连锁酒店。Fairfield是万豪旗下的一个中端品牌。
The hotels will aim to appeal to young Chinese professionals who are starting to travel and looking for affordable accommodations, said Craig Smith, president of the Asia-Pacific region for Marriott.
万豪亚太区总裁史密斯称,酒店将争取吸引那些正开始旅游并寻找实惠住宿的中国年轻游客。
"The middle class are traveling," Mr. Smith said. "You've got these young millennial travelers who are looking for a place to go."
史密斯表示,"中国的中产阶级经常旅游,年轻的中国旅行者正在寻找旅游的好去处。"
In a statement, Cheng Xinhua, the chief executive of Eastern Crown, said the deal would combine "our knowledge of the Chinese consumer and Marriott's quality and expertise," and called it "the beginning of a fruitful collaboration."
东呈酒店集团首席执行长程新华在一则新闻稿中表示,这项合作协议将把东呈对中国消费者的了解与万豪的品质和专业知识相结合,并称"这是一项成功合作的开始"。
Eastern Crown, which is based in Guangzhou, already has more than 700 hotels operating or in development in China and Malaysia. The new Fairfield hotels will have 100 to 150 rooms and will carry the Fairfield logo. The deal calls for a total of 140 hotels to be built, 100 of which are expected to be open by 2021. A handful will be open by year-end, Mr. Smith said.
总部位于广州的东呈酒店集团目前在中国和马来西亚经营或发展700多家酒店。新开始的酒店将设有100-150个房间并使用Fairfield商标。该协议计划新建酒店共140家,其中预计100家将于2021年前开业。史密斯说,一小部分酒店将于年底前开张。
The hotels will be spread throughout China. Some will be in less central locations in Beijing and Shanghai, while others will be in major secondary cities such as Xian and Dalian, according to Mr. Smith. Eastern Crown already operates hotels in some of the cities where the Fairfield properties are planned, he said.
这些酒店将遍布整个中国。据史密斯表示,其中一些酒店将坐落于北京和上海的非中心区域,同时还有一些酒店将落户在西安和大连这样的二线城市。东呈酒店集团已在Fairfield计划入驻的部分城市中运营有酒店。
About 90% of the Fairfield customers are expected to be Chinese, compared with roughly half at an existing Marriott hotel in Beijing or Shanghai, Mr. Smith said.
史密斯表示,预计Fairfield的客人90%为中国消费者,北京或上海现有万豪酒店的中国客人约占客人总数的一半。
Marriott designed the rooms at the new Fairfield hotels, but the hotels will be built by Eastern Crown, which will be able to do the work at a lower cost.
新Fairfield酒店的房间由万豪所设计,但这些酒店的施工方将是东呈酒店集团,因该集团能以较低的成本来完成上述工程。
Eastern Crown also will operate the hotels day-to-day as franchises, which will take advantage of the firm's expertise in how Chinese consumers prefer to book rooms and pay for lodging, he said.
史密斯称,东呈酒店集团还将通过特许形式负责这些酒店的日常运营,由此利用该公司对中国消费者房间预定和住宿费用支付方式的了解。
The deal will allow Eastern Crown customers to use points they accumulate in the company's loyalty program to stay at Marriott properties outside China, according to Marriott.
万豪表示,该协议将允许东呈酒店集团的消费者使用其通过参与会员忠诚度计划积攒的积分入住中国以外地区的万豪酒店。