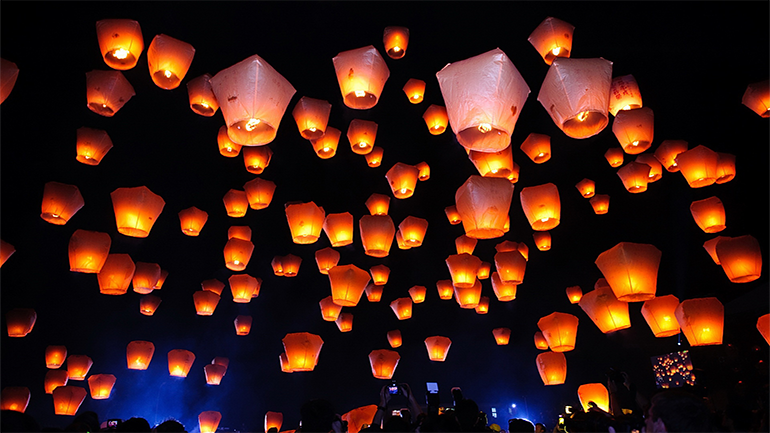 The final day of China's New Year celebrations is the Lantern Festival – the middle of the opening month of the lunar calendar and thus the first full moon of the Chinese year. 
元宵节是中国春节的最后一天,这天是中国农历年正月十五,也是一年中的第一个月圆之日。
The festival, which dates back more than 2,000 years, is marked around China and several parts of the world with celebrations and spectacular displays of light and craftsmanship. It is marked on Monday February 22 in 2016.
元宵节有两千多年的历史,中国和世界各地以华美炫丽的灯展和工艺品庆祝节日。2016年2月22日(星期一)正是元宵节。
The Lantern Festival marks the coming of spring, with the hundreds of lanterns sent up into the sky representing longer daylight hours as well as the light from the full moon. In Ancient China, it served as the equivalent of Valentine's Day in the West. 
元宵节预示着春天的到来,人们放飞孔明灯,祈求日长夜明。在中国古代,这一节日在西方看来是情人节。
It has been celebrated since the days of the Han Dynasty around 2,000 years ago, which culminated with the spread of Buddhism across China. According to legend, Emperor Hangmindi, who ruled around the beginning of the first century, saw that Buddhist monks would light lanterns on the 15th day of the Chinese year to show respect to the Buddha, and ordered that the tradition be repeated in the Imperial Palace. 
元宵节始于两千多年前的汉代,当时,佛教在中国已经达到巅峰。据说,汉明帝看到和尚在正月十五点灯以示对菩萨的敬意,因此下令在宫廷效仿这一做法。
Now the lanterns often symbolise letting go of their owners' past selves as well as symbolise good luck, and Lantern Festival is one of the most important events on the Chinese calendar. 
如今,放孔明灯通常象征忘记过去、祈求好运。元宵节是中国最重要的节日之一。
It was traditionally seen as the "Chinese Valentine's Day", since the celebrations were one of the few days in Imperial China when unmarried ladies were allowed to freely leave the house.  
在中国封建社会,元宵节也被视为"中国的情人节",因为在这一天,未婚女子可以自由出门。
The Lantern Festival is still commercialised as such in Hong Kong, but the festival has lost its romantic connotations in some parts of China, in which "Double Seven Festival" is seen as the Valentine's Day equivalent. 
如今,元宵节已变得商业化,在中国的一些地方失去了它原有的浪漫寓意,因为七夕已替代元宵节成为中国的情人节。
As well as lanterns, the day is celebrated with lion and dragon dances and eating tangyuan – dumplings made of rice flour. The round dumplings are said to symbolise family togetherness. 
除了灯笼,人们舞狮、舞龙、吃汤圆庆祝元宵节。圆圆的汤圆象征家庭团圆。