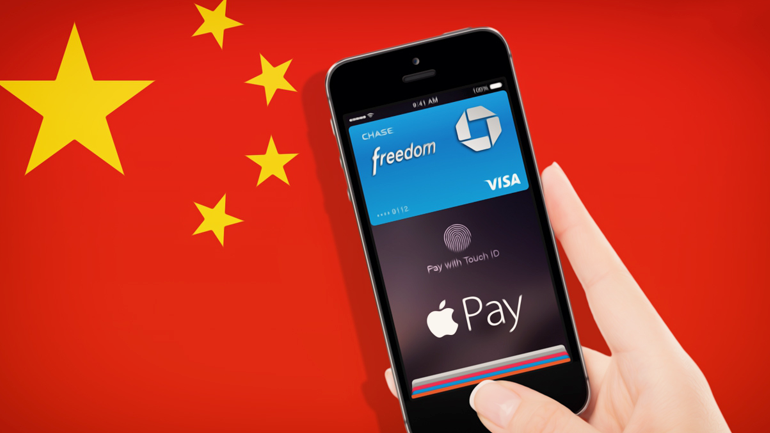 Apple Inc launched its mobile payment system in China on Thursday in a bid to convince the hundreds of millions of users of the country's entrenched, dominant services to switch.
苹果公司18日在中国启动了它的移动支付系统,试图让这个国家根深蒂固、占据主导地位的移动支付服务的数亿用户改弦更张。
"We think China could be our largest Apple Pay market," Jennifer Bailey, vice president of Apple Pay, told Reuters in an interview in Beijing.
苹果支付副总裁珍妮弗·贝利在北京接受路透社采访时说:"我们认为中国可能是我们苹果最大的支付市场。"
In an early boost, China's biggest lender, Industrial and Commercial Bank of China Ltd, was among the banks that said earlier this week that customers would be able to use Apple Pay from 18th.
本周早些时候,包括中国最大的信贷银行——工商银行在内的一些银行表示,从18日起,客户就可以使用苹果支付。
Greater China is Apple's second-largest market by revenue, and the world's biggest smartphone market. By the end of 2015, 358 million people, more than the U.S. population, had already taken to buying goods and services by mobile phone, according to the China Internet Network Information Center. The vast majority are using payment services from China's two biggest Internet companies that have existed for years.
大中华区从收入上说是苹果的第二大市场,也是世界最大的智能手机市场。据中国互联网信息中心提供的数据,到2015年底,有3.58亿人通过手机购买商品和服务,这个数字超过了美国的人口。其中绝大多数使用的是中国两大互联网公司的支付服务,这种支付服务已经推出多年。
Social networking and gaming firm Tencent Holdings Ltd operates WeChat Payment, and e-commerce company Alibaba Group Holding Ltd, through its Internet finance affiliate Ant Financial Services Group, runs Alipay.
社交网络和游戏公司腾讯推出的是微信支付,而电子商务公司阿里巴巴通过它的互联网分公司蚂蚁金服经营着支付宝。
"With 100 percent saturation of local payment systems, no one in China is clamoring for Apple Pay," said one retailer who declined to be named for fear of harming business prospects. "Today, everyone has a local payment option on their phone, so Apple Pay is a solution in need of a problem."
一位怕影响生意而不愿透露姓名的零售商说:"当地支付系统已经百分之百饱和,中国没人吵着嚷着要苹果支付。今天,每个人手机上都有一种当地支付选择,因此苹果支付是急需时的一种解决方案。"
Deeply ingrained in China's Internet, domestic payment services cover much more than ride hailing, food delivery and online shopping. Users can invest in wealth management funds, pay utility bills, send gifts to friends and give to charity.
中国国内的支付服务,深深扎根于互联网,覆盖的远不只是叫车、送饭和网上购物。用户还可以通过这种服务投资理财产品、交水电费、送礼和慈善捐款。
The U.S. firm has 19 of China's biggest lenders as partners. That means 80 percent of China's credit and debit cards are eligible for Apple Pay, usable at about one-third of all locations that accept those cards, Apple's Bailey said.
苹果公司的贝利说,这家美国公司有19家中国银行成为其伙伴,这意味着80%的中国信用卡和借记卡都可以使用苹果支付,接受这些银行卡的所有地方约三分之一可使用苹果支付。
"China UnionPay and our Apple Pay solution has a huge advantage, given the footprint of China UnionPay," she said. "Its merchant acceptance network far exceeds what any of the other mobile platforms have today."
她说:"鉴于中国银联的势力影响,中国银行和我们苹果支付合作有着巨大的优势。其商业网点覆盖范围之广远远超过当前的其他任何一家手机平台。"