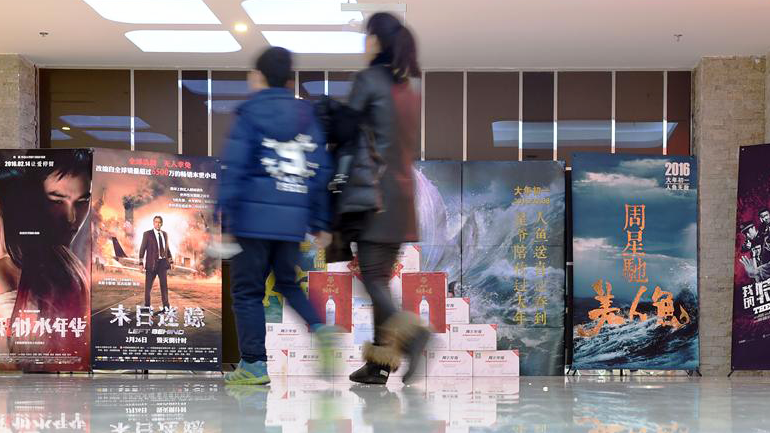 Movie ticket sales in China during the week-long Spring Festival holiday, plus Valentine's Day on Sunday, hit a record high of 3.5 billion yuan, up 87.13 percent from a year earlier.
春节长假和情人节期间,中国票房破纪录达到35亿元,同比去年上涨87.13%。
Stephen Chow's latest comedy, Mermaid, produced by Beijing Enlight Pictures and China Film Group, nabs the country's box office crown with 1.79 billion yuan in receipts by Sunday, according to online ticketing portal Maoyan.
据线上票务门户猫眼统计,由中国电影集团和北京光线传媒有限公司出品,周星驰执导的最新喜剧《美人鱼》,以17.9亿的票房,一夺周日全国票房桂冠。
Blending Chow's brand of humor in a love story, Mermaid has won a warm reception from movie goers since its 270 million yuan opening on Monday. The home-grown movie looks well-positioned to break the record set by Monster Hunt's all-time sales of nearly 1.27 billion yuan at the box office, among other Chinese films.
《美人鱼》融入了周星驰的喜剧风格,周一刚上映,就赢得了影迷的热情追捧,票房高达2.7亿。这部国产电影似乎可以打破《捉妖记》近12.7亿的票房纪录。
The film was trailed by Chow Yun-Fat's The Man From Macau III and The Monkey King 2,starring Aaron Kwok – both are sequels selling 780 million yuan and 750 million yuan in tickets,respectively.
这部电影的票房紧随周润发的《澳门风云3》和郭富城主演的《美猴王2》之后,这两部续集电影的票房分别是7.8亿和7.5亿。
The three contributed to more than 90 percent of the box office during the same period, statistics show.
数据显示,这三部电影占据了同时期票房的90%。
Works Animation's Kung Fu Panda 3 was simply drowned out by the three blockbuster films, with a box office of 200 million yuan during the holiday, bringing its total to 812 million yuan since its debut on Jan 29.
梦工厂出品的《功夫熊猫3》被这三部热座电影盖过了风头,节假期间票房只有2亿,自1月29日上映以来,票房收入共计8.12亿。
China's movie market has been growing fast in recent years. In 2015, the country's box office reached 44 billion yuan, an increase of nearly 50 percent from a year earlier.
近年来,中国电影市场成长迅速。2015年,票房高达440亿元,同比去年上涨近50%。
Media reports say the country is expected to overtake the United States as the world's largest film market in the next two to three years.
媒体报道称,未来两到三年,中国有望取代美国成为世界最大的电影市场。