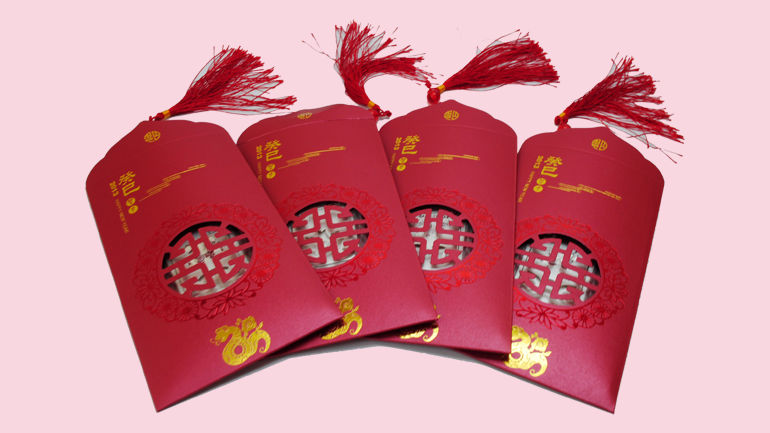 Every year, hundreds of millions around the world celebrate Lunar New Year, sometimes travelling thousands of miles to spend time with their family and friends. In China, this mass migration can cause huge problems – almost 100,000 people were stranded at a train station in southern China this week by heavy snow, for instance.
每年,全世界都有数以亿计的人来欢庆农历新年,他们有时会不远万里,回到家人与朋友身边一起过节。在中国,这种大规模迁移可能会造成巨大的问题——比如这周,约有十万旅客因大雪被滞留在中国南方某火车站。
But Lunar New Year could potentially pose a different kind of issue for employers wishing to partake in the celebrations. It's customary to give "hongbao" — red packets filled with cash — to family, friends, business partners and employees at this time of year, but first you need to know the rules. Scroll below the graphic detailing the big business of Lunar New Year for everything you need to know to not commit a faux pas.
但对于那些希望一起来庆祝春节的雇主来说,这里还存在着另外一个问题。春节有给"红包"的习俗——红包即装着现金的红封包,每年这个时候,会给家人、朋友、商业伙伴和员工发红包,但是首先你得知道发红包的规则。下面我们就来详细说一下有关春节红包你需要知道的一些事情,以免失礼。
It's unwise to give money in odd-number amounts, for starters. That's only done at funerals and considered unlucky for a time of celebration. So stick with even numbers, which are said to offer extra auspicious blessings. Just avoid the number four — the mandarin word for four (si) sounds a lot like the word for death and is also unlucky.
首先,红包金额为单数的话可不太好。只有在葬礼的时候,礼金才为单数,而在这种欢庆时节,这样被认为是不吉利的。所以一定要坚持给偶数金额的红包,这样被认为会带来吉祥和祝福。还要避免"4"这个数字——普通话里"4"的读音听起来和"死"是一样的,也不吉利。
Hongbao literally translates as "red packet". The colour red is considered lucky in Chinese culture. In recent times other hues such as pink and magenta have become popular so it's not a hard-and-fast rule – just be sure to avoid white or black, as they are associated with death and mourning.
按照字面意思,红包就翻译为"红色的封包"。在中国文化里,红色代表着幸运。但最近粉色和洋红也流行起来了,所以说红包的颜色并不是一个不可违逆的规则——只要确保避开白色和黑色就好,因为黑白两色总会和死亡和丧事联系起来。
Take note: it's considered rude and disrespectful to gift old notes. Best practice is to get brand-new ones from the bank. New notes are so popular that it can be hard for banks to keep up — for example, Singapore's Monetary Authority prints 100 million extra $2 banknotes every holiday season to satisfy demand, and the authority has been running a "good as new" campaign since 2013 to take the pressure off.
注意:给旧钞被认为是粗鲁无礼的,最佳做法是从银行里取来崭新的钞票。新钞票十分受欢迎,这就使得银行里难以保存新钞——比如,新加坡金管局每个节日季都会额外印制一亿张两元币值的新钞,以满足群众需求。但从2013年以来,金管局开始举行"如新钞"活动,以此来减轻压力。