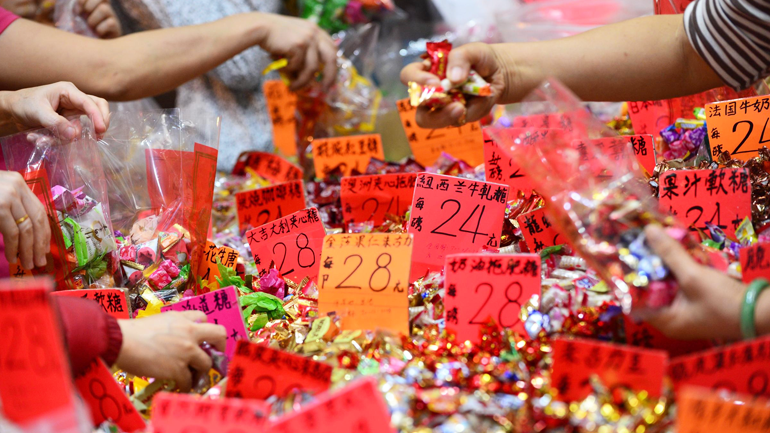 China's central bank is pouring cash into the financial system to make sure the ATM machines don't run dry during the early February Lunar New Year holiday. That's left retailers hoping that consumers will bust out their bank cards and spend away in spite of the darkening economic clouds on the horizon.
中国央行正在向金融系统注入现金,以确保ATM机在2月初的农历新年假期中不会无钱可取。这让该国的零售业者希望消费者不顾遥远地平线上日益昏暗的经济云层,刷爆自己的信用卡,任性花钱。
"We hope sales will be better this Lunar New Year," said a marketing official with Fun² Shopping Mall in the southern city of Shenzhen who gave her surname as Chen. "But we suspect they'll be pretty much the same as last year."
南方城市深圳的欢乐颂购物中心一位姓陈的市场营销人员说:"希望今年春节的销售会有好转。但我们猜想今年的销售状况会跟去年差不多。"
In a bid to boost sales of clothing, shoes and food items, the 90-store Fun² mall operated by state-owned China Resources Ltd. is offering discounts and reducing the minimum amount that customers must spend for a free gift to 100 yuan from last year's 188 yuan.
为了推动服装、鞋类和食品的销售,由华润集团经营的欢乐颂购物中心正在举办打折活动,并把顾客可以免费领取礼物的最低消费额从去年的188元人民币降低到了不足100元。
Retail sales in China have been a rare bright spot as annual growth downshifts to 6.9%, its slowest pace in 25 years, and manufacturing and real estate investment slump. But economists expect consumption to slow this year as layoffs increase and demand weakens. In December, retail sales growth edged down to 11.1% year on year from 11.2% in November.
在年经济增长率降至25年来最低水平的6.9%,且制造业和房地产投资大幅下降之际,中国的零售额始终是一个难得的亮点。但经济学家预计随着裁员增加和需求走软,今年的消费增速将会放缓。去年12月,中国的社会消费品零售总额同比仅增长11.1%,略低于去年11月的11.2%。
Gao Jie, a 34-year old salesman working in Beijing, said he expects to spend 10,000 yuan welcoming in the Year of the Monkey, about the same as last year. Roughly one-third will be spent on restaurants and special food in his hometown in Hebei province. Some people this time of year try and avoid situations where they'll have to spend, which helps their wallet, if not the economy. Migrant worker Li Li, age 32, decided not to go home to central Hubei province last October after losing his job "so I won't have to hand out all the hongbao at Lunar New Year," he said.
在北京工作的34岁销售人员高杰说,他预计会花1万元来迎接猴年春节,金额与去年差不多。他表示,其中约三分之一将用于在河北老家上餐馆吃饭和采购副食。在一年中的这个时候,有些人会试图避开那些不得不花钱的场合,这将有利于保护他们的钱包,尽管并不利于经济。32岁的农民工李力去年10月丢掉了工作,他决定不回位于华中地区的湖北老家。他说:"这样我就不必在春节送出各种红包了。"
Others tell their parents they're busy in order to minimize the time at home with its obligatory cash outflows. There's even a term for those who dread going home for the holidays either because they'll spend too much, expect a grilling on their marital plans or face other anxieties; they're known as the kongguizu, or "those who fear returning home."
其他人则告诉父母自己很忙,以便把在老家停留并承担现金花销义务的时间降至最短。甚至专门有一个词来形容那些因为害怕花钱太多、父母逼婚或面对其他焦虑而不愿回家过节的人,他们被称为"恐归族"。
In a bid to keep enough cash rolling through the economy, the central bank has injected some 1.5 trillion yuan into the banking system in recent weeks, with more expected before this year's February 7-13 holiday.
为了保证有足够的现金在经济中流动,中国央行近几周已向银行系统注入了约1.5万亿元,预计在今年2月7日至13日的农历新年假期之前还会注入更多现金。