Certain dishes are eaten during the Chinese New Year for their symbolic meaning. Lucky food is served during the 16-day festival season, especially New Year's Eve, which is believed to bring good luck for the coming year. The auspicious symbolism of these foods is based on their pronunciations or appearance.
春节期间的一些食物具有象征意义。吉祥菜在16天的春节假期里很常见,尤其是在除夕,人们认为吉祥菜能为新年带来好运。这些菜的吉祥含义依据其发音或外观。
1. Fish 鱼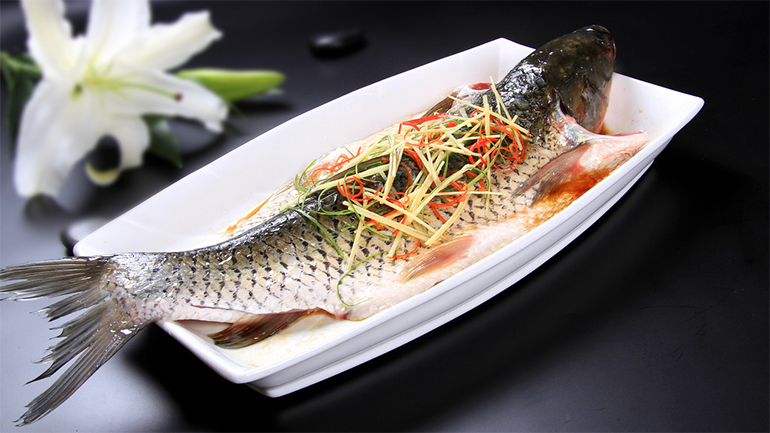 In Chinese, "fish" sounds like 'surplus'. Chinese people always like to have a surplus at the end of the year, because they think if they have managed to save something at the end of the year, then they can make more in the next year.
中文里,"鱼"与"余"同音。中国人喜欢年终有余,所有结余,来年就可以赚更多的钱。
Lucky Sayings for Eating Fish
年年有余 (Niánnián yǒu yú): May you always have more than you need!
鱼跃龙门 (Yú yuè lóngmén): Success in your exam! ('A fish leaping over the dragon gate' implies successfully passing a competitive examination.)
2. Chinese Dumplings 饺子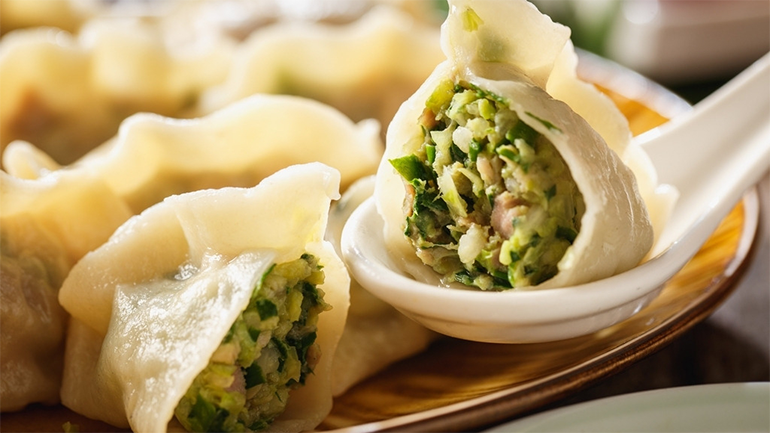 With a history of more than 1,800 years, dumplings are a classic Chinese food, and a traditional dish eaten on Chinese New Year's Eve, widely popular in China, especially in North China.
饺子是中国的传统食物,已有1800多年的历史,也是全国人民的除夕佳肴,尤其是北方人民。
Lucky Saying for Eating Dumplings
招财进宝 (Zhāo cái jìn bǎo): 'Bringing in wealth and treasure' — a felicitous wish for making money and amassing a fortune.
3. Spring Rolls 春卷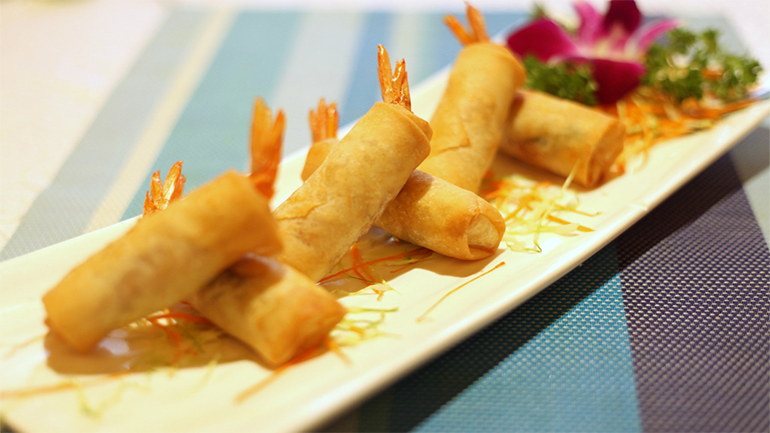 Spring rolls get their name because they are traditionally eaten during the Spring Festival.
春卷因春节期间食用而得名。
Lucky Saying for Eating Spring Rolls
黄金万两 (huáng jīn wàn liǎng): 'A ton of gold' (because fried spring rolls look like gold bars) — a wish for prosperity.
4. Glutinous Rice Cake 年糕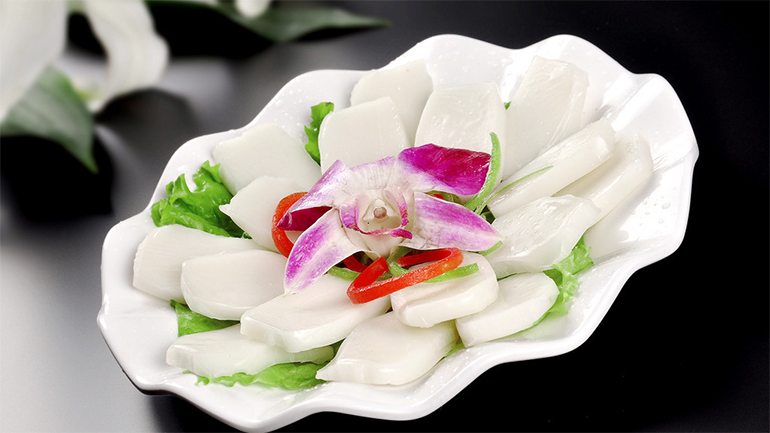 In Chinese, niangao sounds like it means "'getting higher year on year"'. In Chinese people's minds, this means the higher you are the more prosperous your business is a general improvement in life. The main ingredients of niangao are sticky rice, sugar, chestnuts, Chinese dates and lotus leaves.
按中文发音,"年糕"的发音类似"年年高"。在中国人的思想里,这意味着生活的改善,比如个子越高、生意越旺等。年糕的主要成分是糯米、糖、栗子,大枣与荷叶。
Lucky Saying for Eating Niangao
年年高 (niánnián gāo): 'Getting higher year-after-year by year', can imply children's height, rise in business success, better grades in study, promotions at work, etc.
5. Sweet Rice Balls 汤圆
Tangyuan is the main food for China's Lantern Festival, however, in south China, people eat them throughout the Spring Festival. The pronunciation and round shape of tangyuan are associated with reunion and being together. That's why they are favored by the Chinese during the New Year celebrations.
汤圆是元宵节的主要食物,但南方人在整个春节都有吃汤圆的习惯。汤圆的发音和圆圆的外形让人们联想到团圆与团聚,所以中国人喜欢吃汤圆来庆祝新年。
Lucky Sayings for Eating Tangyuan
团团圆圆 (Tuántuán yuányuán): Happy (family) reunion!
6. Longevity Noodles 长寿面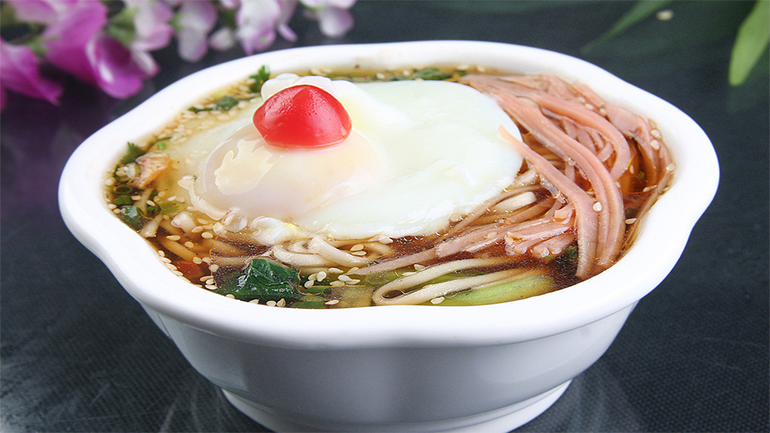 Longevity noodles unsurprisingly symbolize a wish for longevity. They are longer than normal noodles and uncut, either fried and served on a plate, or boiled and served in a bowl with their broth.
顾名思义,长寿面寓意长寿。长寿面比普通面条长,且不能切,可作炒面,也可煮汤面。
7. Good Fortune Fruit 吉祥果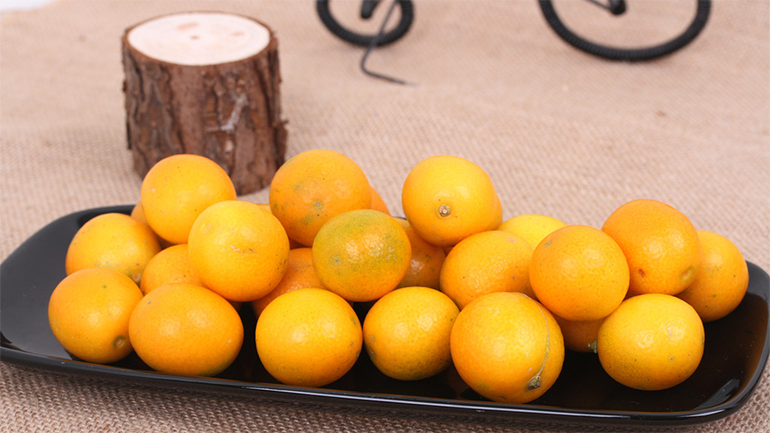 Certain fruits are eaten during the Chinese New Year period, such as tangerines and oranges, and pomeloes. They are selected as they are particularly round and "golden" in color, symbolizing fullness and wealth, but more obviously for the lucky sound they bring when spoken.
春节期间,人们还吃吉祥果,如橙子、桔子和柚子。因为这些水果是圆的,且为"金色",象征着圆满和财富。
Eating and displaying tangerines and oranges is believed to bring good luck and fortune due to their pronunciation, and even writing. The Chinese for orange (and tangerine) is 橙 (chéng), which sounds the same as the Chinese for 'success' (成). One of the ways of writing tangerine (桔 jú) contains the Chinese character for luck (吉 jí).
人们认为食用这些水果、或在家里摆放这些水果能带来好运和财富。中文"橙"与"成"同音,而"桔"的写法与"吉"相似。
Eating pomeloes/shaddocks is thought to bring continuous prosperity. The more you eat, the more wealth it will bring, as the traditional saying goes. The Chinese for pomelo (柚 yòu) sounds like 'to have' (有 yǒu), except for the tone, and exactly like 'again' (又 yòu).
人们认为吃柚子能带来源源不断的财富,吃得越多,带来的财富就越多。"柚"除了发音与"有"相似,还与"又"同音。
8. Sweets 甜食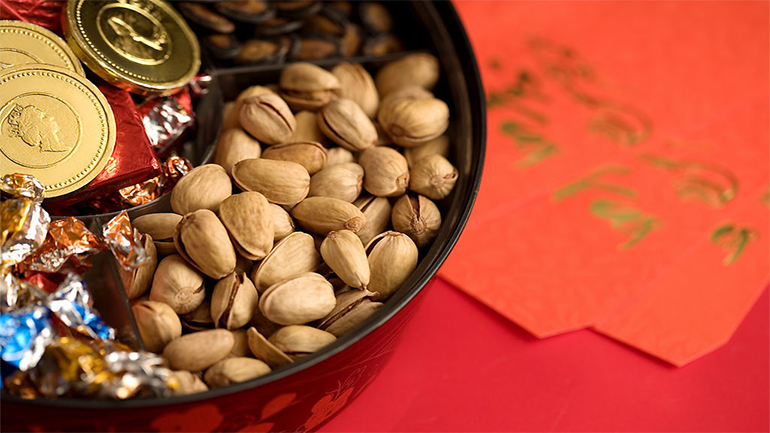 People often serve sweets, like cakes, candies, jelly and melon seeds in a traditional plate (八宝盒, bā bǎo hé), which has several partitions inside.
中国喜欢在春节吃甜食,把蛋糕、糖果、果冻和瓜子装在八宝盒里。