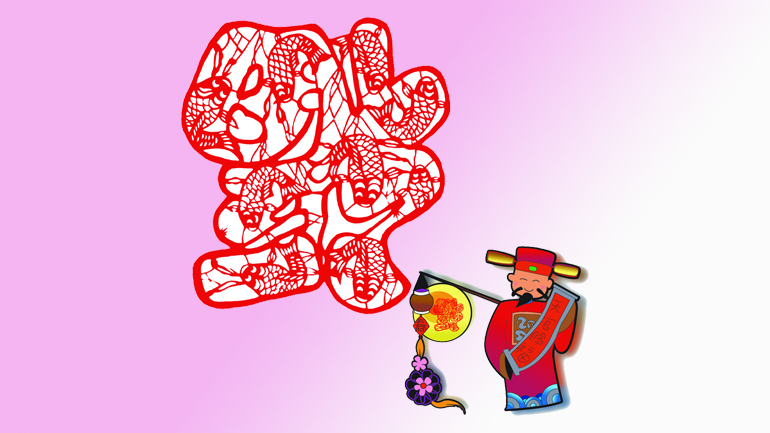 Chinese New Year is the biggest holiday in Mainland China. Homes, stores and streets are hung with traditional lanterns, poems and other traditional decorations. One that confounded me when I first arrived was a symbol, a Mandarin character, that was purposely hung upside-down on doors. What was the meaning of this? There are two parts to the answer:
春节是中国大陆最大的节日。家、街道和商店都挂起传统灯笼、对联和其它春节饰品。我第一次到中国的时候,有一点让我不解的是一个汉字,这个汉字是故意倒贴在门上。到底有何含义呢?有两种答案:
Mandarin Chinese Characters 汉字
The first part has to do with the characters themselves. After you've been in China for a while you get used to the Chinese characters – or at least you get used to not being able to read them. You might take up studying some Chinese and then suddenly you'll be all excited when you recognize the word for mountain (shan or 山) or east (dong or 东).
第一个原因与汉字本身有关。在中国生活一段时间后,你会习惯汉字,至少,你习惯了看不懂汉字。你可能会开始学习汉语。当你习得"山"和"东"的时候,你会突然很兴奋。

That thrill of being able to read something – even if it's just one character out of a dozen in a shop's sign, is rather exciting.
能看懂汉字,即使是商店标签里的一个汉字,也会感觉兴奋不已。
Chinese Puns and Homophones 汉语双关和同音字
The second part has to do with the language as it relates to the culture. Chinese speakers use a lot of puns and homophones and the words or the meanings of the words are used to represent a different idea. This is confusing. Here is an example of a homophone and how it's used to illustrate meaning and culture:
第二个原因是与文化有关。中国经常用双关和同音字来表达另一种不同的含义。这种用法经常让人困惑不已。从以下同音词的例子可以看出,这些词是如何用来解释含义和文化内涵的。
The word "yú" had many different meanings in Mandarin that are interpreted by the character (the way it's written) and the pronunciation (the tone). The word "yu" can have many different meaning. Two are "abundance" and "fish".
根据不同的汉字和拼音,"yú"有多种意思。一种是"富余",另一种是"鱼"。
There's a Mandarin saying for Chinese New year nián nián yǒu yú which, when written properly in Mandarin characters, means "Every year there will be abundance." Now, switch out the yu (余) for abundance with the yu (鱼) for fish and now you have "Every year there will be fish." What's the result?
汉语里的新年祝福"年年有余",意思是年年都有富余。而,实际是用"鱼"字替代"余"字,为什么?

Chinese tables at Chinese New Year are laden with fish dishes, fish lanterns and other decorations hang throughout the country during the week-long holiday.
春节期间,鱼是中国人餐桌上必不可少的一道菜,鱼形灯笼和其它饰品也随处可见。
And the Upside-Down Character? 颠倒的汉字?
The pun – In Mandarin, saying "fú dào le" means "luck or fortune has arrived". But the word "dao" can also imply to fall down or turn upside-down. So, literally turning the character 福, fu, upside-down is a play on words implying fortune has arrived.
汉语中,"福到了"意思是"好运或财运到了",但"到"字与"倒"同音,所以,人们把"福"字倒贴在门上,寓意"福到了"。
Please visit Chinlingo for Chinese learning.