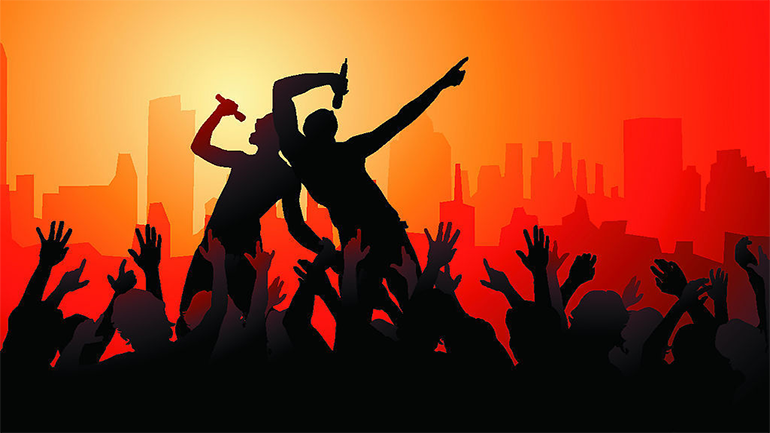 More than 977 million people in China – 72% of the population – listen to music every week, according to a new survey of the country's listening habits.
关于中国人听音乐习惯的一项新调查显示,9.77多亿中国人——中国人口的72%——每周都会听音乐。
The average Chinese consumer enjoys 16 hours of music per week, with 66% of listeners using a streaming service.
平均每个中国用户每周会享受16小时的音乐,其中66%的听众会使用流媒体服务。
It lags behind the US, where 91% of the population listens to music every week, and the UK, where the figure is 85.5%.
这一数据落后于美国和英国:每周听音乐的美国人占美国人口总数的91%,而在英国,这一数据是85.5%。
But China has a healthy live scene, with 57% of affluent fans attending concerts, compared to 51% in the US.
但中国的音乐现场实况状况十分健全,57%较为富裕的粉丝会参加音乐会,而美国的这一数据为51%。
The figures, compiled by US company Nielsen, show a great disparity between wealthy Chinese consumers and those on lower incomes.
这些数据由美国尼尔森公司汇编,揭示了中国较为富裕用户与收入较低用户之间的巨大差异。
In total, 83% of affluent consumers listen to music at least once a week; compared to 53% for low-earners.
总计共有83%的富裕用户每周至少会听一次音乐,而在低收入人群中,这一数据为53%。
The well-off tend to prefer Western or English-language music, and are more likely to listen to pop, rock and jazz.
富人们更喜欢听西方音乐或是英文音乐,他们更喜欢听流行音乐、摇滚乐和爵士乐。
They spend an average of 914 yuan (139 dollars, 97 pounds) on music every year; while poorer Chinese consumers spend just 118 yuan (18 dollars, 13 pounds).
富人们每年在音乐上平均花费914元人民币(139美元,97英镑),而较为贫穷的中国用户这一花费仅为118元人民币(18美元,13英镑)。
Nielsen projected that spending on music would increase over the next decade – with overall consumer spending expected to reach $56 trillion (39 trillion pounds) driven largely by young, affluent, connected consumers with disposable incomes.
尼尔森公司预测,今后十年,在年轻人、富人以及拥有可支配收入用户的主要推动下,在音乐上的花费将会增加——全部用户的花费可能会达到56万亿美元(39万亿英镑)。
However, piracy remains a major barrier. Just 3% of low-income consumers said they would be "very likely" to pay for a streaming service in the future.
但盗版行为仍是一个主要障碍。只有3%的低收入用户说,他们在未来"很有可能"会为流媒体服务付费。
The findings will be read with interest by record companies in the West, who are increasingly looking to China to offset falling revenues at home.
西方唱片公司对这一系列调查结果十分感兴趣,因为他们越来越想要通过中国市场来抵消国内不断下降的收入。
Once largely closed to foreign music, the country has gradually loosened restrictions and emerged as a crucial territory for bands of all sizes.
中国曾大量封锁外国音乐,但现在也逐渐放松了限制,成为各种规模乐队的重要领地。
Wham! made headlines 31 years ago by becoming the first Western band to play in Beijing and the southern city of Guangzhou; and as recently as 2002, a concert by Kenny G was considered big news.
31年前,威猛乐队在北京、广州演出,成为首支在内地开唱的西方乐队,轰动一时。而最近,肯尼·基2002年的音乐会也被认为是个大新闻。
Now Chinese cities frequently turn up on the touring itineraries for a range of acts. Taylor Swift, Bob Dylan, Robbie Williams, Bon Jovi, Michael Buble and Ellie Goulding have all played there in recent years.
如今,中国城市频频举办巡回演唱会。泰勒·斯威夫特,鲍勃·迪伦,罗比·威廉斯,邦乔维乐队,麦可·布雷和艾丽·高登近些年都在中国演出过。
But booking a show in Shanghai is not without its pitfalls.
但要预定在上海的演出,也是有困难的。
Before foreign artists can perform, the culture ministry runs background checks and pre-approves set lists. In 2006, the Rolling Stones were told to drop five songs – including Honky Tonk Woman and Let's Spend the Night Together – because of their suggestive lyrics.
国外艺人表演之前,文化部要进行背景核查,并预先核准演出节目单。2006年,滚石乐队就被告知要砍掉五首歌——其中包括《钢琴女郎》和《共度良宵》——因为这些歌曲的歌词比较露骨。
"Fortunately, we have 400 more songs that we can play so it's not really an issue," said Mick Jagger.
"幸运的是,我们可以演唱的歌曲有400多首,所以这其实并不是什么问题,"滚石乐队主唱米克·贾格尔说。
Other artists have been banned completely. Jay-Z had permission for a 2006 concert turned down because of his "vulgar lyrics"; while Kraftwerk were denied Chinese visas because they had been slated to perform at a pro-Tibetan independence concert in 1999 – even though the appearance was eventually cancelled.
而有些艺人则完全被禁了。说唱歌手杰斯本来于2006年获得演出许可,但后来因为"歌词低俗"被取消。而发电站乐团的中国签证被拒,因为他们曾因在1999年支持西藏独立的音乐会中演出而被责骂——即使出场最终被取消了。
Sir Elton John also attracted disapproval when he dedicated his 2012 concert in Beijing to the artist and activist Ai Weiwei.
2012年,英国摇滚明星艾尔顿·约翰在北京演唱会上称,演出是献给艺术家、激进分子艾未未的,这遭到人们不满。
He received a visit from police, while the state-run newspaper Global Times said the singer was "disrespectful" when he "forcibly added political content to the concert".
他受到了警方访查,而国营的《环球时报》称,这位歌手"将政治内容强塞进音乐会中"的行为十分"无礼"。
"If they had known that this concert would be dedicated to Ai Weiwei, many in the audience would not have come," it said.
《环球时报》称,"如果观众知道这场音乐会是献给艾未未的,许多人根本都不会来。"