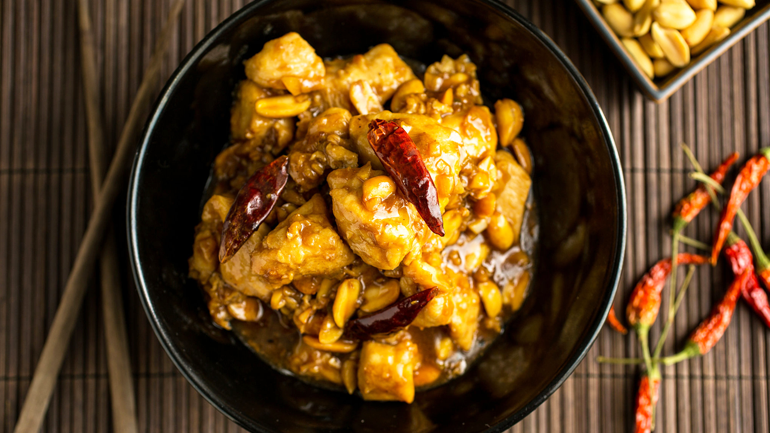 Chinese Spring Festival is one time of the year when Chinese cuisine should not be missing from your dinner table. That may be a bit more difficult for expats, many of whom didn't grow up learning how to cook Chinese food, but several of our most classic dishes are actually quite easy to make.
中国一年一度的春节里,中餐是餐桌上必不可少的。但这对外籍人士来说可能有一点困难,因为他们中许多人不知道怎么做中餐。但中餐里几个最经典的菜肴其实是很容易制作的。
Here are some homespun recipes and cooking tips that can turn plain dishes into masterpieces. These tips were selected based on the number of likes. Read on for more!
以下是一些简单的食谱和烹饪技巧,可以把普通的菜肴作出大师级的水准。这些小贴士是依据受欢迎程度选出的。往下看吧。
Dumpling filling
饺子馅
Filling is the heart – literally – of a dumpling. Start out by seasoning your meat (beef, lamb, chicken or fish are all fine) with a mixture of sugar, oyster sauce, ginger juice, cooking wine, sesame oil, salt, raw eggs and chili pepper oil. These not only give it flavor, but help get rid of the "fishy" smell that some meat has. Vegetables can also help in this regard; carrots and green onions, for example, are ideal companions of lamb.
说饺子馅是饺子的心脏那是一点也不夸张。从肉馅(牛肉,羊肉,鸡肉或鱼肉都可以)的调味开始,加上糖,蚝油,生姜汁,料酒,香油,盐,生鸡蛋和辣椒油的混合物。它们不仅能提鲜,还能去除一些肉类的腥味,另外可以加一些蔬菜,比如胡萝卜和大葱是羊肉的理想搭档。
For vegetarians, one tip is to drain as much water from your stuffing as possible before filling your dumpling skins.
对于素食者,一个小贴士是尽可能挤干蔬菜馅里的水分再包。
Scrambled eggs with tomato
西红柿炒鸡蛋
There's nothing easier or tastier than scrambled eggs with tomato. Start out with the perfect base by adding a bit of water to your eggs to make them more tender, and fry them using chopsticks instead of a spatula for a fluffier texture. Once cooked, remove the eggs from the pan. After that, you can fry sliced tomatoes with a bit of sugar. Finally, add the eggs back into the pan and cook them with the tomatoes, adding garlic, salt and vinegar to taste.
没有比西红柿炒鸡蛋更简单、更美味的菜了。先往鸡蛋里加少许水,有了这个完美的基础鸡蛋就会更嫩。然后用筷子翻炒,不要用锅铲,这样鸡蛋才会很蓬松。一旦炒熟,马上起锅。在这之后,你就可以炒西红柿片,略加一点糖。最后,把鸡蛋再倒回锅里,和西红柿一起炒,加入大蒜,盐和醋调味。
Kung pao chicken
宫保鸡丁
Kung pao chicken is known as a favorite among foreigners, both in China and abroad. You can achieve its spicy-sweet goodness by mixing light soy sauce, starch, dry pepper, sugar, vinegar and the white part of scallions. You can use kung pao sauce on other meat dishes as well.
宫保鸡丁被称为外国人的最爱,无论是在中国还是国外。你可以通过混合酱油,淀粉,干辣椒,糖,醋,葱白实现其又辣又甜的口感。你还可以将宫保汁用到其它的荤菜上。
Golden fried rice
黄金炒饭
There are countless ways to make egg-fried rice, but among the best options for Spring Festival is the auspicious "golden fried rice." You can achieve this gold color by only using egg yolk when frying your rice, and discarding the egg white. First, add some garlic slices to a pan with hot oil, and then fry a mixture of egg yolks and pre-cooked rice until it turns golden.
做鸡蛋炒饭有数不清的方法,但春节期间的最佳选择就是吉祥的"黄金炒饭。"你可以在炒米饭的时候,丢弃蛋清只用蛋黄达到金黄色。首先,用大蒜片爆香油锅,然后将蛋黄和预煮好的米饭混合炒至金黄色即可。
Laoganma
老干妈
Laoganma, or black bean in chili oil sauce, adds a perfect mixture of flavors to a number of Chinese dishes, especially spicy ones, like Sichuan double-cooked pork. You can buy it at any grocery store.
老干妈,其实就是黑豆豉辣椒油,可以给很多中国菜肴增添完美的口感,特别是辛辣类的。比如四川的回锅肉。你可以在任何的杂货店买到它。
Adding tomato or potato to soup
西红柿或者土豆打汤
Here's a quick tip – to add a fresh taste to your soup, throw in some potato or tomato while cooking it, and then remove them when the soup is ready.
这里有一个快速小窍门——为了增添汤的鲜美,你可以在烹饪时加入一些土豆或西红柿,在起锅时再拿掉它们。
Ginger + onion + garlic
生姜加大葱加大蒜
This trifecta can be added to almost any Chinese dish, especially those that are fried. Just sautee them in a pan with oil and add your meat and vegetables.
这三剑客几乎可以加到所有的中式菜肴里,特别是那些炒菜中。只需要在油温烧热时加入锅中,再加上肉或者菜即可。
Timing
时间掌握
Salt and vinegar shouldn't be added to a dish until it's about to be taken out of the pan. Adding either one too early will destroy both the flavor and shape of the dishes.
直到菜出锅时才能放盐和醋。如果任何一个放太早,都会破坏菜肴的口感和看相。