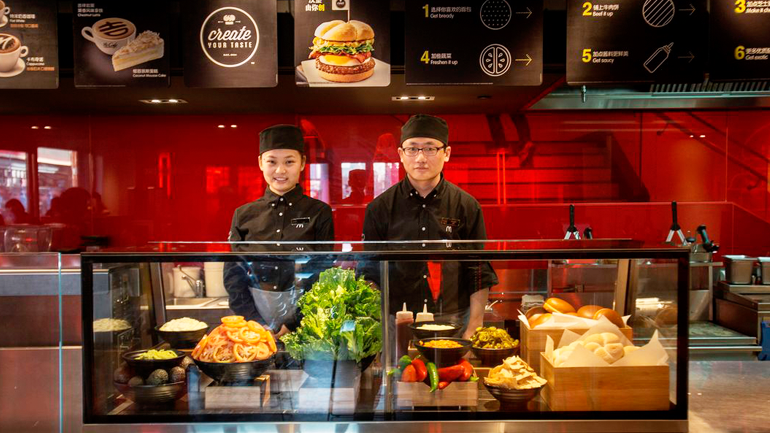 Global fast food chain McDonald's said that it is setting up 250 new outlets mostly in lower tier cities and stepping up the pace of its digital expansion in China this year.
全球快餐连锁巨头麦当劳表示,今年将在中国开设250家门店,这些门店主要集中在二三线城市,同时,还将加快发展数字化用餐体验。
The company, which is still recovering from a July 2014 food safety scandal, said it hoped the new moves will help attract more customers to its fast-food outlets.
自2014年陷入食品安全丑闻以来,麦当劳一直处于复苏当中,它表示,希望新举措能吸引更多顾客光临麦当劳快餐店。
McDonald's unveiled the first of its "Experience of the Future" restaurant on the Chinese mainland on 27th in Beijing's Wangfujing shopping district. The outlet will cater to the core dining needs of customers and offer digital, personalized and customized experiences, said Phyllis Cheung, CEO of McDonald's (China) Co Ltd. A similar outlet will open in Shenzhen later this year, she said. China is already McDonald's third largest market globally, with 2,230 restaurants in the country.
1月27日,大陆首家麦当劳未来智慧概念餐厅在北京王府井商业区开幕。麦当劳(中国)有限公司首席执行官张家茵表示,新概念餐厅将迎合顾客的核心用餐需求,提供数字化、人性化和定制化的服务。她说,今年麦当劳还将在深圳开设未来智慧概念餐厅。中国已经成为麦当劳全球第三大市场,共有2230家门店。
Cheung cited brand recognition, good value and convenience in terms of delivery services and breakfast products as key growth drivers for last year. This year, McDonald's will also upgrade its 150 Create Your Taste restaurants in first tier cities with digital services and do-it-yourself burgers.
张家茵表示,品牌认可度、超值系列以及外送服务与早餐产品的便利性是去年推动麦当劳增长的主要动力。今年,麦当劳还将对一线城市150家CYT(我创我味来)店进行改造,为顾客提供数字化服务和DIY汉堡。
At the Wangfujing store, the company has teamed up with WeChat, the instant messaging service from Tencent, to offer mobility solutions to customers. These include order placement, selection of items from the customized burger menu, table bookings and an offline game space.
在王府井新概念餐厅,麦当劳与微信——腾讯推出的即时聊天工具——携手合作,为顾客提供移动化用餐体验,包括下单、从定制汉堡菜单中挑选食材、预订餐位和线下游戏区。
The two-floor restaurant has a simple and plain design featuring look throughs and open spaces. The WeChat alliance also enables customers to use game credits for redeeming restaurant vouchers.
这座双层餐厅设计简约,透明度高,开放空间大。通过微信,顾客还可以用游戏积分兑换餐厅抵用券。
Terra Xu, a research analyst at Mintel Group Ltd, said Chinese customers are willing to pay more for a better consumer experiences.
英国敏特公司研究员特拉·徐表示,中国顾客愿意花更多的钱享受更好的消费体验。