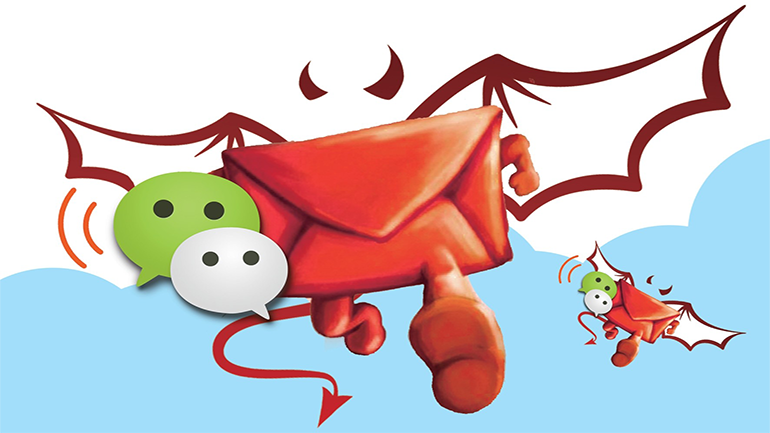 China's popular mobile networking app WeChat on Wednesday denied that a new function of the app will lead to spread of pornographic content, after a police account on Sina Weibo warned of possible pornographic activities as WeChat plans to allow users to charge a "fee" for people to view their personal photos.
近日,微信官方否认一项尚处于测试阶段的新功能会传播淫秽色情内容。此前,某公安局的官方微博账号称微信允许用户间付费观看个人照片可能将导致淫秽色情内容的传播。
"It's not true that the new function will trigger the spread of pornographic information," the operating team of WeChat said in an article posted on their official WeChat account on Wednesday.
本周三,微信运营团队在其官方账号上回应道"关于微信新功能将传播淫秽色情内容的质疑是不属实的。"
WeChat Tuesday night launched a test run of its new function which allows users to post a blurred personal picture on their account and charge their friends a small amount of fee, such as one yuan ($0.15), if they want to view a clear version of the picture.
周二晚间,微信开始对一项新功能进行测试。微信用户可以将一张模糊的照片发到朋友圈,朋友圈的好友必须向该用户支付一定的费用,如1元人民币(0.15美元),才能看到清晰的照片。
The function will be officially launched on February 7, the eve of the Chinese New Year, resonating a Chinese tradition in which people send relatives and friends "lucky money" to celebrate the coming new year.
这一功能将于2月7日除夕夜正式上线,与中国一项新年传统习俗–给亲戚朋友压岁钱有异曲同工之妙。
The test run has attracted the attention of the public security bureau in Xi'an, Shaanxi Province, which warned that spreading pornographic content for profit is considered illegal, according to its Sina Weibo account Tuesday night.
新功能的测试引起了西安市公安局的注意。周二晚间,西安市公安局新浪官方微博上一条新的微博称以牟利为目的传播淫秽色情内容属于违法犯罪行为。
"Whoever, for the purpose of profit, produces, duplicates, publishes, sells or disseminates pornographic materials shall be sentenced to a fixed length of imprisonment," read the police post.
该微博称"以牟利为目的,制作、复制、出版、贩卖、传播淫秽物品的将处以相应年限的有期徒刑。"
Some 18 million people on Tuesday participated in the test run of WeChat's new function. However, some people posted pictures with erotic headlines such as "intimate photo between me and my husband" on WeChat on Tuesday.
周二,约1800万人参与了新功能的测试。然而,某些用户却使用了诸如"我和老公的私密照"这类带有性暗示的标题。
WeChat on Wednesday said it had a strict review system for pornographic information, with the use of both technology and human assistance.
周三,微信运营团队表示,微信有严格的色情内容审查制度,相关人员会运用相应技术进行审查工作。
"Simply speaking, your WeChat friends remain the same and the spread of any pornographic material will not see a significant rise due to the introduction of the new function," WeChat said.
"简单来说,用户的好友不会产生任何变化,新功能也不会导致淫秽内容大量传播。"