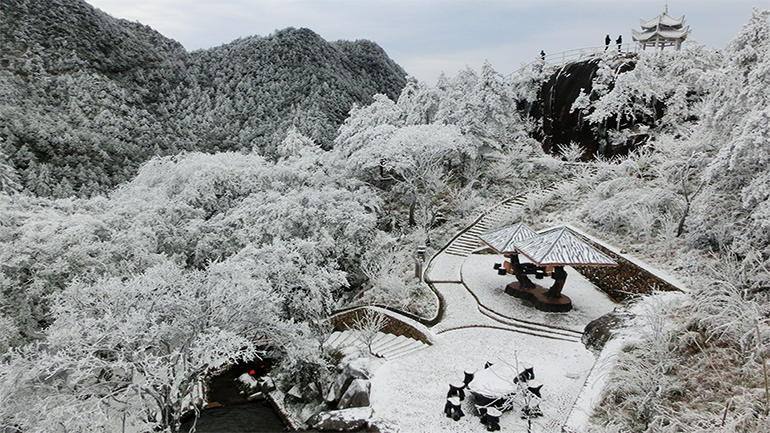 Jiuxian Mountain in Quanzhou City is covered in snow.
A resident of Zhengzhou, Henan Province, posted this image on Weibo of a pet turtle covered in ice Sunday. The poor turtle eventually thawed out and slowly regained its strength, wrote the Weibo user.
24日,河南省郑州市的一居民在微博上发了一张宠物龟被冰包裹的图片。他在博文里说,可怜的乌龟终于解冻了,慢慢恢复了生气。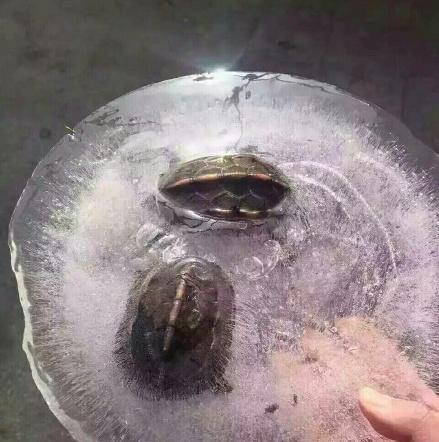 A turtle is frozen.
Pictured is an image of a frozen raw egg posted by a Weibo user on Sunday.
24日,某微博用户发了一张冰冻的生鸡蛋图片。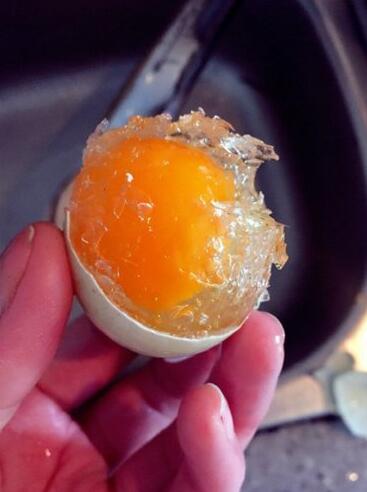 Frozen egg

Frozen jeans stand by a road in Minneapolis, Minnesota, US. An area resident placed the icy pants at different spots in the city. The photos soon went viral and kicked off a viral trend on social media.
美国明尼苏达州,明尼阿波利斯的马路上,冰冻的牛仔裤站在那里。本地区的居民在该市的不同地点放置了冰冻的裤子。这些照片很快就在网络爆红,并像病毒一样在社交媒体上传播开来。
As China's week-long cold wave continues, residents are finding time to take in the icy scenery and chill out in the nation's lowest temperatures in decades.
中国为期一周的寒潮持续,让人们有机会来欣赏这冰天雪地不一样的风景,在中国几十年来的最低温里,找到了些许乐趣和慰藉。
Images posted on social media show just how cool China has become, including pictures of iced food, clothes and even people's frozen makeup after parts of China saw lows plummet to -47 C.
社交媒体上发布的图片显示出中国现在有多么的冷,其中包括局部地区温度骤降到零下47度,人们的食物、衣服甚至妆容都冰冻了。
A Weibo user posted two photos of a raw egg on Sunday that had completely frozen through.
一个微博用户在网上上传了两张生鸡蛋的图片,显示鸡蛋完全被冻住。
"Check this out! Eggs shipped from Beijing are now frozen. I feel bad for friends in the capital," she wrote, adding several laughing emojis.
她给图片配文说,"看看吧。从北京运来的鸡蛋现已被冷冻了。我为首都的朋友感到难过",还加上了几张笑脸。
Photos of towels as hard as cardboard, frozen water pipes and even a pet turtle encased in ice also made the rounds on social media.
毛巾冻得像硬纸板,自来水管被冻得不出水,甚至宠物龟也被冰块包裹,这些照片在朋友圈被大量转发。
In the US, which also braced for strong blizzards this weekend, skiers took to the slopes outside Washington DC on Saturday.
本周末美国同样遭暴雪袭击,滑雪爱好者星期六也涌到了华盛顿户外斜坡上。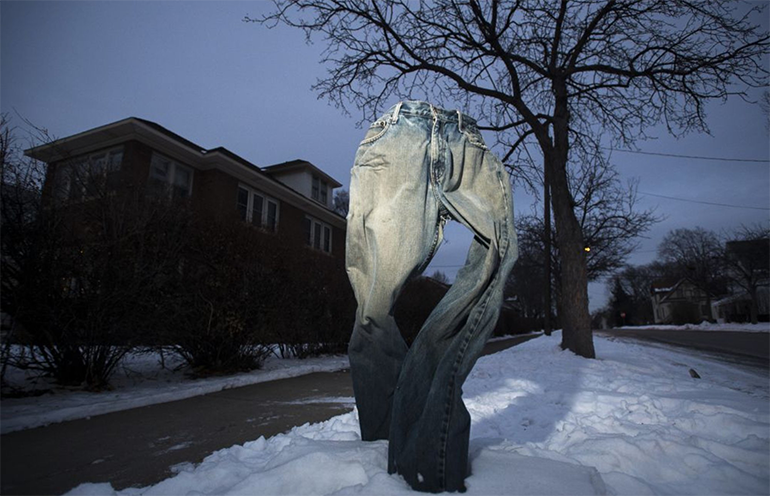 Two pairs of frozen blue jeans were seen on display on the front lawn of Tom Grotting on Columbia Parkway on
Tuesday, Jan. 19, 2016 in Minneapolis, Minn. Grotting says he started putting out frozen jeans "for no good reason."
Tom Grotting of Minneapolis, Minnesota, grabbed attention on Facebook for freezing pants and standing them up around his neighborhood, inspiring many in both the US and China to do the same.
明尼苏达州,明尼阿波利斯的Tom Grotting在Facebook上发布的站在户外的冰冻牛仔裤,赢得了大量的关注,美国和中国的很多人受其启发纷纷效仿。
Animals are also finding ways to deal with the drop in temperature. Monkeys in Chengdu, Southwest China's Sichuan Province, are descending from the mountains surrounding the city in search of food, the West China City Daily reported Sunday.
24日,华西都市报报道,动物也在找法子来应对降温。中国西南部四川省成都市周边山上的猴子,也都下山来觅食。
China's national weather service issued an orange alert Sunday for the spate of extreme weather. According to the National Meteorological Center, temperatures dropped 10 to 13 degrees on Sunday morning in many parts of North China, the Xinhua News Agency reported.
据新华社报道,因为极端天气肆虐,中国国家气象局于24日发布了寒潮橙色预警。国家气象中心称,24日早晨,中国北方大多地区降温幅度将达10到13度。