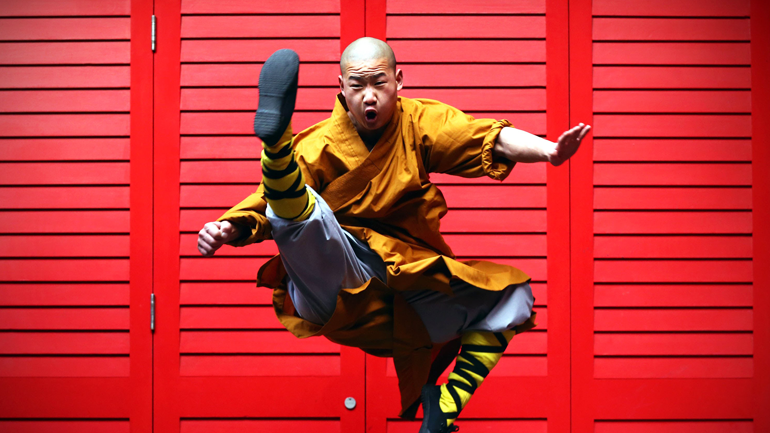 Where it is best to study Kung Fu? Many interested students feel that heading to Shaolin Temple, the birthplace of China's Kung Fu tradition, makes the most sense. But after talking to some folks who have studied inside and outside China, going to Shaolin to master the art of Kung Fu may not be the best value.
As many who have studied outside of China know, Kung Fu is usually taken very seriously by those to teach and study. Physical training is rigorous and is often accompanied by serious mental and philosophical exercises.
If you're interested in learning Kung Fu at Shaolin because you want to go to the source then by all means go.
If you're interested in Kung Fu and Zen Buddhism, historically, then why not visit the area and even stay and study for a while.
Where to Study
The first thing to understand is the geography. Shaolin Temple is located on the mountainside in the Song Mountains. Dengfeng is the nearest town and it is here that many of the Kung Fu schools are located. So be careful when you book and make sure you find out exactly where you'll be staying and training. You might think you've booked a monk's lodgings in the temple and find out after arrival you're in a dormitory in town.
Booking Your Kung Fu Training
According the the site bookmarialarts.com, the Shaolin Temple Kung Fu School is the only authorized school to train on the temple grounds.
Bookmarialarts.com acts as an intermediary to the Shaolin school so their rates might be slightly higher than if you book directly. At the time of writing, a month of training including room and board was around US$1,000.
I would advise students who are interested in training to book directly with the Shaolin Temple Kung Fu School because there will be no intermediary fees and no switcheroo.
How Long to Study
This, of course, depends on you. Serious students can go and spend a year or even more. Upon reading the reviews on the Shaolin Temple Kung Fu School's site, students go for all different lengths of time. The training is flexible, you can extend your stay if you wish. So the only thing you need to ensure is that your Chinese visa is in order and your return airplane ticket is flexible.
Training can be arranged for as little as one day for tourists and as long as a month/year or more for serious students.
What Type of Training You'll Receive
The schedule of a serious student is grueling. Breakfast is at 7am and at that point you'll already have had an hour of Chi Kung and Tai Chi behind you. Then there's training until lunch, more training until dinner and after dinner Mandarin language class, or Acupuncture study or the study of Buddhism. Your body will be sore and your brain full but it seems like a pretty neat way to get a giant gulp of Chinese culture.
A Report from a Shaolin Student
Aside from Matthew Polly, who describes his immersion in Kung Fu training at Shaolin Temple in 1992 in his fantastic book American Shaolin, many Westerners who go to Shaolin Temple these days leave disappointed. I've heard mixed reviews.
A French Kung Fu student who went to Shaolin to learn from the masters left after three months. He said the teachers assigned to the Western students are soft on the students and don't believe these "Kung Fu Tourists" are really interested in learning, no matter how dedicated and eager you are. Western students are isolated in foreign student dormitories and it can be difficult to mix with local students.
Additionally, stated the student, the other Kung Fu schools, of which there are many in the village of Dengfeng, at the foot of Mount Song where Shaolin Temple sits, look at foreigners as cash cows. The training is not as intense in Shaolin as it was in France and the facilities are rather meager. On most days, the students trained outside in fields with thousands of other Kung Fu schools.
It is no secret that the current Shaolin Abbot Shi Yongxin is interested in making money and expanding the Shaolin Brand. Nicknamed the "CEO Monk", Shaolin under his guidance is in talks to brand tea drinks, set up a hospital and expand into Hong Kong.