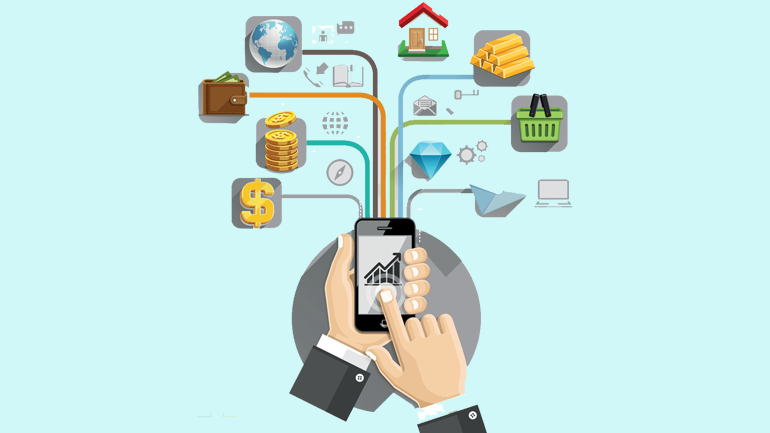 Americans get the best new handsets from Apple first. But in China, there are ways of living your life through a smartphone that left us jealous. China has even figured out a business model to legitimately stream the current season "Game of Thrones" on your phone, free.
美国人总能优先拿到苹果公司推出的最新款手机。中国人却能将智能手机完全融入日常生活,这让我们羡慕不已。中国公司甚至找到了一种商业模式,可以让用户在手机上免费观看最新一季《权力的游戏》。
What's China's edge? Technology is often just cheaper, allowing for more frequent phone swaps. Then there's the world's largest Internet culture—some 649 million wired people, 86% on phones—who make an incredible test base for new ideas.
中国的优势在哪儿呢?中国的科技产品往往更便宜,能够让人们频繁的更换手机。中国还有世界上最大的的互联网文化集群——网民总数达到6.49亿人左右,其中86%是通过手机上网——这的确是一个用以测试新理念的绝佳基地。
Here are five lessons the Chinese can teach Americans about smartphones:
关于智能手机,以下即是中国人给美国人带来的五个启发。
1. Messaging apps as operating systems
消息应用亦是操作系统
In China, a messaging app is much more than a way to text someone that you're running late for a meeting. It's a social network for keeping up with friends and celebrities.
在中国,一个传递信息的应用程序有多重功能,远远不限于发信息给别人,告诉他你开会要迟到。相反,它就像是一个社交网络,用来帮助你追踪朋友和名人的最新动态。
But it isn't just social. It taps into your phone's GPS, microphone and camera to let you play games, check in to a flight, identify a song, book an appointment, call a cab, pay bills, you name it.
更有甚者,消息应用程序不仅仅具有社交功能。你还可以把它连接到手机的全球定位系统、麦克风和摄像头上,玩游戏、预订航班、选择歌曲、预约服务、叫出租车和支付账单等等。
2. Phones really are wallets
手机即是钱包
In China, the tech elite are much more likely to pay for goods and services with their phones because it's widely accepted, and doesn't rely on merchants updating clunky old terminals with special technology like Apple Pay.
在中国,得益于智能手机的快速普及,技术精英们更倾向于用手机来支付商品和服务费用,同时他们还不会对用Apple Pay等特有技术升级旧有终端的商家产生依赖。
3. A new phone without waiting
手机更新换代速度快
Forget not upgrading until your contract is up, or worse, until your phone is broken or on its last legs. The tech savvy in greater China get a new phone nearly every year. Cheaper Android handsets from Xiaomi, Huawei and LeTV combined with contract-free mobile service enable people to always have the latest technology—better screens, processors and cameras.
赶紧改掉你那些不到合约期满不换手机,甚至手机不报废,不残胳膊断腿就不换手机的陋习吧!但在大中华区,懂技术的人几乎一年换一部手机。小米、华为、乐视等厂商推出的安卓手机价格更低,加上移动服务没有合约的限制,让中国消费者总能体验到最新的技术——更好的屏幕、处理器和摄像头。
4. The operating system gets better, faster
操作系统日新月异
You don't have to wait around for the latest software in China, either.
其实在中国你同样不必为最新的手机软件望穿秋水。
In the U.S., updates to Android phones like the Samsung Galaxy can come as a trickle because the phone maker has to push them first to carriers. In China, Samsung rival Xiaomi bypasses the carrier and pushes out free updates to its MIUI flavor of Android as often as once a week. Avid fans sign up for these frequent updates, beta software that they happily test for Xiaomi.
在美国,三星等安卓手机的系统升级常常遭遇瓶颈,因为手机厂商首先要将它们提供给移动运营商。在中国,三星的竞争对手小米则会绕开移动运营商,向用户免费推送MIUI升级,升级频率往往是每周一次。忠诚的"米粉"会注册试用这些更新或是测试软件——他们乐于给小米测试新品。
5. Phones are TVs
手机就是电视机
In China, phones aren't second-class citizens when it comes to watching shows and movies.
在看剧看电影的问题上,中国手机的功能绝不低人一等。
The best stuff is mostly available to stream online. Services like Youku Tudou, iQiyi and Tencent Video convinced many piracy-stricken content owners to join, rather than fight, the demand for online video by making it legitimate and getting paid for it through video advertisements. If you pay, you watch without ads.
如今最优质的影视资源大部分都可以在视频网站上观看。优酷土豆、爱奇艺、腾讯视频等视频网站,终于说服饱受盗版之苦的内容拥有者加入他们的行列而非采取对抗行动,从繁荣的在线视频市场分一杯羹:让在线视频成为一个合法的市场,他们可以从视频广告中获得收益。如果你成为付费用户的话,就可以观看没有广告的视频内容了。