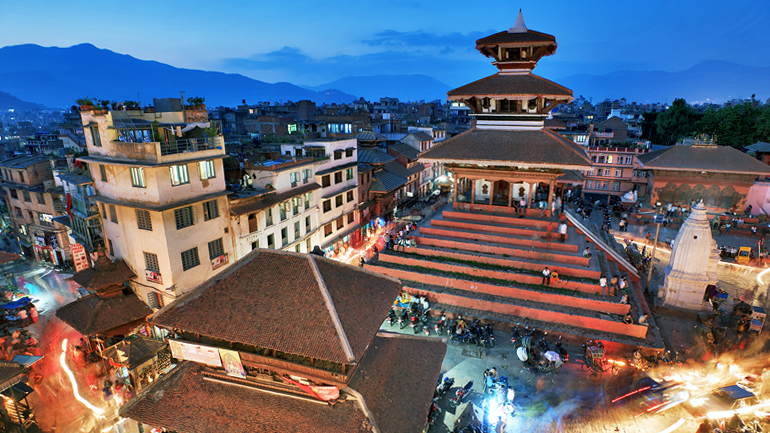 Arriving at Kathmandu airport, With print-outs in hand, travelers must then join a line of people waiting to pay $25 for a 15-day visa at a worn-out wooden counter. Starting in 2016, Chinese arrivals no longer have to pay this fee.
抵达加德满都机场后,游客需要拿着材料加入排队大军,在破旧的木制柜台前花25美元拿到停留15天的签证。而从2016年起,抵达这里的中国游客不必再花这笔费用,他们被免除了签证费。
Although it's not a great expense for Chinese tourists able to afford an international holiday, $25, or 175 Renminbi, no more than the cost of a nice dinner, being for once treated better than other western citizens, however, represents a good start of feeling truly welcome in Nepal.
对大多数负担得起出国度假费用的中国游客来说,这不过是在成都吃顿饭的钱。然而能得到比西方国家公民更好的待遇意味着,中国游客一到尼泊尔,就会感到自己是受欢迎的。
Nepal, landlocked and forever in the shadow of its two big neighbors India and China, has experienced a annus horibilis in 2015. As a result, the positive development of tourism arrival numbers since 2010 has arrested, and arrivals in 2015 almost halved compared to the previous year.
处于印度和中国这两个强大邻国阴影笼罩之下的尼泊尔经历了多灾多难的2015年。自2010年以来一直不断增长的外国游客数量在2015年出现锐减,几乎只相当于2014年的一半。
Chinese arrivals had doubled to 124,000 in 2014 from 62,000 in 2011, boosted by the yearning of Chinese urbanites for pure nature and authentic lifestyles. The Chinese movie Up in the Wind, shot in Pokhara, has been a hit among youth since it was released in 2013, driving the popularity of the lake city among young Chinese. Some Chinese tourist guidebooks include Pokhara now as one of the "Top Ten places in the world to see before you die."
由于都市里的中国人对于纯净自然风光的向往,来尼泊尔旅游的中国游客数量从2011年的6.2万人次增至2014年的约12.4万人次。在尼泊尔博克拉拍摄的电影《等风来》2013年上映后,在中国年轻人当中引起轰动,也让这座湖城成为他们向往的地方,一些中文旅游指南将博克拉列为有生之年应该去看看的十大美景之一。
For Nepal, China represents the most important potential for growth, both in the number of visitors and in the development of the sophistication of the Nepali tourism industry. In China, Nepal enjoys a positive image, and the locals are very nice and friendly to Chinese.
对尼泊尔来说,中国意味着在游客数量增长和服务与产品开发方面的最大潜力。而对于中国来说,尼泊尔也有非常正面的形象:当地人对中国人非常热情友好。