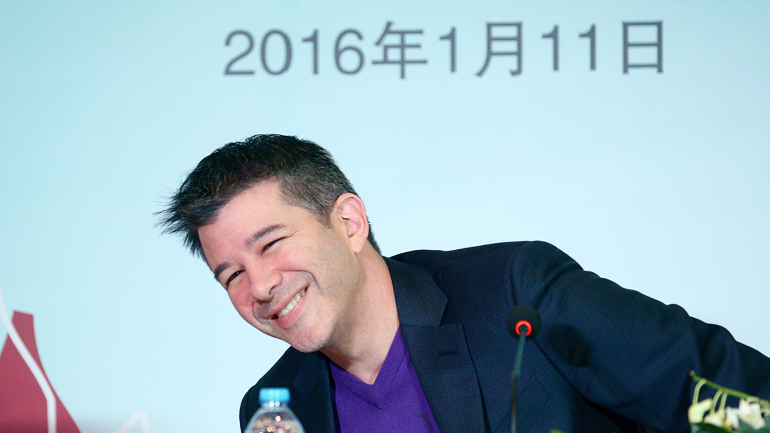 "Watch out, Silicon Valley. China's out to eat your lunch." So says Travis Kalanick, the Silicon Valley pioneer who steered Uber Technologies Inc. He's now setting his sights on China: the ride-hailing company's domestic unit is now valued at more than $8 billion, Kalanick told reporters in Beijing on 15th.
创办了优步科技公司的硅谷创新者特拉维斯·卡兰尼克说:"硅谷要小心了。中国要抢你的饭碗了。"卡兰尼克现在把目光投向中国。15日他在北京告诉记者,这家打车公司的中国业务目前价值超过80亿美元。
The Uber Chief Executive, who's personally overseeing Uber's come-from-behind battle against Didi Kuaidi, argued the country's growing cohort of entrepreneurs will eventually eclipse those that have made the Bay Area a cradle of global technology innovation.
优步首席执行官亲自监督优步与滴滴快的的竞争。他认为,中国不断成长的企业家终将使全球科技创新的发源地硅谷的企业家黯然失色。
"In the next five years, there will be more innovation, more invention, more entrepreneurship happening in China, happening in Beijing than in Silicon Valley," Kalanick said at the "Geekpark" conference in Beijing on 15th.
卡兰尼克15日在北京举行的极客公园创新大会上说:"未来五年,中国将会比硅谷有更多的创新,更多的发明,更多的企业家精神。"
Kalanick's view may not sit well with those who deem the country a violator of intellectual property rights, home to copycat ripoffs and subject to rigorous content restrictions.
卡兰尼克的看法可能与那些认为这个国家侵犯知识产权、抄袭泛滥并实行内容审查的人不一致。
Yet the country has birthed some of Asia's largest and most well-regarded technology corporations, from social media and gaming giant Tencent Holdings Ltd. to e-commerce leader Alibaba Group Holding Ltd. Along with search-engine operator Baidu Inc., they have invested in and helped foster a plethora of startups and online services — from mobile payments and messaging to online finance — whose scope and scale outstrip those available in the U.S.
不过,这个国家依然诞生了亚洲一些最大且最受重视的科技公司,包括社交媒体和游戏巨头腾讯控股有限公司,还有电子商务领导者阿里巴巴集团。它们和搜索引擎运营商百度公司一道,投资并协助成立了大量初创公司和网上服务商,这些公司和服务商的规模及范围都远远超过了美国同行。