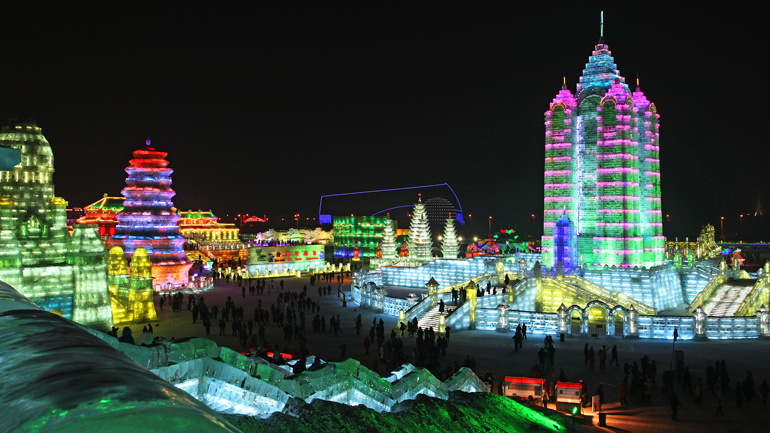 Looking for inspiration to liven up your snow fort-building sessions with the kids?
正在寻找灵感来为你和孩子们的冰雪城堡季助兴?
The legendary Harbin International Snow and Ice Festival, famous for its spectacular sculptures and giant replicas, is now officially underway in northern China.
传奇的哈尔滨国际冰雪艺术节,以其引人入胜的雕塑和盛大壮观的名胜复制品闻名遐迩,在中国北方正式开幕。
The annual event, now in its 32nd year, is made up of several themed zones including a sculpture art expo and a lantern fair.
这个一年一度的盛会,今年已经是第32届举行,它由冰雕艺术展览和灯会等数个主题板块组成。
The main attraction is the Harbin Ice and Snow World, which covers more than 750,000 square meters. Its magnificent structures required more than 330,000 cubic meters of ice and snow to create, according to a report in Chinese media.
艺术节的主要景点是哈尔滨冰雪大世界,占地面积大于75万平方米。据中国媒体报道,打造这个宏伟建筑需要超过33万立方米的冰雪。
This year's theme is "Pearl on the Crown of Ice & Snow."
今年的主题是"冰雪之冠上的明珠"。
Stunning as the works are in all their white glory, the best time to go is at night, when when the sculptures are lit from the inside.
所有的艺术品都闪耀着白色的光芒,令人惊叹。最好的观赏时间是在晚上,此时,冰雕里面也开始亮起,晶莹剔透。
The capital of northeast China's Heilongjiang Province, Harbin is a bitingly cold city with January daytime temperatures ranging from minus 13 to minus 23 Celsius.
哈尔滨是中国东北黑龙江省省会,它是一个寒冷刺骨的城市,1月份白天的气温变动范围从零下13到零下23摄氏度。
Due to Harbin's close proximity to Russia, its northern neighbor's influence permeates everything from architecture to food.
由于哈尔滨的位置非常靠近俄罗斯,其北方邻国的影响力,从建筑到饮食渗透到了方方面面。
Since 1985, the Harbin International Snow and Ice Festival has grown to become one of the biggest snow festival destinations in the world, joining the ranks of the Sapporo Snow Festival in Japan, Canada's Quebec Winter Carnival and Norway's Holmenkollen Ski Festival.
自1985年启动以来,哈尔滨国际冰雪艺术节已经成为世界上最大的冰雪节旅游目的地之一,加入了日本札幌冰雪节,加拿大魁北克冬季狂欢节和挪威的霍尔门科伦滑雪节的行列。
Depending on weather conditions, the festival usually lasts until late February.
如果天气条件允许,冰雪艺术节可能持续至2月底。