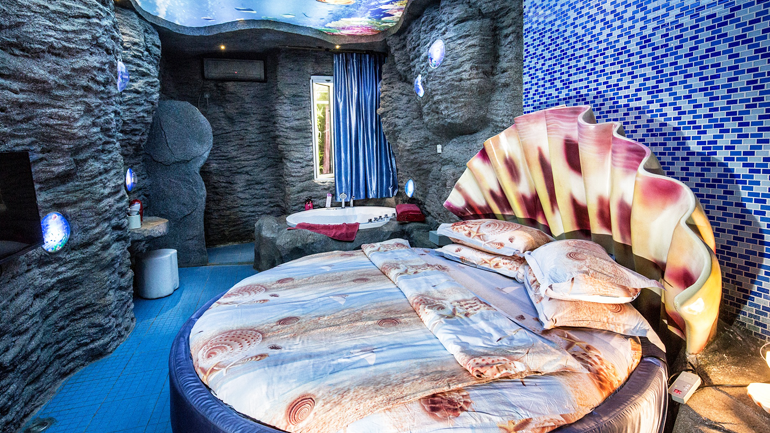 Room 204 is the Shakespeare room at Beijing's Lots of Love Hotel. A plaque on the door reads: "zhongxia ye zhi meng" or "a midsummer night's dream". But inside the bedroom's crimson confines there is no trace of The Bard. Instead Chinese lovers are invited to frolic on a rose-stamped circular mattress or entangle themselves in a foam-filled jacuzzi.
在北京一个爱情旅馆的204房间门上写着"仲夏夜之梦",但粉色布置的客房内看不到任何同莎士比亚有关系的东西。那是供中国恋人幽会的场所,里面有水流按摩浴缸。
For decades, Japan, which boasts a multi-trillion yen love hotel industry and an estimated 30,000 love hotels. There, couples young and old, can pay – by the hour or the night – to escape the prying eyes of a deeply conservative society or act out their most intimate fantasies in the embrace of a lover or a stranger.
数十年来日本一直有这种价值亿万的爱情旅馆行业,约有30000家爱情旅馆。在这里日本的年轻或年长的伴侣能够入住数小时或过夜,避开日本保守的社会,同自己的恋人或陌生人幽会。
Now, the world's most populous nation is slowly catching the love hotel bug too as Chinese entrepreneurs spot an opportunity in the country's changing sexual mores.
现在中国这个世界上人口最多的国家也出现了越来越多的爱情旅馆,因为中国的企业家们从中国人性观念转变中看到了商机。
Hundreds of such establishments – with names such as Love at First Sight and the We Love Hotel – have sprung up since what was reputedly China's first love hotel opened its doors in 2008 in the south-western city of Nanning.
2008年中国的第一家爱情旅馆在西南城市南宁出现,自那以后中国出现了成百上千家爱情旅馆。这些旅馆的名字一般都是"一见钟情"和"我们爱旅馆"。
"The demand is there. There are so many lovers and they have a need for love," said Wang, whose franchise has opened nine branches – in Beijing, Wuhan, Chengdu and Guiyang – since 2011 and will add Kunming and Nanjing hotels in the coming months. "Every day we are full."
一家连锁爱情旅馆的经理说,"因为有现实的需求,恋人很多,他们需要爱。"这家连锁旅馆已经在北京、武汉、成都和贵阳有9个爱情旅馆分店,几个月后他们还将在昆明和南京增开爱情旅馆。经理说他们的房间"每天都爆满"。
Sun Yanping, a Wuhan businesswoman who opened her first love hotel in 2013 and now has five, said she hoped to build an empire of 100 by 2020.
孙女士是一位武汉的商人,他在2013年开张了第一家爱情旅馆,现在已经发展到5家,他还计划在2020年前扩展到100家。
"I think we should listen to the voices in our hearts and go with the flow, including when it comes to the pursuit of sex. That is human nature," said Sun, who said she had grown tired of staying in "monotonous and stiff" hotels.
她认为人们应该尊重自己的欲望,不应该抗拒它,包括性方面的需求,这就是人性。她说她已经对住在"单调和呆板"的旅馆感到厌倦。