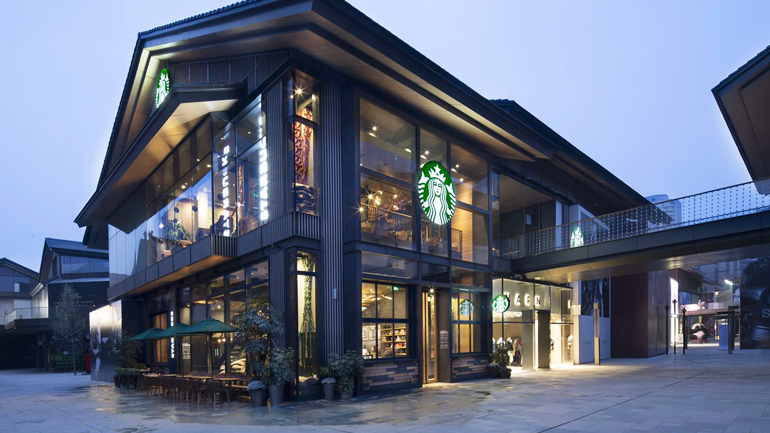 China may eventually surpass the United States as Starbucks' biggest market.
中国也许终将超过美国成为星巴克的第一大市场。
The Seattle-based coffee company says that it is set to open 500 new stores in China in 2016, pushing it towards a goal of operating at least 3,400 locations there by 2019, and affirming the key role that China is playing in the company's growth.
这家总部设在西雅图的咖啡公司说,它计划2016年在中国新开500家门店,以实现到2019年在中国境内开设至少3400家门店的目标。它还确认中国将在公司的增长中发挥重要作用。
"As Starbucks' second-largest and fastest-growing market globally, China represents the most important and exciting opportunity ahead of us," Howard Schultz, Starbucks' president and CEO, told company employees and their families in Chengdu, according to a statement. "Over time, it's conceivable that China could become our largest market.''
公司董事长兼首席执行官霍华德·舒尔茨在成都对公司员工及其家属说:"作为星巴克的全球第二大且增长最快的市场,中国为我们带来了未来最重要也是最激动人心的机遇。随着时间的推移,可以预见中国可能成为我们最大的市场。"
Currently, the U.S. is No. 1, with 12,531 Starbucks stores as of the end of the fourth quarter. But the coffee company has more than 2,000 locations in nearly 100 cities in China. And in the last two years, Starbucks has also introduced some innovative concepts there, such as 45 specialty shops that focus on rare coffees, and "pour-over slow bars'' located in 150 stores.
目前美国仍是星巴克的第一大市场,截至去年第四季度结束时共有12531家星巴克门店。但这家咖啡公司已经在中国近100个城市开设了超过2000家门店。在过去两年里,星巴克还在中国推出了一些创新理念,比如45家主要提供稀有咖啡的星巴克臻选咖啡门店和150家设有手冲咖啡吧台的门店。
In the U.S., the coffee giant has been looking into new ways to ramp up convenience for its customers. It rolled out a mobile order and payment app last year at over 7,400 company-owned stores so that patrons can order and pay for beverages without waiting in line. And it has piloted a delivery service, with options available through a specific website.
在美国,这家咖啡业巨头一直在寻找新方法为顾客提供更多便利。去年,它在7400多家自营店推出了手机下单和支付应用,这样顾客就不用再排队点饮品和付款。它还在美国率先推出了送货上门服务,顾客可以通过一个特定网站下单。
Worldwide, the company has more than 23,000 retail stores in 68 countries.
目前,星巴克在全球68个国家拥有超过2.3万家门店。