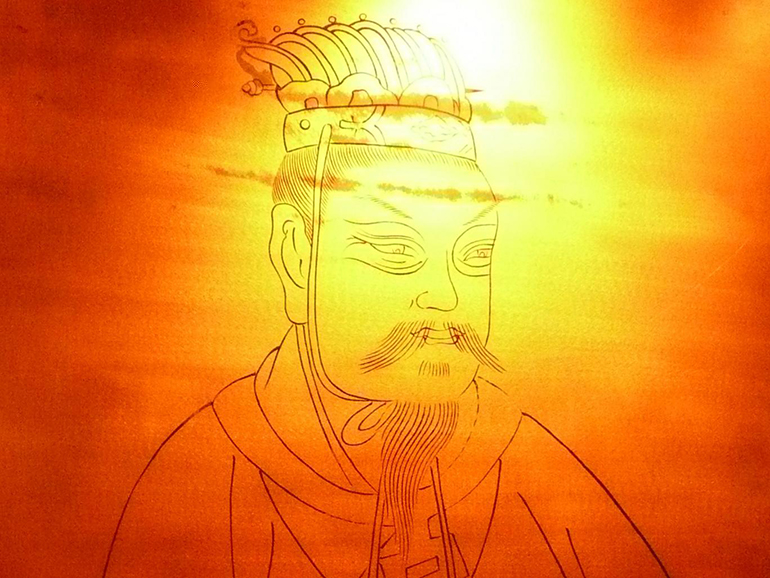 Archaeologists have discovered the oldest tea in the world among the treasures buried with a Chinese emperor.
考古学家在一名中国皇帝的随葬品中发现世界最古老的茶叶。
New scientific evidence suggests that ancient Chinese royals were partial to a cuppa – at least 2150 years ago.
新的科学证据显示,中国古代皇室成员好茶——起码在2150年前。
Indeed, they seem to have liked it so much that they insisted on being buried with it – so they could enjoy a cup of char in the next world.
际上,他们似乎太喜欢茶了,以致执意要把茶作为随葬品——这样他们在另一个世界也能喝上一杯。
The new discovery was made by researchers from the Chinese Academy of Sciences.
这项新发现是由中国科学院的研究人员做出的。
By examining tiny crystals trapped between hairs on the surface of the leaves and by using mass spectrometry, they were able to work out that the leaves, buried with a mid second century BC Chinese emperor, were actually tea.
通过研究茶叶表面绒毛间的微小晶体并利用质谱分析法,研究人员得以搞清,随公元前二世纪中期的一位中国古代皇帝埋葬的这些叶子实际上是茶叶。
The tea aficionado ruler – the Han Dynasty Emperor Jing Di – died in 141 BC, so the tea dates from around that year. Buried in a wooden box, it was among a huge number of items interred in a series of pits around the Emperor's tomb complex for his use in the next world.
这位好茶的统治者——汉景帝卒于公元前141年,因此这些茶叶可追溯至那一年左右。这些茶叶装在一只木盒中,是埋在墓葬群周围一系列墓坑中、供这位皇帝在另一个世界享用的大量随葬品之一。
Other items included weapons, pottery figurines, an 'army' of ceramic animals and several real full size chariots complete with their horses.
其他随葬品包括武器、陶俑、陶塑动物和几辆马匹完备的实际尺寸的战车。
The tomb, located near the Emperor Jing Di's capital Chang'an (modern Xian), can now be visited. Although the site was excavated back in the 1990s, it is only now that scientific examination of the organic finds has identified the tea leaves.
汉景帝陵墓位于当时的首都长安(现代的西安)附近,目前对外开放。虽然考古人员在上世纪90年代就发掘了这处陵墓,但直到今天对这些有机物品的科学研究才确定这些茶叶。
The tea-drinking emperor himself was an important figure in early Chinese history. Often buffeted by intrigue and treachery, he was nevertheless an unusually enlightened and liberal ruler. He was determined to give his people a better standard of living and therefore massively reduced their tax burden. He also ordered that criminals should be treated more humanely – and that sentences should be reduced. What's more, he successfully reduced the power of the aristocracy.
这位喝茶的皇帝本人是中国早期历史中的一个重要人物。虽然经常受到阴谋和背叛的打击,但汉景帝是一位异常开明和宽大的统治者。他下决心提高人民的生活水平,因此大幅减轻人民的税负。他还下令更人道地对待罪犯——和减轻刑罚。此外,他成功地削弱了贵族的权力。
"The discovery shows how modern science can reveal important previously unknown details about ancient Chinese culture. The identification of the tea found in the emperor's tomb complex gives us a rare glimpse into very ancient traditions which shed light on the origins of one of the world's favourite beverages," said Professor Dorian Fuller, Director of the International Centre for Chinese Heritage and Archaeology, based in UCL, London.
伦敦大学学院中国文物和考古学国际中心主任多里安•富勒教授说:"这项发现表明,现代科学能够揭示以前不知道的中国古代文化的重要细节。在这位皇帝的墓葬群中发现茶叶一事让我们难得一窥非常古老的传统,使我们对世界上最受欢迎的饮料之一的起源有了新的认识。"
The research has just been published in Nature's online open access journal Scientific Reports.
这项研究结果新近发表在英国《自然》周刊下属的开放网络科学杂志《科学报告》上。
The tea discovered in the Emperor's tomb seems to have been of the finest quality, consisting solely of tea buds – the small unopened leaves of the tea plant, usually considered to be of superior quality to ordinary tea leaves.
在汉景帝墓中发现的茶叶看起来是顶级品质,完全由茶芽制成。茶芽是茶树上尚未展开的小叶子,通常认为比普通茶叶品质高。