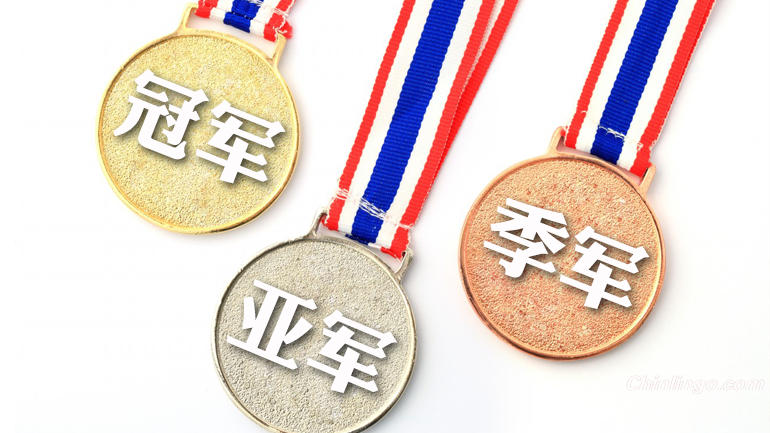 In athletic contests or activities, there are several titles for the people getting different places. The person who get the top place is called "冠军 (guàn jūn, champion)", followed by "亚军 (yà jūn, runner-up)" and "季军 (jì jūn, second runner-up)".
在体育竞赛活动中,得第几名都有些别称。比赛中将成绩最佳者称"冠军",第2名称"亚军",第3名为"季军"。
Speaking of it, the word "冠军 (guàn jūn)" has long been used since the ancient time in China. Far back in 209 BC, there was a general from Chu called "宋义 (sòng yì)", who rose up against the tyrannical rule of the Qin Dynasty. Song was so brave and skilful in battle that he defeated soldiers of Qin again and again. The soldiers of Chu awarded him with the title "卿子冠军 (qīng zǐ guàn jūn)" for his remarkable battle achievements. He was the first person that had won the title "冠军 (guàn jūn)" in Chinese history.
说来,冠军一词由来已久。远在公元前209年,当时楚国有一位奋起反抗秦朝暴政的大将宋义,英勇善战,秦兵屡屡败于他的手下。由于他战功赫赫,于是楚军将士赠给他一个光荣的称号:"卿子冠军"。这是中国历史上第一个荣获"冠军"称号的人。
"冠军 (guàn jūn)" was still in use in the Han Dynasty. Since Han, "冠军 (guàn jūn)" has been used as an official title of the military generals with remarkable battle achievements. In the Qing Dynasty, the head of imperial guard that protected the emperor was called "冠军使 (guàn jūn shǐ)".
到了汉代,冠军一词继续沿用了下来。汉代以后,战功卓著的武将,也都采用了冠军为官衔。而清朝,护卫帝王的銮仪卫的首领,也称为"冠军使"。
As "亚 (yà)" means "second-class" in Chinese, "亚军 (yà jūn)" refers to the runner-up who is inferior to the "冠军 (guàn jūn)". In ancient times, scholars called Confucius "至圣 (zhì shèng)" and Mencius "亚圣 (yà shèng)".
"亚军",由是由于"亚"是"次一等"的意思,也就是低于冠军的优胜者。在古代,学者称孔子为"至圣",称孟子为"亚圣"。
As for "季军 (jì jūn)", it means the second runner-up who gets the third place following "冠军 (guàn jūn)" and "亚军 (yà jūn)". In the old Chinese calendar, the three months in spring season were separately named "孟春 (mèng chūn)", "仲春 (zhòng chūn)" and "季春 (jì chūn)". Three brothers in a family were ranked as "伯 (bó, the eldest brother)", "仲 (zhòng, the younger brother)" and "季 (jì, the youngest brother)" based on their ages. "季 (jì)" in these two examples means "the third".
至于"季军",指名次低于冠军、亚军的优胜者,是指竞赛的第3名。在我国的旧历中,春季的3个月分别叫孟春、仲春和季春,弟兄的排行也是伯、仲、季,这里的"季"都是"第3"的意思。
Now the words "冠军 (guàn jūn)", "亚军 (yà jūn)" and "季军 (jì jūn)" are all used to address the people who win awards in activities like athletic contests or entertainments.
现在,冠军、亚军和季军在体育竞赛、文娱等活动中被用于称呼获奖的人。
Please visit Chinlingo for Chinese learning.