An 11-year-old boy who was beachcombing had a big surprise when he discovered a message in a bottle washed up on the sand.
英国一名11岁小男童日前在海边遛狗时,意外在海滩上拾获一个瓶中信。
Jack Harrington and his mum Nancy were walking their dog on Silver Bay Beach in Anglesey when he spotted the glass bottle containing a scroll of paper written in a foreign language.
英国11岁男童哈灵顿日前偕同家人前往威尔士安格尔西岛度假,一天与母亲南希在银湾海边遛狗时,眼尖的他发现海滩上躺着一个透明的瓶子。在好奇心的驱使下,哈灵顿打开瓶子,发现里头藏有一封中文手写信。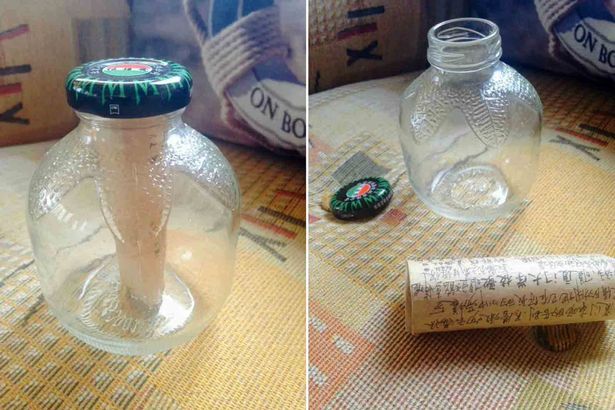 "One of my work colleagues is married to a Chinese lady, who kindly provided the interpretation," she said. The text contains a story of love and loss and appears to have come from Gulangyu Island – an island off the coast of Xiamen city in southern China. If the bottle really did come from the island, it would have floated thousands of miles around the world.
"我的同事娶了一位中国女孩,我想她会愿意替我翻译。"南希说,她请求友人的帮助后,才明白这是一封情书,内容既心酸又凄凉。根据信的内容显示,这个爱情故事似乎发生在厦门的鼓浪屿。也就是说,如果瓶中信的来源地确定为中国,那么,这个瓶子是在大海上漂流了1万公里后才抵达英国的。
The translated message
"Gulangyu islet is the most surprising, most memorable, and the place of both my happiest and saddest memories.
"鼓浪屿对于我们来说,是最令人难忘且惊喜的地方。"
At this unromantic and unremarkable islet, my romance that never started, ended.
"我们的爱情故事还没有开始便结束了,在这个不起眼的小岛。"
Three or maybe four days remain, to reminisce, to regret, to feel our emotions, where I can be allowed to quietly enjoy being with you, watching you, holding you close.
"只剩下三四天的时间,去追忆我们之间的爱。在这里,我能够静静地与你在一起,看着你,拥抱你。"
Life must continue. The things you hold on to always hold you back. Keep moving forward, keep running. With all the things there are to think about, you will eventually forget.
"生活还是要继续,那些你执着的事情总让你踟蹰不前。继续前进,那些你考虑的事情,最终都会被遗忘的。"
Wherever you may be, take time out to think in peace and quiet. Spend your days being happy with someone who is special to you.
"无论你在哪,记得抽出时间静静地去思考,快乐地与你心爱的人在一起。"
Bye, my little sweetie, and goodbye to our Gulangyu islet.
"再见,我的爱人,再见,我们的鼓浪屿。"
I remember saying goodbye outside the door of Amolensis. I will always remember the moment deep in my heart as well as your little mannerisms.
"我记得在校门外道别的那刻,你的模样将铭记我心。"
Sadly you have left and life must go on. There is nothing we can do, is there?"
"可悲的是你离开了,生活仍需继续,我们无能为力,对吧?"
Please visit Chinlingo for Chinese learning.