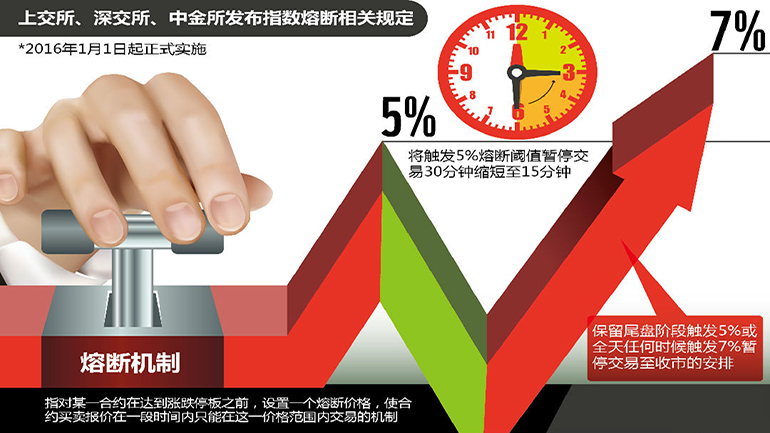 Well, China circuit breaker, you had a good run. A short life, to be sure. But you did achieve world fame. People from around the world – mostly in financial centres – have gathered to discuss your life and its achievements.
啊,中国的熔断机制,你度过了充实的一生。诚然,你的一生是短暂的,但你的盛名享誉全球。世界各地的人们——主要是世界各地金融中心的人们——全都在讨论你的一生,还有你的成就。
You were created from an act of love – the love of stability. We live in tumultuous times, my friend, and you did your best to bring calm. By suspending all trading of China equities after a 5 per cent fall, you tried to bring investors together and let cooler heads prevail. Surely after 15 long minutes everyone would turn bullish again. And okay, they didn't, causing you to come in again and send everyone home. But what was your crime? Optimism. One day, let us hope we can live up to your standards.
你的诞生是出于爱——对股市稳定的爱。我们生活在一个动荡的时代,我的朋友,为了带来安宁,你已尽了全力。在中国股市下跌5%之后,你暂停了所有交易,你尽力将投资者们集合起来,让众人头脑冷静。等到漫长的15分钟过去后,人们肯定会再次看涨——好吧,他们没有。于是你再次现身,直接让所有人下班回家。而这又有何罪?如果乐观也算罪过,那么乐观就是你的罪名。但愿有朝一日,我们能满足你的标准。
Critics will say you failed, only bringing more volatility to markets. But the critics will be forgotten. You'll be remembered long after they're gone.
批评者会说你失败了,你只为市场带来更多波动。但这些批评就如过眼云烟,当它们被忘诸脑后,你还会长久地留存人们心间。
Let us not dwell on your passing. Let us celebrate your achievements. You came into this world on Monday; you were gone by Thursday. But in just four sessions you shut down the market twice. A 0.500 batting average, we could say.
让我们不要过分沉溺于你的逝去,让我们共同庆祝你的成就。你在周一来到这个世界,周四便匆匆离去。短短四个交易日内,你就关闭了市场两次。可以说,你创造了成功率高达50%的纪录。
For those of us still behind, let us not despair. For there are already reports that you haven't died, but merely were suspended. We pray for your return.
对于仍在金融中心奋战的各位,请大家不要绝望。已经有报道说熔断机制并没被取消,只是暂时中止。我们祈祷它的归来。
Until, then, Rest In Peace.
在那之前,请你安息。