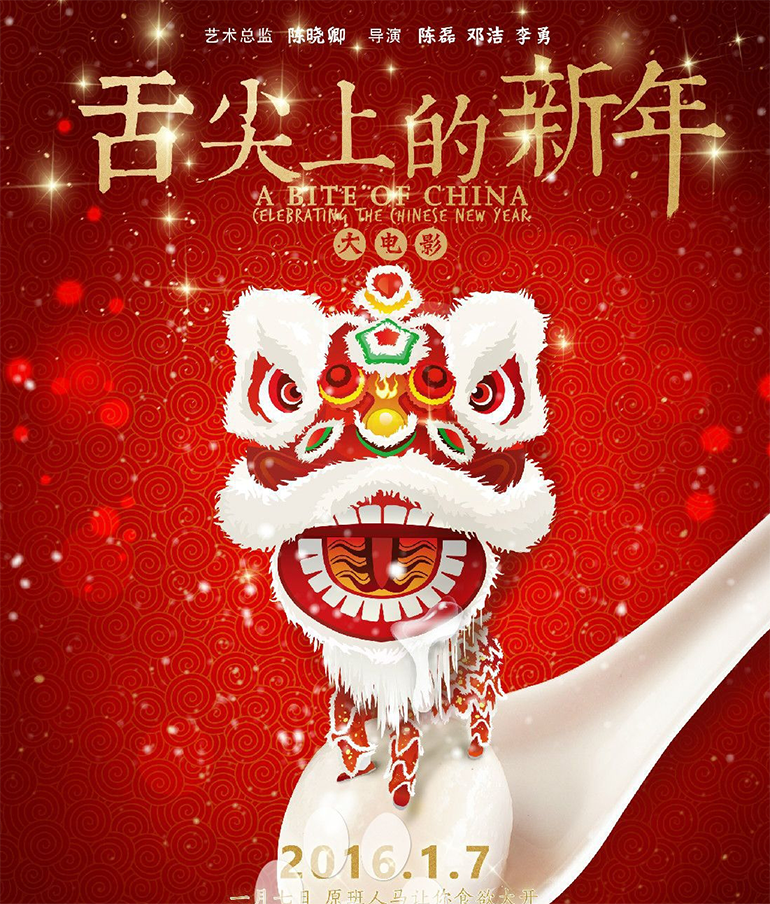 It's been a trend recently for Chinese entertainment shows to move from the small screen to the big screen. The latest follower of this trend is hit food documentary A Bite of China, which is scheduled to hit cinemas with film documentary A Bite of New Year on January 7.
如今,中国娱乐节目从小银幕搬上大银幕已成为趋势。这种趋势的最新追随者是美食纪录片《舌尖上的中国》,电影《舌尖上的新年》即将于1月7日上映。
The movie will focus on how to prepare food for the traditional Chinese Spring Festival, according to one of the directors, Chen Lei.
据导演陈磊透露,电影将围绕如何在中国传统春节准备食物。
"We hope to find those little known but very yummy foods for Spring Festival," he said, adding that there was only room to show 43 of the 60 dishes shot in the film.
他说:"我们希望找到那些不太著名但是非常美味的春节美食。"60道菜肴中,只有43道在电影中展出。
To make a high quality food documentary, the directorial team used brand new equipment, including 4K video cameras to capture every detail at high speed and at extremely close distances.
为了制作出高质量的美食纪录片,导演组使用了全新的设备,包括4K摄影机,高速近距离捕捉每一个细节。
Chen Xiaoqing, the artistic director for the film, said that while the Spring Festival is a remnant of the agrarian age, it still has a place in today's modern society.
影片的艺术指导陈晓卿称,尽管春节可追溯到农耕时代,但它在今天的现代社会还有一席之地。
"The Spring Festival is full of color. While the festival is losing appeal in modern times, we hope to bring back the festival by using people's memories of the food presented in this film," Chen said.
陈晓卿说:"春节充满色彩,尽管在现代社会节日正在丧失吸引力,但是我们希望通过利用人们对影片中出现的食物的记忆,使人们回忆起春节。"
A Bite of China is a Chinese documentary television series on the history of food, eating, and cooking in China directed by Chen Xiaoqing, narrated by Li Lihong with original music composed by Roc Chen. It first aired May 14, 2012 on China Central Television and quickly gained high ratings. The seven-episode documentary series, which began filming in March 2011, introduces the history and story behind foods of various kinds in more than 60 locations in mainland China, Hong Kong, and Taiwan. The documentary has also been actively encouraged as a means of introducing Chinese food culture to those unfamiliar with local cuisine.
舌尖上的中国是中国电视纪录片,描述中国食物、饮食和烹饪的历史,陈晓卿指导,李立宏配音,阿鲲配乐。2012年5月14日于中央电视台首播,获得高收视率。纪录片共七集,2011年3月开始录制,介绍了超过六十个中国大陆地区、香港和台湾不同食物背后的历史与故事。纪录片很快成为了一种向不熟悉当地美食的人介绍中国饮食文化的途径。