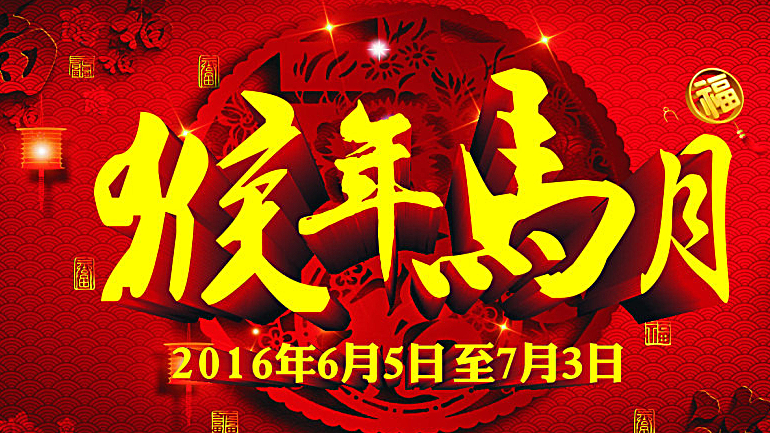 Chinese netizens are excited by the upcoming "Horse month of the Monkey year" based on the lunar calendar, leading many to joke on social media.
中国网民对即将到来的"猴年马月"兴奋不已,根据农历算法,传说中的"猴年马月"就要来了,引起网友打趣声一片。
"Horse month of the Monkey year" (猴年马月, hóu nián mǎ yuè), is commonly used Chinese slang that refers to a date far in the unforeseeable future. It also indicates that something cannot be done within a predictable period of time and that the chance of success is slim. However, as the year 2016 comes, this seemingly distant month is coming for real.
猴年马月,是常用的中国成语,意思是指未来不可预见的日子,也表示事情的前景尚未可知或机会渺茫。不过,随着2016年的来临,这个遥遥无期的日子终于来啦!
Based on the Chinese lunar calendar, each animal in the zodiac not only represents one year, but also symbolizes a particular month in a year. For example, "rat" corresponds to 11th month in a lunar year, and "ox" refer to the 12th while the month of the tiger is the 1st month. Therefore, the month of the horse this year – the Year of Monkey- falls from June 5 to July 3 in 2016.
根据中国农历算法,每个生肖动物不仅代表一年,还代表一个月,比如鼠对应的是农历11月,牛对应的是农历12月,虎对应农历1月。因此,今年(猴年)的马月是从6月5日到7月3日。
As the seemingly distant future is right upon us, the topic has become one of the most talked about online. People have even built a topic page on Sina Weibo that received more than 60 million views. More than 70,000 messages were found on the theme.
传说中遥遥无期的日子终于来到了,这一话题已成为网络上最受关注的话题之一,微博上甚至专门创建了话题帖,现在已经有6000万余次浏览量,超过7万的相关消息。
"My dad said that I can only find a girlfriend in 'Horse month of Monkey year'. I finally realize that the time is coming," a Weibo user 'Wei Lin De Cen' joked online; "My boss told me in a serious tone that my salary would not grow until the Horse month of Monkey year…But when I look at the calendar, I said it's settled," wrote another Weibo user.
"我爸总说等到猴年马月我才能找到女朋友,这下猴年马月可算是来了,"某位微博用户在网上开玩笑道。"我老板一本正经地跟我说,要涨工资得等到猴年马月…然后我看了看日历,发现这不就快了嘛",另一个微博用户评论道。
Meanwhile many netizens call 2016 a good year as they believe the results of their greatest efforts will appear in the 'Hou Nian Ma Yue'.
同时,很多网友也认为2016年猴年是祥瑞的一年,感觉很多等了很久的事,就要有结果了。
"It seems that many of my wishes would finally come true," said Weibo user Dong Dongbujiaohuidong.
一位微博用户说道,"感觉我的很多愿望都会实现呢。"
The "Horse month of Monkey year" only appears once in 12 years. So far there is no historical evidence showing the origin of the idiom, yet it is popularly used by the public.
"猴年马月"每12年出现一次,到目前为止该成语的来历虽无从考据,但被广泛使用。
Please visit Chinlingo for Chinese learning.