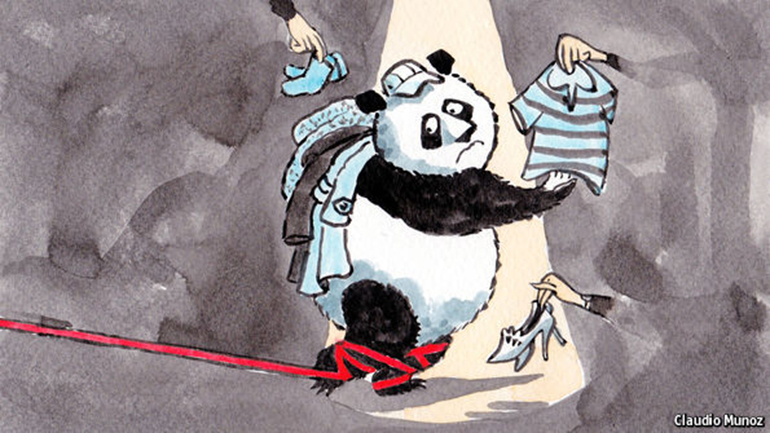 THE feeding frenzy for the pandas comes at nightfall. People furtively approach them, pouring bags of old clothes down their gullets. By day, the trucks arrive to clean the bears out, leaving them empty for the next big meal. The pandas are plastic. They are large, bear-shaped receptacles, designed to entice people to donate their unwanted garments to those in need. First deployed in 2012, there are now hundreds around Shanghai, often placed by entrances to apartment buildings. They swallowed about a million items of clothing last year.
夜幕降临,饲养"大熊猫"的狂潮也随之涌起。人们悄悄地走进它们,将大包小包的旧衣物塞入其腹中。白天,一辆辆卡车会把"大熊猫"的腹部清空,好让它们下一次大快朵颐。这些"大熊猫"是一些由塑料制成的大型回收箱,其设计初衷是为了吸引人们将闲置的旧衣物捐给需要的人。从2012年起上海开始设立的"大熊猫"回收箱,目前全市大约有数百个这样的箱子。它们经常被放置在公寓大楼的入口处。去年,它们大约吞下了100万件衣物。
The procession of donors feeding trousers to pandas is impressive. But they usually do so under cover of darkness. Charitable giving is not yet a middle-class habit. Many people still feel awkward about it, despite their growing prosperity. China's GDP per person is about one-seventh of America's. But in 2014 Chinese gave 104 billion yuan ($16 billion) to charity, about one-hundredth of what Americans donated per person.
捐赠者向回收箱捐衣物的做法令人肃然起敬,但他们通常都是在夜色的掩护下采取这样的行动。中国中产阶级尚未形成慈善捐赠的习惯。尽管中国中产阶级的队伍在不断壮大,但很多人仍对做慈善感到很尴尬。中国人均GDP大约是美国的七分之一。但2014年中国人捐给慈善机构的善款为1040亿元,其人均捐款数量大约仅相当于美国人均捐款的1%。
The middle classes have worries too—that giving large amounts to charity may draw unwanted attention to their wealth. They do not want to fuel the envy of the have-nots or encourage tax collectors to pay them closer attention. The top 100 philanthropists in China gave $3.2 billion last year, according to Hurun Report, a wealth-research firm based in Shanghai. That was less than the amount given by the top three in America.
中国中产阶级还担心——向慈善机构大笔捐款可能引起外界对其财产不必要的关注。他们既不希望招致穷人的嫉妒,也不希望让税务部门更关注自己。《胡润百富》月刊称,去年中国排名前100位的慈善家共计捐款32亿美元。这一数字大大低于美国排名前3位慈善家的捐款总数。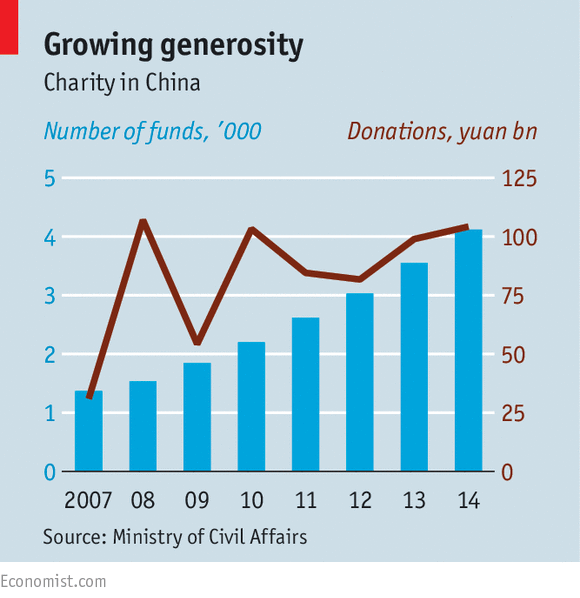 For Yang Yinghong, general manager of Yuan Yuan, this con was just the latest in a series of challenges. Lest people be tempted to put their refuse in the donation boxes, he came up with the panda design and made the animals translucent so that passers-by could see that clothes were piling up inside them. The pandas' eye-catching visibility has had an unfortunate side-effect, however. Mr Yang says people prefer to drop off their donations at night because others may think badly of them for giving away perfectly wearable clothes.
对于上海缘源实业有限公司总经理杨膺鸿而言,上述欺诈行为仅是其遇到的一系列挑战中的最新情况。为了避免人们将垃圾投入旧衣回收箱内,他推出了"大熊猫"造型设计的回收箱,并将其做成半透明的,以便路人能够看到堆放在里面的衣物。但令人遗憾的是,吸引眼球的"大熊猫"回收箱却带来了副作用。杨膺鸿说,人们更喜欢在晚上捐衣服,因为这会引起其他人的误解,认为他们把还能穿的衣服扔掉。
The China Philanthropy Research Institute estimates that fully 80% of donations by the wealthiest Chinese go to overseas charities. Many may well prefer to give to local causes, but regulations have hindered the development of philanthropy at home. To function as a not-for-profit organisation, charities must have a government partner, which entails the loss of their autonomy. It is also difficult for them to obtain tax breaks for their donors.
中国公益研究院估计,中国富人捐赠的善款有80%流入了海外慈善机构。或许很多富人希望为国内的慈善机构捐款,但制度却限制了国内慈善事业的发展。要成立一家非营利的组织,慈善机构必须找一个政府合伙人,这会使其失去很多自主权。
But this will soon change. The government published a draft law on charities in late October. Under discussion for a decade, it defines charities broadly, and acknowledges that they can help improve everyone's quality of life. The law promises to allow charities to register directly, rather than work through an official partner. They may also enjoy tax exemptions. Zhu Jiangang of Sun Yat-sen University in Guangzhou says the law should help reduce the influence of government, and thus encourage charities to flourish. It is expected to be approved soon.
但这种现象很快将发生改变。10月底,政府已公布《中华人民共和国慈善法(草案)》。经过10年的讨论,该法律对慈善做出了大致的定义,并承认慈善事业有助于改善人们的生活质量。该法律承诺可以让慈善机构直接注册,而不需要通过官方的合作伙伴进行注册。它们还可以享受免税的政策。广州中山大学公益慈善研究中心副主任朱健刚说,该法律有助于减少政府的影响力,促进慈善事业的蓬勃发展。预计,该法律会很快获得通过。