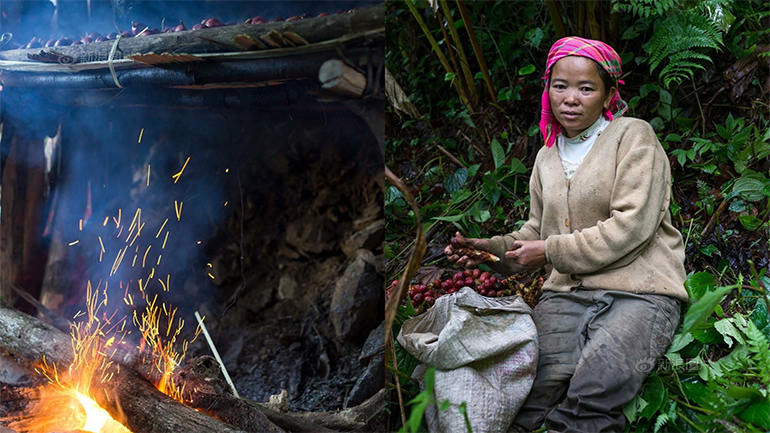 Mang, an ethnic group living in the forests on the China-Vietnam border, has been caught in the tensions between modernization and their ancestral lifestyle for several decades.
莽族是居住在中越边境的森林里的少数民族,在现代化和他们数十年来延续的祖先的生活方式之间陷入紧张。
The tribe first came into state vision in the 1950s, not long after the establishment of the People's Republic of China. However, they were mistakenly taken as the Kucong people of the Lahu ethnic group in the first national census.
这个部族最初是在50年代进入全国的视野,那是中华人民共和国刚刚建国不久。然而,他们却在第一次全国人口普查时被错误地划为拉祜族苦聪人。
In fact, the Mangs are believed to be the descendants of the ancient ethnic groups of Baipu, whose language belongs to Khmer in the South Asian language family. They called themselves "Mang", meaning smart souls or mountain people.
事实上,莽族被认为是古老的民族白朴的后代,他们的语言属于南亚语系。他们称自己为"莽人",意思是智慧的灵魂或者住在山里的人。
The Mangs spread in the primitive forests in the mountains of southern Yunnan province and north Vietnam. For centuries they had been trying to avoid contacts with the outside world, living on their own with hunting, collecting fruits and farming by slash and burn.
莽人分布在云南省南部和越南北部的原始山林里。几百年来他们一直回避和外界的联系,以打猎,采摘水果为生,过着刀耕火种的生活。
Due to the harsh living conditions of the mountainous region, the Mang population barely increased over the years. In the 1950 national census, there were a total of 291 people in 59 Mang households; while in 2003, the population grew to 651, with 107 families. In Vietnam, the Mang population was estimated to be around 4,000.
由于山区恶劣的生活条件,莽族的人口数数年来都没什么增长。在1950年的人口普查中,莽族59户共有291人;2003年是,人口增长到651人107户。在越南,莽族人口估计是大约4000。
The government built four villages for the 14 tribes in the primitive forests of Jinping County, Yunnan province in 1958. Mangs, influenced by neighboring nations, also started to plough and build simple shelters for settlement.
1958年,政府在云南省金平县的原始森林里为14个部落修建了4个村落。受邻国的影响,他们也开始耕地并建造简单的居所。
Half a century later in 2008, the "Development Project of the Mang and the Kemu People" was put into force supported by state funds. Villa-like houses with satellite cable TVs were built in three settlements of Longfeng village, Niuchangping and Pinghezhongzhai village, which were connected with pebble roads. It was also in 2008 that the Mangs were classified into a branch of the Blang ethnic group.
半个世纪之后的2008年,国家发放资金支持"莽人和克木人的发展项目"。带卫星电视的别墅一样的房子修在三处聚居区龙丰村,牛厂坪和坪河中寨村。这些村落之间有石路连接。也是在2008年,莽人被划分到了布朗族。
With governmental intervention, life of the Mangs changed drastically in a short period of time. Conflicts of traditions and modernity also emerged. For one minute they might be watching TV discussing the Syrian War; for the next minute they have already set out hunting in the mountain with their wine bags. They kept on going back to the mountains following their ancestors' footprints despite the temptation of better pays in the city. Is this only a backlash against modernization that will finally die off or will it evolve into a new approach of keeping one's identity in the irreversible trend of globalization? The answer lies, perhaps, only in time.
随着政府的介入,莽人的生活在短时间内发生了很大的改变。传统和现代化之间的冲突也出现了。上一分钟他们可能还在看电视,讨论叙利亚战争下一分钟他们可能已经拿着红袋子出发到山里去打猎了。即使城市里更好的生活十分诱人,他们也坚持回到山中去跟从祖先留下的脚印。这到底只是对现代化的一次反击,最终会消亡呢?还是会演变成一种新的方式使人能在全球化的大潮中保留自己的身份?答案也许只有时间才能告诉我们。