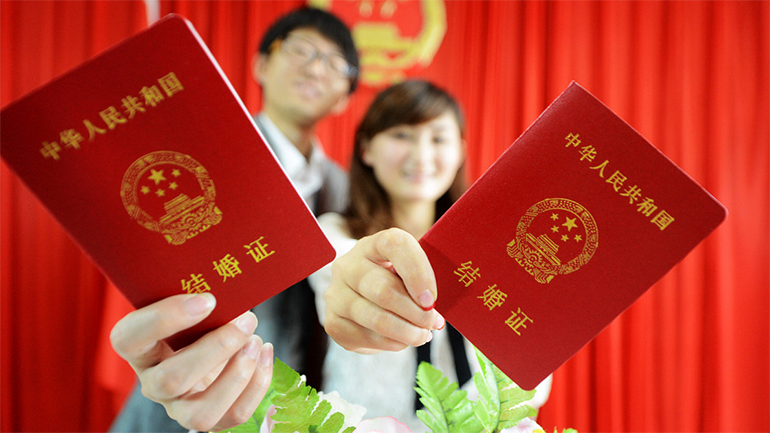 Couples in China are rushing to tie the knot ahead of changes which will scrap extra holiday allowances for people who delay getting married, it's reported.
据报道,中国夫妻们抢着在取消晚婚假政策正式生效前结婚。
On 1 January, new regulations come into effect which eliminate an annual leave bonus for people who put off marrying until the age of 23 for women, and 25 for men, the South China Morning Post reports. The amount of holiday time given varies by area, from seven days in Shanghai, to a whopping 27 in the northern region of Shanxi, the report says.
据南华早报报道,女性满23岁、男性满25岁结婚将能带薪休晚婚假的政策于2016年1月1日正式取消。报道还说,晚婚假的天数不同地区各有差异,从上海的7天到山西省北部的高达27天。
"We made the decision last night to register our marriage as soon as possible to take advantage of the existing law," bridegroom Qiang Bin told the paper at a registry office in Shanghai. "A seven-day holiday is a big deal for us because we don't have many holidays throughout the year."
在上海的一个婚姻登记处,新郎强斌(音)告诉记者,"我们昨晚做出了尽快去登记领证的决定,以便还能享受到现行的晚婚假福利。我们全年都没有什么假期,7天的长假对我们来说非常重要。"
The holiday bonus was designed to support China's one-child law by encouraging couples to delay starting a family. But with that policy now being abolished, and an average marriage age of 25, the government says it is no longer necessary.
晚婚假福利目的是鼓励夫妇推迟组建家庭,以支持中国的独生子女政策。但随着当前这一政策的废除,以及25岁的平均结婚年龄,政府称晚婚假没有存在的必要了。
In Beijing, one registry office dealt with about 300 couples seeking to get married the day after the changes were announced, rather than the usual number of between 70 and 80, the Global Times reports. But one lawyer tells the paper that people shouldn't panic, as the changes still have to be adopted by local governments. "Regional regulations often lag behind national changes to the law," says lawyer Li Yingchun. "These procedures take time. So people who are rushing to register for marriage can relax."
据环球时报报道,在宣布晚婚假取消的第二天,北京一登记处接待了约300对新人登记结婚,而平日里每天的接待量大概是70到80对。不过,某律师告诉人们无需恐慌,因为这个变化还要由地方政府采纳生效。律师李迎春说,"区域性法规往往滞后于国家法律的变化,这些程序需要时间,所以那些抢着登记结婚的大可放轻松。"