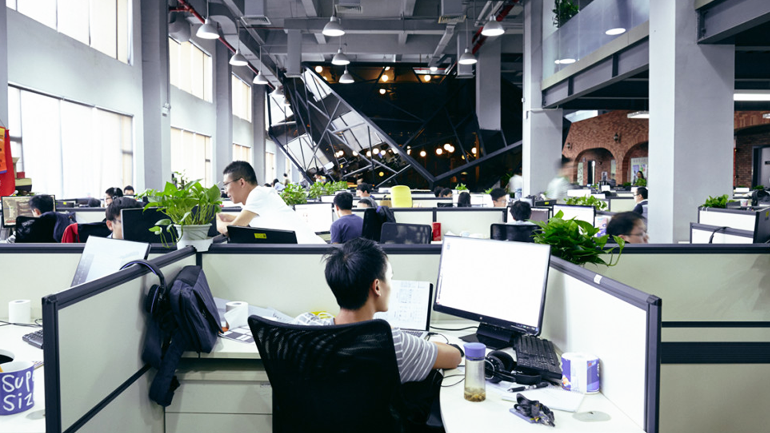 The young programmer had an idea, and everyone thought it was nuts. Just out of college, he'd gotten a job writing software for YY. More than 100 million users every month stream them­selves, or tune in to broadcasts of others, singing, playing video­games, or hosting talk shows from their Beijing apartments. The audience chats back, prolifically, via voice or text.
一名年轻的程序员有了个新点子,大家却都觉得不靠谱。他刚刚从大学毕业,进入实时流媒体服务供应商YY公司(欢聚时代)做程序员。用户可以在该公司旗下网站上收听广播、唱歌、玩视频游戏,以及运用语音或文本等手段聊天对话。
The programmer thought YY should try something new: use its proven streaming technology to run a dating service, which would operate kind of like a TV dating show. A host would set up an online lounge, then invite in some lonely singles and coax them to ask each other questions and maybe find a partner.
这位程序员认为,YY应该尝试一些新东西:利用已经成熟的流媒体技术,提供约会服务。这种服务与电视相亲节目类似,主持人可以设置一个线上聊天室,邀请一些孤独的单身者加入并诱导他们彼此提问和作答,由此找到适合自己的另一半。
Company executives were dubious. "The CEO almost killed it," says Eric Ho, chief financial officer. But the programmer was hungry and persistent, so they waved him on: Give it a try.
对于这个想法,公司管理层并不十分看好。YY的首席财务官何先生告诉记者,"总裁几乎毙掉了这个提议"。但这位年轻的程序员坚持自己的想法,最后总裁决定放手让他试一试。
In China, this type of employee didn't used to exist. Ten years ago, high tech observers complained that the nation didn't have enough bold innovators. There were, of course, wildly profi­table high tech firms, but they rarely took creative risks and mostly just mimicked Silicon Valley: Baidu was a replica of Google, JD a version of Amazon. Young Chinese coders had programming chops that were second to none, but they lacked the drive of a Mark Zucker­berg or Steve Jobs. Graduates craved jobs at big, solid firms. The goal was stability. Better to keep your head down and stay safe.
在中国,这种类型的员工并不多见。十年前,高科技行业的观察家抱怨说,中国没有足够多的大胆创新人才。当然,中国有许多利润丰厚的科技公司,但它们不愿承担创新的风险,大多以模仿硅谷的模式为主:百度复制了谷歌,京东复制了亚马逊。中国不缺少一流的程序员,但缺少像乔布斯或扎克伯格这样的领军人物。中国的许多大学毕业生都希望进入一家实力雄厚的大公司工作,追求的目标就是稳定。所以,最好是低调做人,安稳工作。
That attitude is vanishing now. It's been swept aside by a surge in prosperity, bringing with it a new level of confi­dence and boldness in the country's young urban techies. The result is a generation both creative and comfortable with risk-taking. "We're seeing people in their early twenties starting companies—people just out of school, and there are even some dropouts," says Kai-Fu Lee, a Chinese venture capitalist. Now major cities are crowded with ambitious inventors and entrepreneurs. They no longer want jobs at Google or Apple; like their counterparts in San Francisco, they want to build the next Google or Apple.
然而,这种观念正在消失。中国日益繁荣,涌现了大量的年轻技术人员,他们自信且大胆。这一代人不仅具有创新精神,而且也敢于承担风险。中国的风险投资家李开复说,已经有一些二十来岁的年轻人早早就开始创业了,他们中有些人刚大学毕业,有些甚至是退学创业。现在,中国的大城市涌入了大量雄心勃勃的创新者和创业者,他们不再想去谷歌或苹果这样的公司上班,而是想创立下一个谷歌或苹果。
Anyone with a promising idea and some experience can find money. Venture capitalists pumped a record $15.5 billion into Chinese startups last year, so entrepreneurs are being showered in funding, as well as crucial advice and mentoring. With the economy's growth slowing after two decades of breakneck expansion, the Chinese government is worriedly seeking new sources of good jobs. Tech fits the bill.
只要有可实现的想法和一些经验,就能找到资金。2014年,风投为中国初创企业投入了创纪录的155亿美元,创业者不仅获得了资金支持,还获得了宝贵的建议和指导。在二十多年的高速扩张之后,中国经济增速开始放缓,政府急于找到创造工作机会的新领域。科技创新行业正合适。
The new boom encompasses both online services and the hardware arena. Recent local-kid-makes-good models like Xiaomi, the fast-rising Beijing mobile phone firm, or WeChat, Tencent's globe-conquering social networking app, are leading the way forward. Homegrown firms have distinct advantages, namely familiarity with local tastes, the ability to plug into a first-class manufacturing system built for Western companies, and proximity to the world's fastest-growing markets in India and Southeast Asia. The combination of factors is putting them in a position to beat the West at its own game. Xiaomi, for example, was the fourth-highest seller of mobile phones worldwide last year, behind Samsung, Apple, and Huawei.
网络在线服务和硬件领域蓬勃发展,很多本土公司推出了创新商业模式,比如迅速崛起的小米手机公司和腾讯旗下的微信等都在科技行业处于领先地位。本土企业有其独特的优势,它们了解本地用户的喜好,又能利用一流的西方制造业管理体系,而且毗邻目前全球增长最快的消费市场印度和东南亚。多种因素加在一起,使中国本土企业在竞争中打败西方企业,小米是去年全球销量第四的手机厂商,仅次于三星、苹果和华为。
As for YY, it turns out it was good. The dating show launched last year and became a hit. It also generated serious profits. YY has no advertising; it earns revenue when users fork over real Chinese currency to buy virtual items they give as gifts to each other or to the "broadcasters" streaming their own lives online. Money is flying around as male and female guests give each other—and the host—virtual presents: rings (worth $1.55), kisses (16 cents), and love letters (5 cents). Some items are pricier yet; for about $1,000, you can buy someone a virtual Lamborghini. Three years after going public on the Nasdaq, its market cap tops $3 billion.
至于YY,结果很好。YY平台上推出的相亲节目立刻吸引了大量用户,带来了可观利润。YY平台上没有广告,收入主要依靠用户用"真金白银"在其平台上购买虚拟商品。当用户通过线上流媒体"广播"自己的生活时,他们可以彼此互赠礼物。在一款相亲软件中,男性送给女性的虚拟戒指价值1.55美元、一个表示好感的轻吻表情价值16美分、求爱信价值5美分。有的商品价格更高,比如用户可以用1000美元购买虚拟的兰博基尼。登陆美国纳斯达克三年后,YY公司的市值已高达30亿美元。
The next Silicon Valley has emerged—and it's in the East.
下一个硅谷已经出现——它在东方。