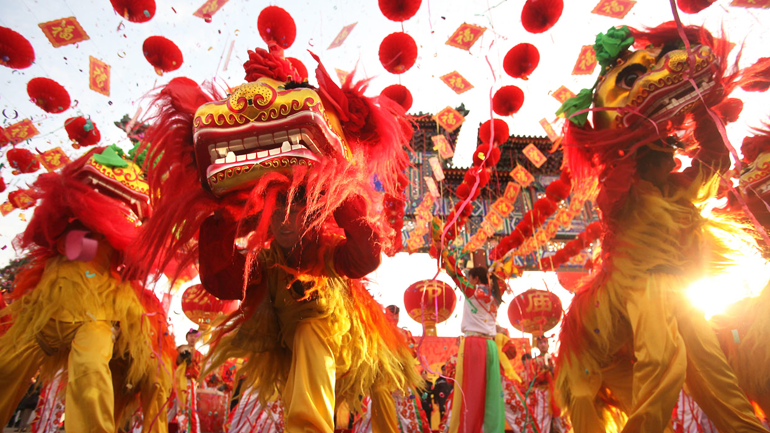 The biggest question people have when traveling to China during Chinese New Year is whether or not they're going to be able to do anything. Visitors worry everything will be closed and that they can forget sightseeing and shopping and eating out.
The good news is that for tourists, Chinese New Year won't be an inconvenience when it comes to touring generally. Almost all service industry related businesses, except for banks, will not close over the holidays.
The flip-side of this is that offices and schools are closed for the holidays so lots of folks are traveling during this period. So expect large crowds at the most famous attractions and book travel early because prices go up during the holiday season and tickets get sold out early.
With all that in mind, it's still quite an experience to visit China during its most festive season. Below are answers to some frequently asked questions about traveling during the holidays.
Will everything be closed over Chinese New Year?
From the tourist's perspective, the answer is no. Restaurants, tourist spots, hotels, airports, etc., all will be open and ready for business. Some restaurants might have limited hours over the holiday period but for the most part, a typical tourist is not going to have any trouble with tourist-related (service industry) places being closed over the New Year.
What businesses close over Chinese New Year?
Here's a list of the types of places that are closed over the Chinese New Year Holiday:
For 2-3 weeks:
schools
universities
factories
some small restaurants and shops whose owners close up and return to their hometowns
For about 7 days:
business offices
For 2-3 days:
post offices
banks
some small restaurants and shops may close for a few days to give workers a few days off
So for visitors who are traveling through, it likely won't affect your trip. However if you're in China for a longer period and you were planning to have anything custom-made while in China, then you'll find that the factory will be shut over the holiday period. Unless you pay to have it ready before the New Year, you'll have to wait several weeks after the holiday for your items.
Will I be able to travel in China over Chinese New Year?
Yes, but be prepared to pay higher fares and see bigger crowds. Outside the service industry, most workers have at least one week's holiday. This translates into mass exodus from major cities to smaller cities or the countryside. Millions of migrant workers flood the big cities doing construction and other work and these jobs are on hold over the holidays. Bus terminals and train stations will be overflowing with people heading home to eat dumplings with families they haven't seen in a year.
Is it difficult to make travel bookings over the holidays?
Unequivocally, yes. While tourist destinations are open for business, you'll find fares for all modes of transportation hiked and top hotels booked out.
Be sureto make your bookings early (two to four months ahead is not a bad idea) so that you guarantee your spot wherever you're headed. Of course, last minute arrangements can be made, just be prepared to pay a premium.
Is it possible to eat out on New Year's Eve?
Absolutely, but the rule is book ahead. Many restaurants and hotels will have New Year's Eve specials, just like they did over the Christmas holidays. Just book in advance if you're planning to dine somewhere special.
Where can I see fireworks on New Year's Eve?
Anywhere! The pyrotechnics are unbelievable on New Year's Eve. I recommend getting yourself ensconced with a glass of champagne in a top-floor bar or lounge at a five-star hotel (you don't have to stay there to enjoy a drink). Make sure you have a window seat and possibly earplugs. At midnight, you'll feel like you're in the middle of a Steven Spielberg war movie as you'll hear firecrackers popping and rockets shooting in every direction. After you've enjoyed the view for a few minutes, take a walk along the street, cautiously avoiding lighter-happy youths – and experience Chinese New Year at street level.