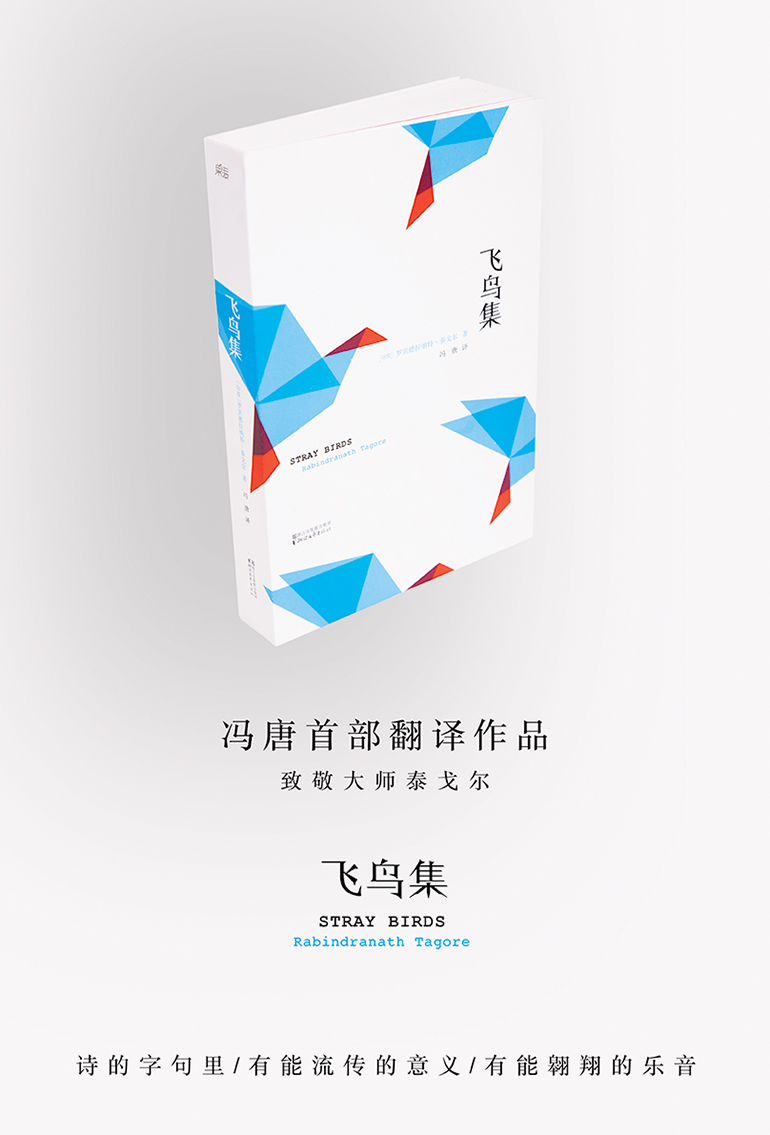 The Chinese version of Rabindranath Tagore's Stray Birds translated by renowned Chinese writer Feng Tang was stripped off the shelves today following criticism over its "astray interpretations".
由作家冯唐翻译的泰戈尔名著《飞鸟集》被指低俗,而遭下架。
The translated line that received most criticism was when "The world puts off its mask of vastness to its lover" was translated to "The world unzipped his pants in front of his lover".
文中将原文"The world puts off its mask of vastness to its lover"被译为"大千世界在情人面前解开裤裆"而遭到指责。
Another criticized part lies in the word "hospitable" in the line "The great earth makes herself hospitable with the help of the grass". Feng translates this using the Chinese word "sao", which is closer to the English word "flirtatious".
另一句"The great earth makes herself hospitable with the help of the grass",冯唐翻译为"有了绿草,大地变得挺骚",将"hospitable(好客的)"这个词翻译为"骚",而"骚"这个词和英文"flirtatious"意思相近。
Zheng Zhong, president of the publishing house said, "We received complaints from the readers and negative comments from the media. We decide to recall the book and reevaluate the book before we make a decision of how to deal with it."
出版社主任郑重说道:"我们接收到读者和媒体对于书籍的负面反馈。我们决定召回书籍,对译文中的内容作出重新审议后再作出后续决定。"
Feng doesn't seem to be bothered much by the matter. Soon after the notice was released, Feng said in an interview with The Paper (a Chinese news portal) that he believed "history and literature would make their judgment", and that time shall speak, so shall the work itself.
而冯唐个人并没有受到什么困扰。在书籍遭下架消息公布后,冯唐在采访中说道,"我相信历史和文学史会给出判断,让时间说话,文学史说话。"
But such confidence became rather pale confronting what negative comments embraced him since the three-months to finish book was issued in July.
然而,自7月份这本书发行3个月以来,这本书饱受争议,冯唐的自信或许显得有些苍白无力。
"The boasted poet would only flaunt with obscenity, to meet the curiosity of the vulgar readers. Please don't apply your hormone storytelling on Tagore," said Qinwo, a user on Chinese SNS site douban.com. Most comments blast Feng's vulgar and cheesy interpretation has harmed the simple and sublime beauty created by Tagore.
"这位作家只会在书中充斥淫秽文字,以此来满足低俗读者的好奇心。但请不要把自己的荷尔蒙激素添加到泰戈尔的作品中,"中国社交网豆瓣网的一名叫"秦我"的用户说到。很多读者用户严厉批评了冯唐低俗的译文亵渎了泰戈尔尊贵高雅的作品原意。
On douban.com, the book received an average of only 4.1 points, a rather disappointing rate compared to Zheng Zhenduo's version, which got an average of 9.1 points.
豆瓣网上,冯唐的书平均评分只有4.1分,和郑振铎的9.1分相比真是相差甚远。
Despite criticism, however, there are also those who favor Feng's translated work. "Tagore is a poet, and so is Feng. A poet's view of another poet is surly different from that of a translator's. This is rather helpful in understanding poems," said a senior Chinese publisher who chose to remain anonymous in an interview with China Daily Website.
虽然批评声音很多,但有些读者很喜欢冯唐的译作。"泰戈尔是位诗人,冯唐也是诗人。诗人作为译者翻译另外一位诗人的作品观点不同,这无可厚非。这对于理解诗的含义大有帮助,"一位匿名资深出版商在中国日报网站上回答说。
A Chinese sociologist and sexologist, Li Yinhe, also voiced support for Feng's poems. She wrote an article in her sina blog yesterday, saying that Feng's version of Stray Birds is the best Chinese translated version ever.
中国著名社会学家和性学家李银河力挺冯唐的译文。她昨天发布了新浪微博,"冯唐的《飞鸟集》译作是中国迄今最好的翻译版本。"
"If we compare Feng's version with that of Zheng's, it makes no effort to see that Feng's version is poem, but Zheng's merely interpretation of poem. Feng exceeds Zheng in terms of poetic quality, as he has brought out the beauty of poems, only in his way.If there is a flaw in Feng's works, then, it is being too 'Feng'," Li said.
李银河说,"如果我们拿冯唐的译文和郑振铎的译文相比,很明显冯唐的译文是诗歌,而郑振铎只是对泰戈尔诗歌的简单翻译。冯唐在诗歌水平上超越了郑振铎,冯唐表达出了诗歌的美。如果说冯唐的译作有缺陷,那只可能是译作很有'冯氏'风格。"