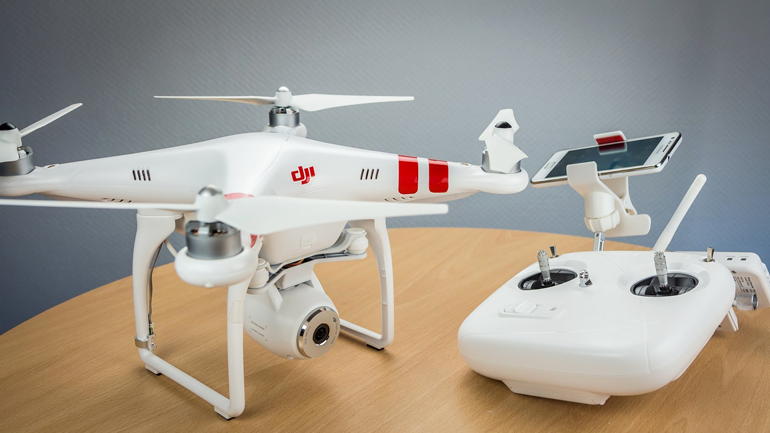 When it comes to drones, China is no copycat. It is a world leader in drone manufacturing and emerging as a world-class innovator.
在无人机方面,中国绝非仿冒者。中国是无人机制造业的世界领导者,并正在崛起成为世界级的创新者。
When an explosion devastated parts of China's Tianjin port in August, one insurance company turned to Chinese-made drones to help analyse the rubble and estimate the damages. Comparing satellite photographs of the site ahead of the blast with high-resolution images taken later by drones, the People's Insurance Company of China was able to determine how many vehicles had been destroyed and total the losses for German automaker Volkswagen.
当今年8月天津港发生巨大爆炸的时候,一家保险公司启用了中国制造的无人机帮助分析废墟,并对损失进行估计。通过把爆炸前现场的卫星照片与爆炸后无人机拍摄的高分辨率照片进行比较,中国人保就可以确定有多少辆汽车在爆炸中被毁,以及德国大众汽车公司遭受的损失总额。
"There was nothing left but a big hole in the ground," says Lin Changqing, a deputy general manager at PICC Property and Casualty. With the government maintaining a one kilometer exclusion zone around the site, an accurate loss assessment would have been "mission impossible" without unpiloted aircraft, he adds.
中国人保财险公司副总经理林长庆说:"除了地上的一个大坑外什么也没剩下。"他说,由于政府在爆炸现场周围1公里辟出了隔离区,如果没有无人机,对损失进行准确评估会成为"不可能的任务"。
Chinese drone developers are racking up an impressive list of aerial solutions for a growing variety of demands, from police surveillance to agricultural mapping and traffic management. Already well established as a world leader in drone manufacturing, China is slowly emerging as a world-class innovator, not just a duplicator of foreign designs.
中国无人机开发商正在为日益五花八门的需求——从警方监视到农业测绘和交通管理——提出令人印象深刻的空中解决方案列表。已经拥有世界无人机制造业领导者稳固地位的中国,正在缓慢地崛起成为世界级创新者,而不仅仅是外国设计的复制者。
"People have been calling China 'copycats' for a long time. That's still true in a lot of industries, but when it comes to drones, China is no copycat," says Joe Tymczyszyn, a senior adviser and former executive director for the US-China Aviation Cooperation Program. Chinese firm SZ DJI Technology Co, the world's biggest consumer drone-maker, opened its first flagship retail store in Shenzhen this month. The company claims 70% of the commercial market worldwide and a larger portion of the consumer market.
美中航空合作计划前执行主任、资深顾问乔·特姆奇申说:"长期以来人们一直称中国是'模仿者'。这在许多行业仍然是事实,但就无人机而言,中国绝非仿冒者。"中国的深圳大疆创新科技公司是世界上最大的消费级无人机制造商,公司本月在深圳开办了其首家旗舰零售店。该公司占有全世界商用无人机市场的70%以及更高比例的消费级无人机市场份额。
Others are lining up to replicate SZ's success. Wuhan Airbird UAV Co Ltd designs and maintains drones for government, corporate and private users. But its traffic monitoring micro-drone — so small it can be launched from a car window — is proving a hit with the car-driving public. The privately-held manufacturer expects revenue to rise 50% this year to 18 million yuan, and employs about 45 engineers and mechanics.
其他企业正在排着队复制大疆的成功。武汉智能鸟无人机公司为政府、企业及私营部门用户设计和维护无人机。但该公司的微型交通监测无人机——小到可以从通过汽车车窗放飞——正在证明受到了汽车族的热烈追捧。这家私人持有的制造企业预计今年的营业收入将增长50%至1800万元人民币,公司雇用了大约45名工程师和机械师。
Research firm Taibo Intelligence forecasts Chinese drone industry revenue to more than double to 2.5 billion yuan this year and grow by as much as eight fold to 20 billion yuan by 2020. With revenues booming and participants rushing to stake out territory, regulators are trying to rein in the exuberance and set some ground-rules for the industry.
市场研究机构泰博情报公司称预测中国无人机行业的营收今年将增长1倍多,达到25亿元人民币,到2020年将增长多达7倍,达到200亿元人民币。随着营收不断增长和参与者跑步圈地,管理部门正在试图抑制这种狂热,并为行业制订某些规则。
Many of China's drone pioneers can be found at Beihang University, where students are encouraged to commercialise their research. The school has attracted the attention of Innovation Works, which invested 4 million yuan in a start-up helmed by a student, a 25-year-old satellite navigation major.
在北京航空航天大学可以找到中国的许多位无人机先驱者。该校的学生被鼓励把自己的研究商业化。北航已经吸引了前谷歌中国总裁李开复成立的风险资本公司创新工场的注意,该公司向北航一位25岁卫星导航专业学生的初创公司投资了400万美元。
Other investors include Intel Corp, which in August invested more than $60 million in Yuneec International, one of China's biggest electric drone makers.
其他投资者中包括英特尔公司。该公司8月份给中国最大的电动无人机厂商之一优力电能运动科技公司投资了6000多万美元。
"Twenty years ago we used bicycles to measure the size of big farm fields," says PICC chief of disaster research Guo Qing, "A drone can now do the job in five minutes."
中国人保财险公司灾害研究中心主任郭清说:"20年前我们曾用自行车来测量巨大农田的面积。现在一台无人机用5分钟就可以完成这样的工作。"