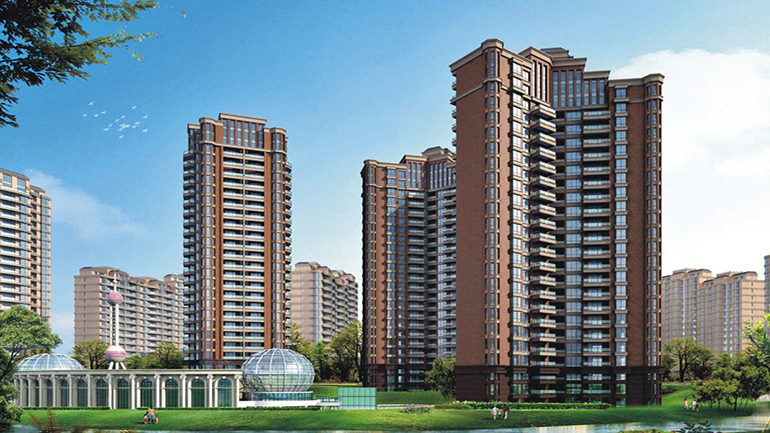 In the Chaoyang district of northeast Beijing, a nondescript wall covered in patriotic posters protects one of the city's most valuable treasures: a dirt field containing nothing but a few scattered trees.
在北京市朝阳区,一堵毫不起眼的围墙保护着该市最宝贵的财富之一:一块只有几棵树的空地。
In November, the block sold for 3.3 billion yuan ($A703 million), according to Beijing Municipal Bureau of Land and Resources data, meaning the cost to the developer of each apartment built will be above the price at which nearby homes currently change hands, once a commitment to build a quota of affordable housing is factored in.
北京市国土资源局数据显示,2015年11月,该地块以33亿元的价格成交。这意味着,如果将建设一定数量廉价房的承诺考虑在内,开发商建设一套住房的成本将超过附近二手房成交价格。
"The flour is more expensive than the bread," said Guo Yi, market director at Yahao, a real estate consulting agency in Beijing, using a Chinese proverb to describe how undeveloped land in some prime locations has become more expensive than second-hand apartments. "We see increasing risks."
北京亚豪房地产经纪有限公司的一位市场总监说:"面粉比面包还贵。我们认为风险正在上升。"
Such speculative pressure underlines a growing distortion in China's housing market.
这种投机压力凸显了中国房地产市场日益加剧的扭曲现象。
While property prices in much of China are still falling, a rebound is under way in the biggest cities, bringing with it the return of land speculation that could stoke another bubble and widening the economic gap between "tier 1" centres and the rest.
中国许多地区的房价仍在下降,但一些最大城市的房价已开始反弹,土地投机现象死灰复燃。这可能引发另一轮泡沫,并扩大一线城市和其他城市之间的经济差距。
Leading developers are buying new lots of land in major cities amid a backdrop of improved property sales and a loosening monetary environment.
目前,在商品房销售好转、货币环境宽松的背景下,各大开发商纷纷在大城市买地。
"Developers are making land grabs in big cities because everyone thinks first-tier cities are safe," said a senior official at a medium-sized listed property company in Beijing, who declined to be identified as he was not authorised to speak to the media. "We are worried about risks of overheating."
北京一家中型上市房地产公司一名不愿透露姓名的高级官员说:"开发商都在大城市抢地,因为大家都认为一线城市很安全。我们担心出现过热风险。"
On a nationwide basis, house prices posted their first annual rise in 14 months during October, a weighted average gain of 0.1 per cent. On a monthly basis, prices rose 0.2 per cent, official data showed.
官方数据显示,2015年10月,全国房价有所上升,为14个月来首次。
Even a modest recovery in a sector that accounts for 15 per cent of gross domestic product is a welcome boost for an economy heading for its weakest growth in 25 years.
在中国,房地产业在国内生产总值中所占比重高达15%。房地产业即便出现温和复苏也会颇受欢迎,因为这可以提振经济。目前,中国经济增速已降至25年来最低水平。
But the gains were largely concentrated in major cities, reflecting an increasingly unbalanced housing recovery.
但房价上涨主要集中在大城市,表明房地产市场复苏越来越不平衡。
Prices in Shenzhen rose 39.9 per cent in October from a year earlier, while the were up 10.9 per cent in Shanghai, and 6.5 per cent in Beijing. In monthly terms, prices rose in only 27 of 70 cities, however.
2015年10月,深圳房价同比上涨39.9%,上海和北京房价分别同比上涨10.9%和6.5%。在70个大中城市中,房价环比上涨的城市只有27个。
That has the effect of pushing up property prices in major cities, where demand is strong. But outside the top-tier cities, excess supply and a weaker economy are discouraging new construction and investment.
报道称,在一线城市以外的其他城市,由于供应过剩和经济走弱,新商品房开工和投资受到抑制。