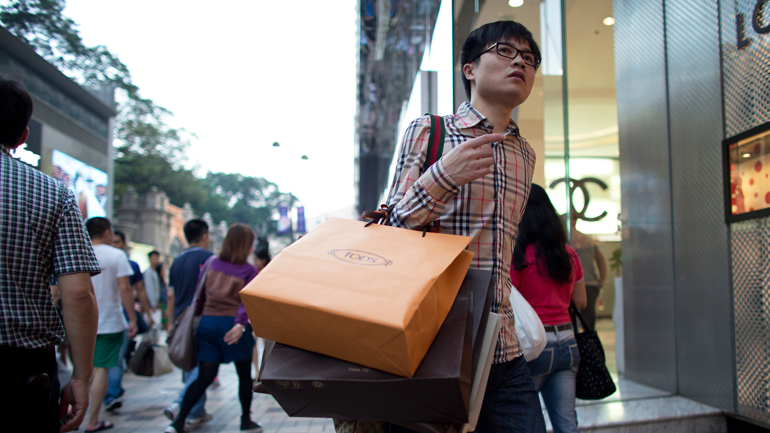 The dramatic rise of China's upper middle class and affluent families is expected to become a major driver for domestic consumption, which will grow fast despite the nation's sluggish economy.
中国中上阶层和富裕家庭的大幅增加,料将成为国内消费的一个主要动力。即便中国经济增速放缓,国内消费还会继续快速增长。
A report released by consulting firm BCG and AliResearch, the research arm of China's largest e-commerce company Alibaba Group, said the combined number of upper-middle class households, whose annual disposable income ranges from US$24,000 to US$46,000, and affluent households, with disposable income over US$46,000, would double to 100 million by 2020.
波士顿咨询公司和阿里研究院联合发布的一份报告指出,中国中上阶层家庭年可支配收入在2.4万美元到4.6万美元之间,而富裕家庭年可支配收入则超过4.6万美元,这两类家庭的数量到2020年将合共超过1亿。
By then, they will account for 30 per cent of urban households, up from 17 per cent today and only 7 per cent five years ago.
届时,这两类家庭将占全部城镇家庭的30%,目前,它们仅占17%,五年前,更只有7%。
"During the past few decades, China's consumer economy has been powered by the ascent of hundreds of millions of people from poverty to an emerging middle class," said Kuo Youchi, a principal with BCG Greater China who helped draft the report.
波士顿咨询公司大中华区的一名主管郭又绮参与了这份报告的撰写。她说:"在过去数十年间,中国的消费经济是由数亿人口,从贫困上升为新兴中产阶层的过程所驱动的。"
"But China is entering a new era. The real driver for the future will be upper-middle class and affluent shoppers."
"但中国正在进入一个新时代。未来真正的动力将是这些中上阶层和富裕消费者。"
The report projects that affluent and upper-middle class consumers will account for 55 per cent of China's urban consumption and 81 per cent of its incremental growth by 2020.
报告预计,到2020年,中国的中上阶层和富裕消费者将贡献中国55%的城镇消费,和81%的增量增长。
Compared to tier-one cities like Beijing, Shanghai and Guangzhou, smaller mainland cities would see faster growth in the number of well-off shoppers. Half of the upper middle class and affluent households to emerge during the coming five years were likely to be in fourth-tier or even smaller cities, it said.
报告称,与北上广这样的一线城市相比,较小的内陆城市的富裕消费者数量增长将更快。未来5年新出现的中上阶层和富裕家庭中,将有一半是在第四线甚至更小的城市。
China's economy has been undergoing a structural transformation while its gross domestic product growth has cooled in recent years. The government hopes domestic consumption willoffset the sluggish export and investment sectors. The report is bullish about China's consumption market, predicting it to grow 9 per cent annually to US$6.5 trillion by 2020, outpacing GDP growth which is expected to remain at around 6.5 per cent over the next five years.
最近几年,中国GDP增长放缓的同时,中国经济也正经历结构转型。政府希望,国内消费可以在经济中扮演更重要的角色,抵消疲弱的出口和投资所带来的负面影响。这份看法乐观的报告认为,到2020年,中国消费市场将以年均9%的速度增长,到6.5万亿美元的规模,其增速超过同期的GDP增长。未来5年,中国GDP年增速预计在6.5%左右。
In addition to an increase in wealthier consumers, another force to boost consumption is from the younger generation of shoppers who were born in 1980s and 1990s.
除了越来越多的富裕消费者,另一个推动消费的力量是来自80后和90后的年轻消费者。
A separate BCG survey found that 42 per cent of Chinese aged 18 to 25 disagreed with the statement, "I feel I have enough things and feel less need to buy new ones". That compared to 36 per cent in the US and European Union and 32 per cent in Japan.
不过,波士顿咨询所做的另一份调查显示,受访的18到25岁中国青年中,有42%的人不同意这个说法:"我觉得我有足够多的东西,而不太觉得需要买新的"。这个比例在美国的同类受访者中是36%,而在日本则是32%。
Meanwhile, e-commerce, as a more important retail channel in China, will also help stimulate demand and is expected to account for 42 per cent of growth in private consumption.
同时,中国重要的零售渠道电商平台也会刺激新的需求,预计将占私人消费增长的42%。