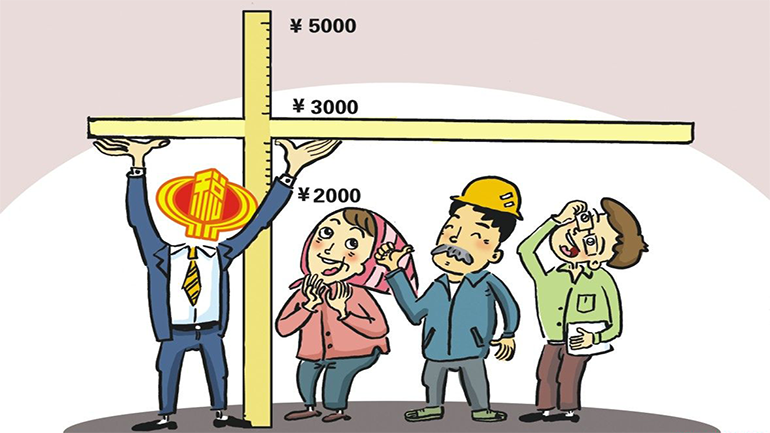 As the Chinese Ministry of Finance studies a proposed reform of personal income tax, an online poll has shown that 70 percent of respondents consider the tax burden "slightly high".
目前中国财政部正在研究个人所得税改革,而一项网上调查显示,70%的受访者认为税负"略高"。
The poll, featuring 1,911 participants and conducted by China Youth Daily last week, also revealed that 44.6 percent are satisfied with the current tax method while 16.9 percent are not.
上周,中国青年报对1911人进行的一项调查还显示,对于现行的个税征收方案,44.6%的受访者表示满意,16.9%不满意。
While 53.2 percent of the surveyed said the existing personal income tax does not take factors such as pricing levels and family needs into account, 43.1 percent cried out for fairness, 38.5 percent said the personal income tax threshold is too low and 16 percent that the taxation mechanism lags behind the actual situation.
同时,53.2%的受访者表示,现行的个税方案没有考虑物价、家庭需求等因素, 43.1%的受访者认为缺乏公平,38.5%的受访者认为个人所得税的起征点过低,16%的受访者认为征收制度滞后。
According to the newspaper, 50.6 percent of respondents are well aware of the details regarding their personal income tax payment, while 17.7 percent knew little. Nearly 80 percent expect tax reform, 68.7 percent that tax collection methods should be adjusted according to social and economic development realities and 57.3 percent a tax cut in order to lower the wage-earning burden.
据中国青年报报道, 50.6%的受访者对自己的个税缴纳情况比较了解,而17.7%的受访者则不太清楚。将近80%的受访者表示对新个税改革方案有所期待, 68.7%的受访者认为个税征收细则应根据社会和经济发展实际情况适时调整,57.3%的受访者希望减税以降低工薪阶层的负担。
Zhang Po, from Wuhan in Hubei Province, said he hopes the reform will take family needs such as costs for taking care of the elderly and kids into consideration in reducing his financial burden.
在湖北武汉工作的张坡说,他希望可以把赡养老人和抚养小孩的家庭因素考虑进去,有利于减轻家庭的经济负担。
Zheng Yin, an accountant from Xi'an in Shaanxi province, said it would be more reasonable to levy personal income tax based on the family income rather than individual.
在陕西西安从事会计工作的郑茵表示,按家庭计征比按个人征收相对来说更合理。
Liu Ying, a professor at the School of Finance and Taxation of the Capital University of Economics and Business, said family income-based tax would be difficult at the current stage as it is much more complicated than the existing method and tax authorities lack related information.
首都经济贸易大学财政税务学院税务系主任刘颖认为,当前很快以家庭为单位征收个税还存在很大的难度,因为它比现有的方法复杂得多,税务机关也把握不了相关的信息。
Shi Zhengwen, a professor of taxation at the China University of Political Science and Law, said raising the personal income tax threshold would not fix the problem but make the unfair situation even worse, for rich people would benefit far more from such an adjustment than normal wage-earners.
中国政法大学财税法研究中心主任施正文也表示,提高个税起征点丝毫不能解决问题,反而可能把现在的不公平变成更糟糕,因为富人会从此调整中受益更多,而非工薪阶层。
Please visit Chinlingo for Chinese learning.