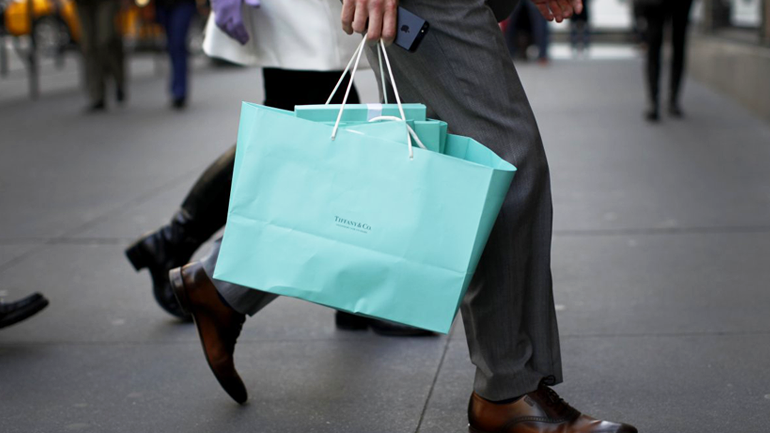 Sellers of Western luxury brands eager to capitalize on the new wealth of Chinese consumers are showering attention on mainland students in the United States, even as sales in China falter.
西方奢侈品商家渴望开发在美国的中国消费群体,对中国大陆留美学生展开大量营销攻势。目前奢侈品在华销售因中国经济放缓与反腐受到冲击。
The strategy is paying off for some, such as the Los Angeles Beverly Center mall, which sends buses to pick up Chinese families at the University of California at Los Angeles and the University of Southern California at the beginning of the year, when parents drop off their children, and at graduation.
对于一些商家来说,这种策略正在奏效,譬如洛杉矶的比弗利购物中心。年初父母送孩子上学时以及学生毕业之际,比弗利购物中心都会派出巴士前往加州大学洛杉矶分校和南加州大学接送中国留学生的家人。
"We aren't just dabbling here," said Susan Vance, the Beverly Center marketing and sponsorship director. The mall sponsors Chinese student groups with roughly 45,000 members in what she called one of its most successful marketing plans.
"我们这不是随便尝试,"比弗利中心市场营销和赞助负责人Susan Vance说道。这家购物中心为约有4.5万人的各种中国学生团体提供赞助,Vance称这是比弗利购物中心最成功的营销计划之一。
Chinese shoppers account for 31 percent of the $273 billion global personal luxury goods market, according to Bain and Co, and the United States is the biggest market outside of Asia.
据咨询公司贝恩,中国消费者对全球2730亿美元个人奢侈品市场的贡献约为31%,而美国是亚洲以外的最大市场。
As economic growth in China has slowed and as Beijing's anti-corruption drive cuts into sales of high-end goods there, makers of luxury brands are trying to tap this key Chinese customer base when they reach U.S. shores.
中国经济增长减速及国内反腐对在华高端商品销售构成冲击,奢侈品制造商正尝试开发这个重要的在美中国消费群体。
Students are snapping up Louis Vuitton and Gucci handbags, Tory Burch shoes, as well as fashions from Fendi, Alexander McQueen, Bottega Veneta and Yves Saint Laurent, among others, according to recent interviews with student shoppers in New York.
据最近在纽约对学生顾客的采访,中国留学生正在抢购路易威登和古驰的手袋,托里·伯奇的鞋子,以及芬迪、亚历山大·麦昆、宝缇嘉和伊夫·圣洛朗等品牌的商品。
It is not clear how much of overall luxury sales can be attributed to purchases by students, but some top brand makers clearly see the group as a financial force in its own right and as providing access to a much larger group of well-heeled shoppers – parents and family – making it an important new marketing channel.
尚不清楚有多少奢侈品销售额是中国留学生贡献的,但一些顶级的奢侈品制造商显然将该群体视为一股独立的购买力量,也欲通过该群体打入学生父母与家人这个更大的富裕消费群。因此,这成为一个重要的新营销渠道。
Some 29 percent of high net-worth parents in China who send their children abroad for primary school and college choose U.S. institutions, according to the Hurun Report.
据胡润报告,送孩子出国接受小学和大学教育的中国高净值父母中,有29%选择了美国院校。
California's tourism bureau found that a majority of visits from China corresponded with back-to-school and graduation and that friends and family visited them often. Australia's tourism agency found Chinese students in university are able to influence up to 14 trips from China during their years in school.
加州旅游局发现,中国游客进入加州的许多旅程安排与学生返校和毕业时间一致,朋友和家人也经常来看望中国留学生。澳大利亚的旅游局发现,中国留澳大学生就读期间每人能带动多达14次的中国赴澳旅程。
Chinese tourists and visitors have a long tradition of buying for friends and family to avoid taxes and fake goods. In Beijing, Fang Wen, whose daughter studies at Rice University in Houston, said she relies on her to bring back small goods, such as cosmetics, apparel and jewelry.
中国游客有为朋友与家人海外代购的传统,以此避税和免得买到假货。北京的文芳,她的的女儿在休斯敦的莱斯大学就读,她称自己要靠女儿往家带化妆品、服装和珠宝等小商品。
Companies selling top brands are recognizing that influence and reaching out to students.
顶级奢侈品商家认识到了这种影响力,并正开发中国留学生市场。
"Smart" U.S. brands have been and should be tapping this group, which comprises about one-third of all international students in the United States, Angelito Tan, chief executive of RTG Consulting in China, said in an email, adding that students are "unofficial opinion leaders" for friends and family back home.
RTG Consulting中国区首席执行官Angelito Tan通过电邮表示,"聪明的"美国品牌一直在开发这个消费群,也确实应该开发,并称留学生是国内朋友与家人的"非官方意见领袖"。中国留美学生占留美国际学生的约三分之一。
"This is a very hermitic group, which means it's hard to access, but once you do, you are inside and can do great marketing actions from within," added Anna Szubrycht, founder of luxury consulting group Chic Being.
"这是一个很隐蔽的群体,很难开发,但一旦打入这个市场,你入局了,就可以从内部进行很好的营销活动,"奢侈品咨询集团Chic Being创始人Anna Szubrycht说道。