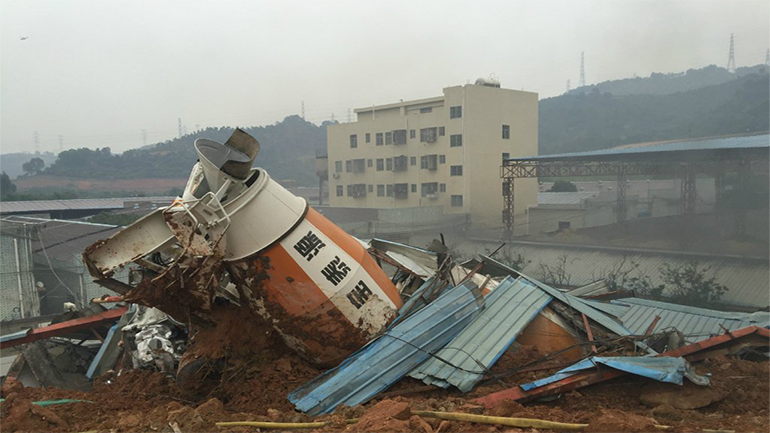 Hundreds of rescue workers are looking for survivors after a landslide hit 33 buildings in the southern Chinese city of Shenzhen.
中国南部城市——深圳,33栋建筑被一场山体滑坡掩埋或损毁,数百救援人员正在搜救。
Seven people were pulled from the rubble with minor injuries but 91 people are still missing, according to state television.
据悉,7人已获救,带轻伤,但仍有91人失联。

Authorities said 900 people were evacuated from the industrial park before the landslide struck on Sunday.
The city is one of China's biggest and is a major industrial centre.
中国当局称,在星期天发生山体滑坡之前,已经有900人被疏散,撤离工业园。
Xinhua news agency said an area of 60,000 sq m (71,760 square yards) has been covered with up to 6m (20ft) of mud. The landslide also caused an explosion at a nearby petrol station.
新华网称,事故面积达6万平方米,泥土高达6米。山体滑坡还引发附近一加油站爆炸。

Local media reported that the landslide happened when huge mound of construction waste collapsed.
当体媒体报道,这场滑坡是由建筑余泥受纳场崩塌引发的。
Comments:
Charles Edwards:
China really needs to establish and enforce land use regulations. This kind of event — the collapse of an artificial hill created out of construction spoil — is shameful.
中国的确需要建立、执行土地使用法。这种因建筑余泥引发的人工山体倒塌的事件真的太可耻了。
ROBERT LANIER:
This is much simpler than how a plant makes a flower. Pile up dirt above junk construction.
Gravity.
这比植物开花简单多了!把建筑余泥堆起来,然后,重力作用下轰然倒塌!
William Byers:
I've been to China for business about 40 times over the last 15 years. I often wondered what would happen if the buildings were structurally challenged. Now I know!
在过去15年间,我去过中国出差约40次了。我经常在想,如果那些建筑在结构上遭到挑战会发生什么。现在我明白了!