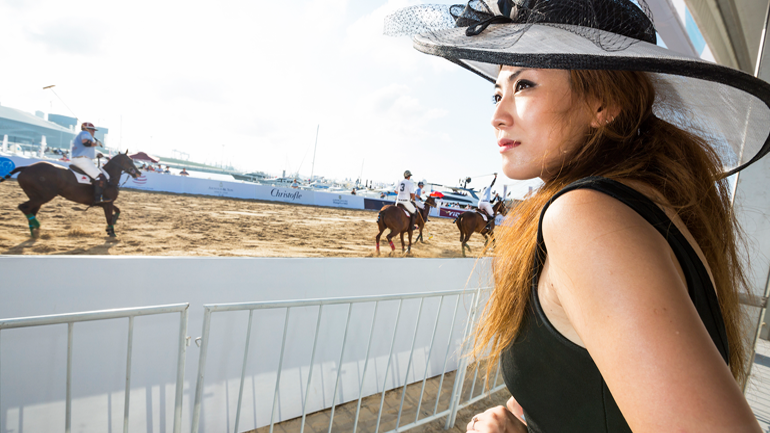 In an indoor riding ring built atop a defunct driving range, twelve children trot ponies in tight circles, responding to the terse commands of instructors. The ponies have all been flown in from France. So too have some of the instructors. The rest have been trained there.
在一家室内马术场,12个孩子骑着小马按照教练的口令动作。位于北京东南五环的这家马场是北京专教儿童骑术的地方。这些小马都从法国进口,一些教练也来自那里,另一些在那里培训过。
Even at the price of nearly $100 for a 45-minute private lesson, iPony's indoor arena is solidly booked on a chilly December Saturday, as parents eager to initiate their children in the ways of a global aristocracy line up for lessons. Learning the ways of a cosmopolitan elite is seen as good not only for status but also for business or, as in the case of Daiyu's son, for admission to foreign schools.
即便每45分钟私课要100美元,这家马场在寒冷的冬季周末依然预订率颇高,急于让孩子掌握全球贵族范儿的中国父母们排着队预约课程。对他们而言,学习全球精英的做派不但是身份象征,也有益于做生意或以后进入国外学校。
For years now, China's wealthy have been exploring the subtler side of Western status, paying a premium to complement their taste for chauffeured Bentleys, Hermes handbags and world travel with the manners and the esoteric cultural knowledge to match. As China establishes itself as a financial superpower, it has increasingly exerted its own force on the definition of global etiquette, with elites picking and choosing from a grab bag of norms; some all but excavated from Europe's aristocratic past, some from the playbooks of modern-day Emily Posts and, increasingly, casting their eyes closer to home, plumbing classic Daoist, Confucian texts for clues.
近些年来,中国富人一直在探索西方人身份象征的微妙之处,大把花钱学习礼仪和深奥的文化知识,使之与他们对名车、名牌包和周游世界的品位相匹配。随着中国成为经济强国,它也在定义国际礼仪上开始施展自己的力量。精英们从各色礼仪礼节中精挑细选,一些来自西方昔日的贵族,一些来自艾米丽·波斯特的现代"礼仪圣经",他们还将目光日益投向国内,从道家、儒家中寻找线索。
"I have seen the Chinese elite learning so quickly," says Sara Jane Ho of the Institute Sarita. In the past, most of her clients had never heard of the New England boarding school that Ho attended. "They have become more exposed, so much more well traveled, so much better informed."
瑞雅礼仪培训中心的萨拉·霍说,"中国精英们学习速度特别快"。以前,顾客大都没听说过她上的一所新英格兰寄宿学校,"如今中国精英耳濡目染、交际甚广,懂的东西多多了"。
European aristocrats down on their luck have discovered that Chinese customers will pay handsomely for courses in old world etiquette and a taste of the aristocratic life. Belgium's Atlas International Culture offers Chinese travelers the chance to clink glasses with royalty in grand residences and castles.
没落的欧洲贵族们也发现,为了学习古老的世界礼仪、培养贵族生活品位,如今中国顾客愿意花上一大笔钱。比利时一家机构就给中国游客提供在豪华城堡与王室碰杯的机会。