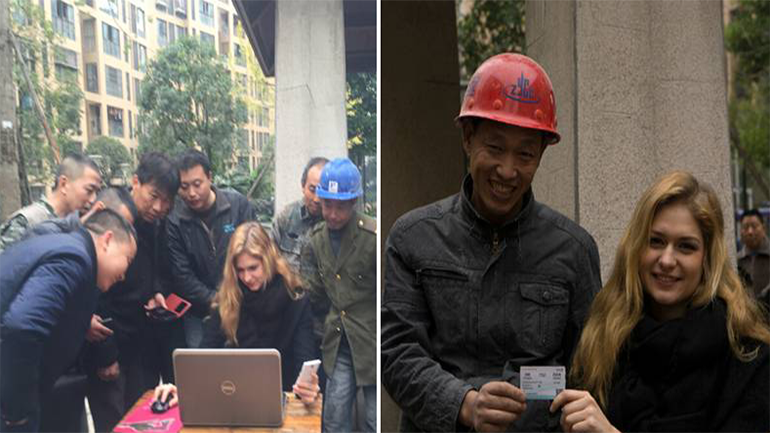 A beautiful Ukrainian girl living in southwest China's Chengdu city became a hit recently on China's social media. She helped some local migrant workers buy train tickets home for the Spring Festival online. Netizens called her "the most beautiful foreigner in Chengdu."
生活在中国西南成都市的一名美丽的乌克兰女孩最近在中国社交媒体上火了一把。她帮助一些当地农民工网购春节回家火车票。网友称她为"成都最美外国女孩。"
The girl accidentally got to know that the migrant workers who worked at a construction site had not spent the Chinese New Year without their families for years, because they failed to get train tickets home. She decided to help them. After learning how to buy the tickets via internet, she successfully helped a migrant worker buy the train ticket. Knowing the news, other workers also came to her for help. Till now, she has helped more than 50 migrant workers get train tickets home.
女孩意外获知,建筑工地的农民工工作已经长达很多年没有和家人一起过新年了, 因为他们买不到回家的火车票。她决定去帮助他们。学习到如何通过互联网购票之后,她成功帮助一名农民工买到火车票。获知该消息后,其他工人也来找她帮忙。到目前为止,她已经帮助50多名工人买到了回家的火车票。
The girl speaks fluent Chinese with a little Sichuan dialect. She has lived in Chengdu for five years. She likes to chat and play mahjong with the people in her community. With approachable character and lovely appearance, she is appreciated by the people around her.
女孩说一口流利的带点四川味的汉语。她住在成都已有五年。她喜欢与社区的人们聊天和玩麻将。她平易近人,外表可爱,深受周围人们的喜爱。
China Railway has recently published the pre-sales timetable for train tickets for this year's Spring Festival Travel Rush, also known as Chunyun in Chinese. People can book train tickets for Jan. 24, 2016 via internet or telephone calls. This year's Spring Festival travel rush lasts 40 days, from Jan. 24 to March 3, 2016. In 2014, 295 million people traveled by train during the Spring Festival holiday rush, according to the Ministry of Transport.
中铁最近已经发布了今年春节旅行高峰期的火车票售前时间表,汉语称为春运。人们可以通过互联网和电话订购2016年1月24日起的火车票。今年春运持续40天,从2016年1月24日到3月3日。根据交通局统计,2014年,在春节高峰期间乘火车旅行的人数达到2.95亿。