Strictly speaking, for foodies Shanghai can do no wrong. Sure – local Shanghai cuisine isn't one of the eight staples of Chinese cuisine – but this city offers so much than that. From smokey street food vendors selling, which to be fair, is some of the tastiest foods in the city, through to Michelin-starred fine dining experiences at the Bund and between those, restaurants and vendors selling everything from Shadong and Sichuan cuisine through to international favourites such as Sushi and Mexican Fajitas. You can quite literally get it all.
However, we think that anyone visiting Shanghai should do their all to try some of the staples of a Shanghainese diet – so here we present you with the very best foods to try whilst in Shanghai.

Soup Dumpling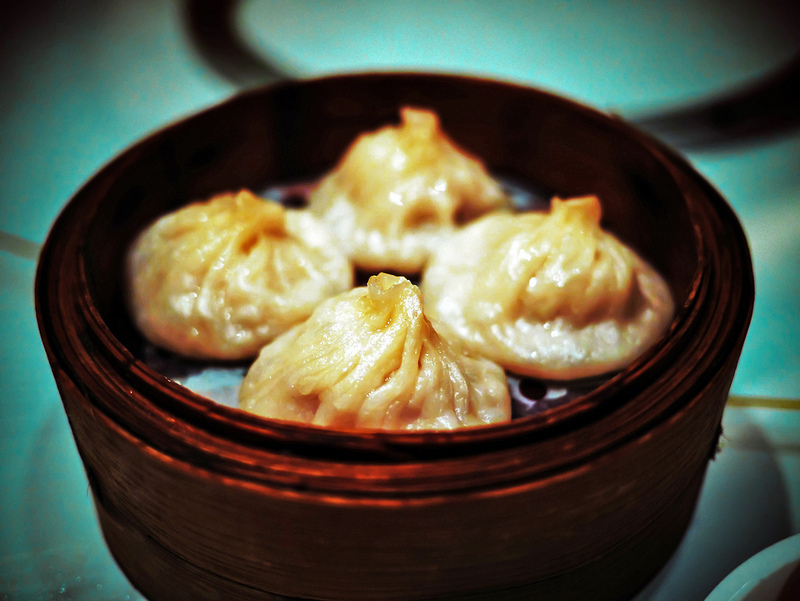 These gorgeous and incredibly moreish little dumplings are a specialty of the Jiangan region and can be found on almost every street in Shanghai. The dumplings, which are steamed in bamboo baskets, conceal a soup within their delicately wrapped exteriors, which when bitten into, releases a fountain of flavour into your mouth. Novices beware though – you must puncture the dumpling wrapper to let out the steam and cool before either devouring in one bite or slurping the soup from the dumpling.
Braised Aubergine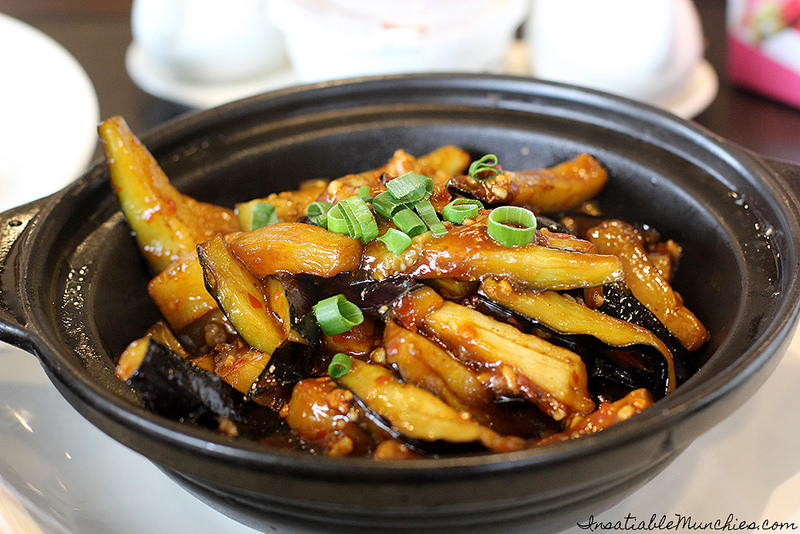 There's plenty of eggplant on the streets of Shanghai but we prefer the braised version which is stewed in wine, soy sauce, garlic, chillies and sometimes a meat such as pork. It's a popular item on menus throughout the city so you won't have a problem finding it – though when you take that first bite and a mixture of salty, savoury and sweet flavours rush your mouth – you'll already be thinking of where to get your next fix.
Jianbing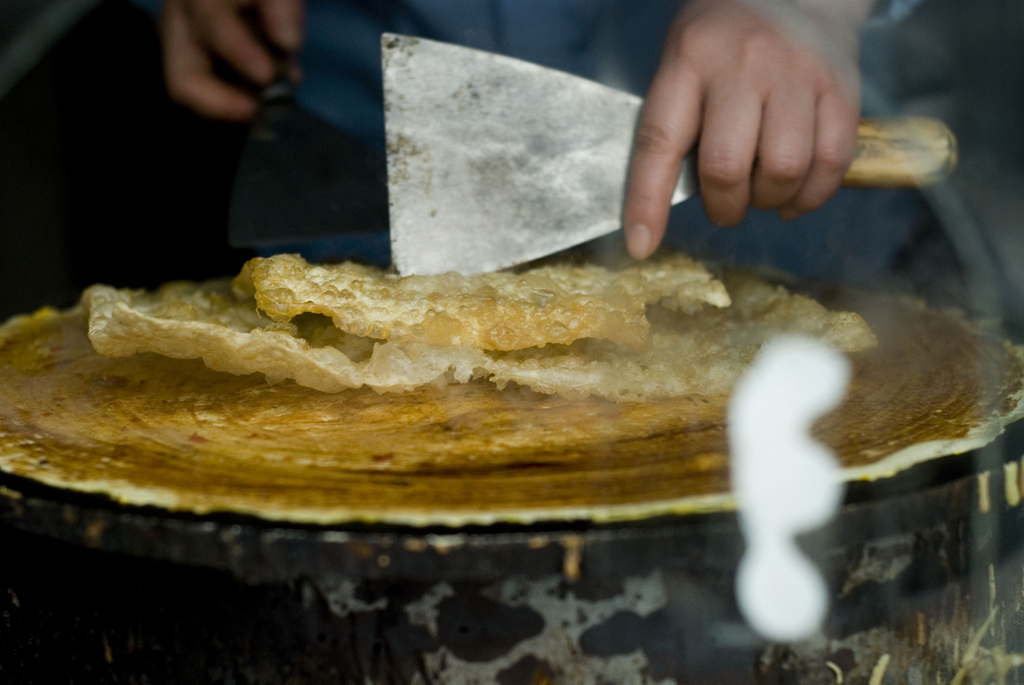 It's fair to say that Beijing is probably the best place for a perfect Jianbing in the morning, but Shanghai has it's fair share of good ones too. Imagine a fried crepe made from a batter of wheat and served with egg, scallions, thick soy sauce and coriander. It comes in all shapes and sizes – thick and chewy, thin and crispy and is folded several times before serving.
Roast Duck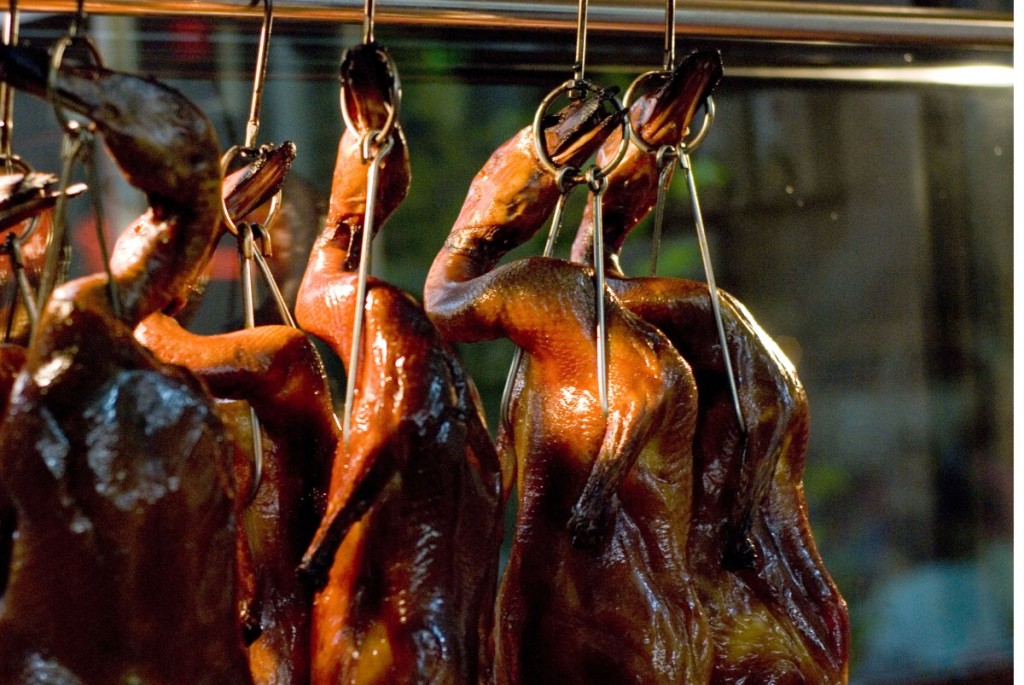 After selecting your honey-glazed duck from those hanging, the butcher will chop at it relentlessly until the bones are free of the meat which you'll receive in a simple foam container. Strictly speaking you'd buy a roast duck like this and take it home to add to a soup or on top of rice or noodles but we love it just as much by itself, right out of the container!
Shanghai Pork Moon Cakes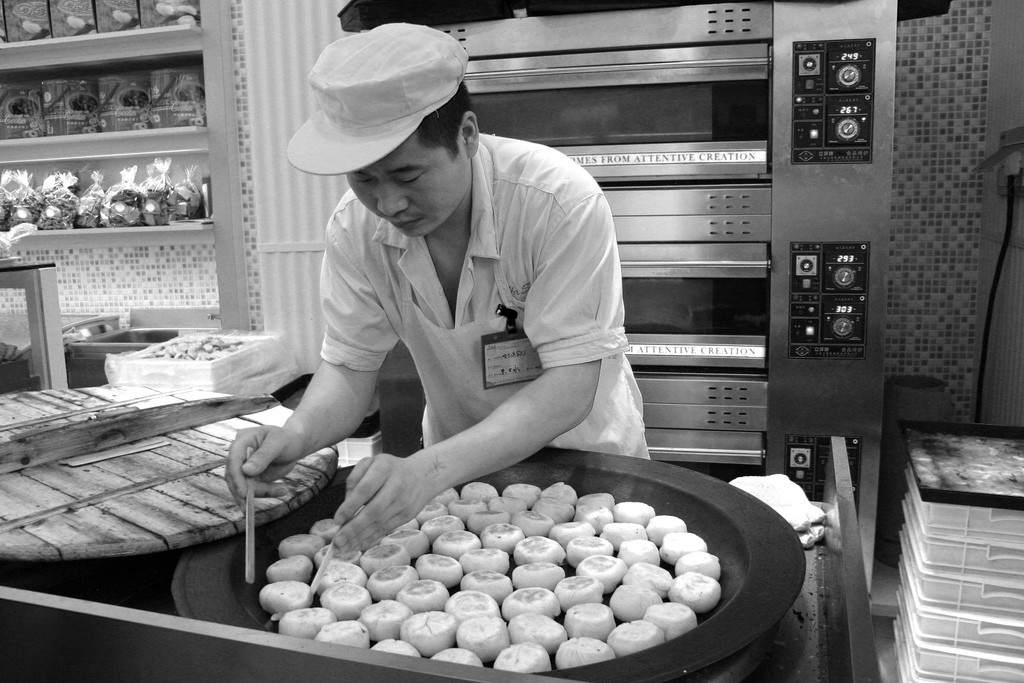 This Shanghainese delicacy is simple – spiced pork wrapped in a delicate and surprisingly light pastry – absolutely delicious! There are several variants on the moon cake theme – most common is the cantonese version which is slightly more oily and quite sweet. Moon cakes are traditionally served up during the mid-Autumn festival but we love them all year round.
Late Night Noodles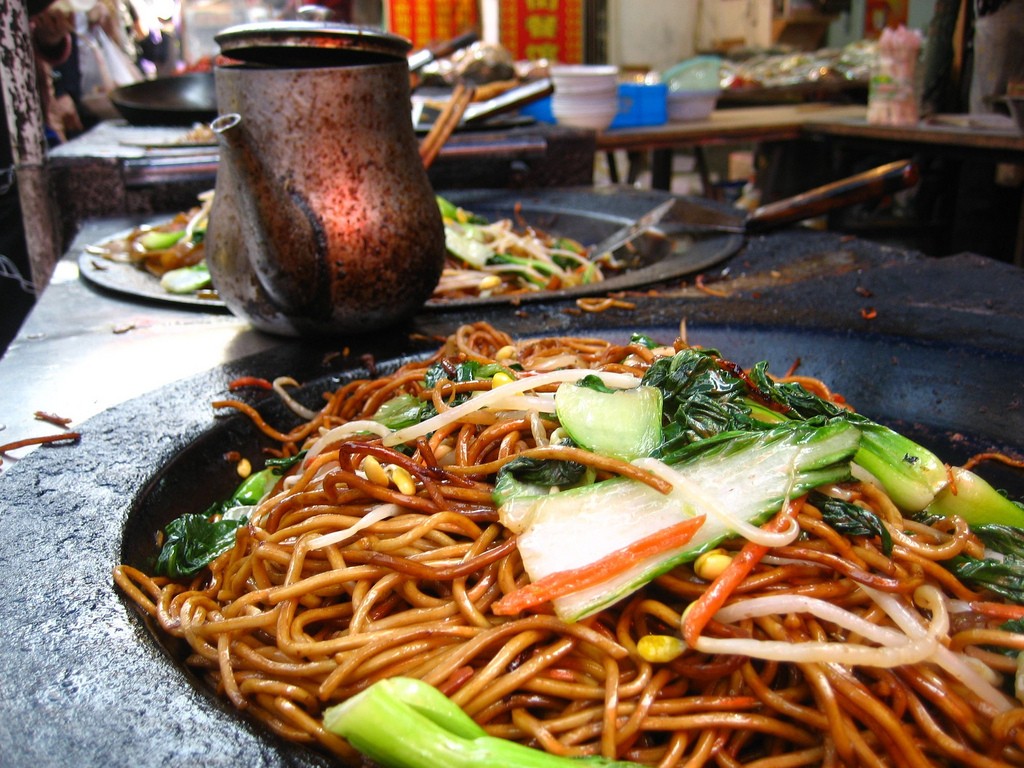 Whether you like them thick and soft or thin and crispy – Shanghai's street noodles are a force to be reckoned with. To enjoy them in the proper manner we suggest you hunt for a noodle cart after a particularly good night out – order with greens, pork, eggs – whatever you like – then devour.
Mapo Doufu (麻婆豆腐)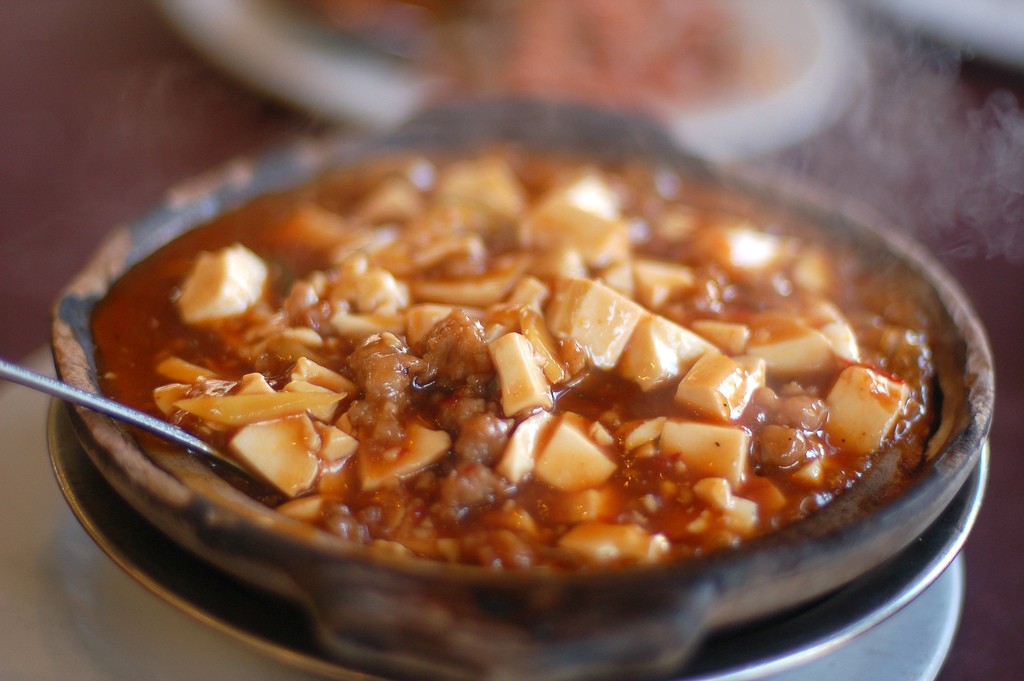 Strictly speaking, Mapo Doufu is a Sichuan dish, but Shanghai has made it its own. The dish is deeply red in colour and very spicy in taste and can be found in most restaurants in Shanghai. It's a decadently tasty dish that comes with lashings of huajiao – so make sure to eat it with a bowl of rice or a cold Tsingtao to ward off the heat.
Grilled Oysters
Shanghai loves seafood so much that every vendor on Shouning Lu offers its own take on grilled oyster: oysters with chilli oil and garlic, French-style oysters in a questionable 'cheese' sauce, oysters with black bean sauce, and almost every other variation imaginable. These vendors stay open 24 hours a day so you should have time to try them all and pick a favourite.
Scallion pancakes (葱油饼)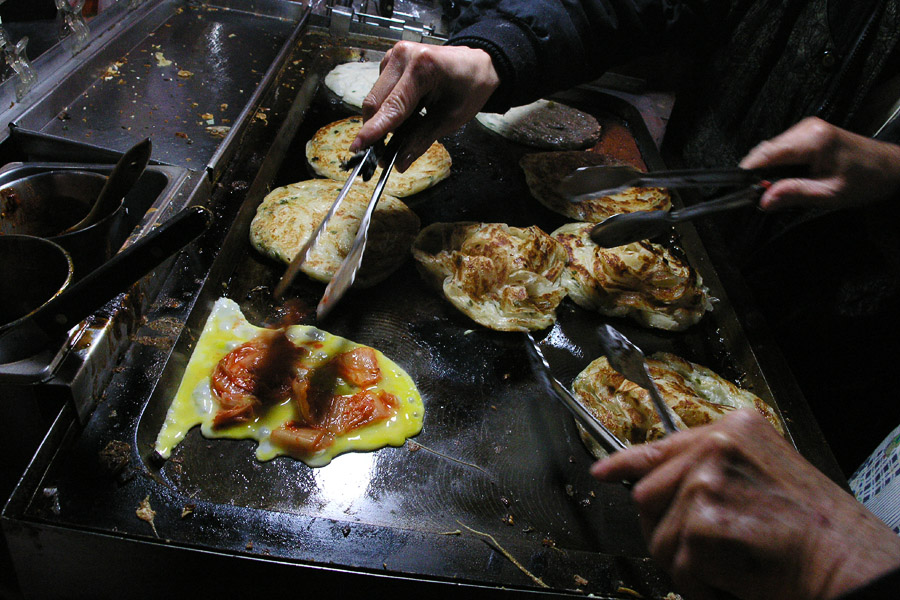 Congyoubing are savoury golden flatbreads that are stuffed with pork and scallions, then pan-fried in oil and eaten for breakfast. These are eaten by almost everybody and it's not uncommon to see people queuing for unto an hour to get their hands on the city's finest.
Hunan Spicy Ribs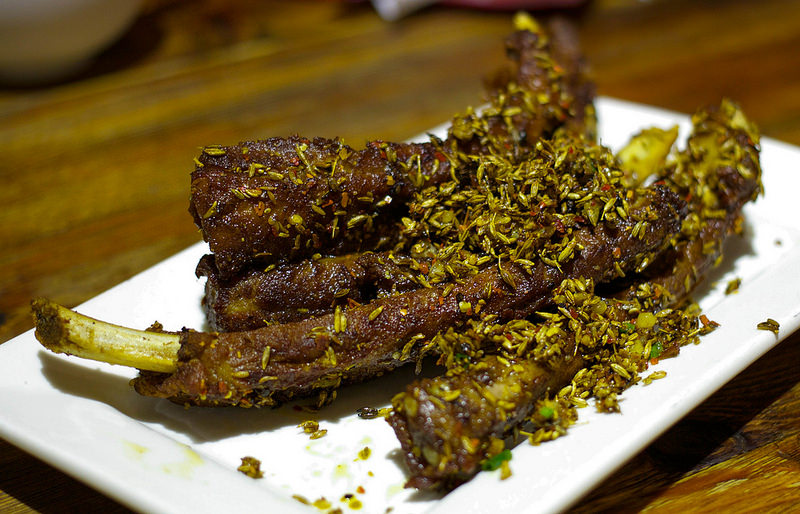 These ribs are generally braised in a sweet soy sauce until the meat is ready to slip from the bones – making them incredibly moreish and an absolute pleasure to eat. You can get them all over China – but the very best ribs are right here in Shanghai in the Di Shui Dong restaurant.
Of course, there are so many great dishes to try (wontons, drunken chicken dishes, hairy crab …) – but these are our favourite foods in Shanghai – the ones that we think serve as a good place to start for anyone travelling to Shanghai for the first time. If you feel we've missed something or simply want to share your favourite foods in Shanghai with us then let us know in the comments!