As we drove in comfort sheltered from the crisp air, I looked out the window to a wondrous sight. Layers of dark limestone peaks towered over the misty countryside creating the quintessential image of a mystical China.
I knew that there were Karst formations in Yangshuo; I just didn't expect to see them so soon. I also didn't expect them to be so great in size.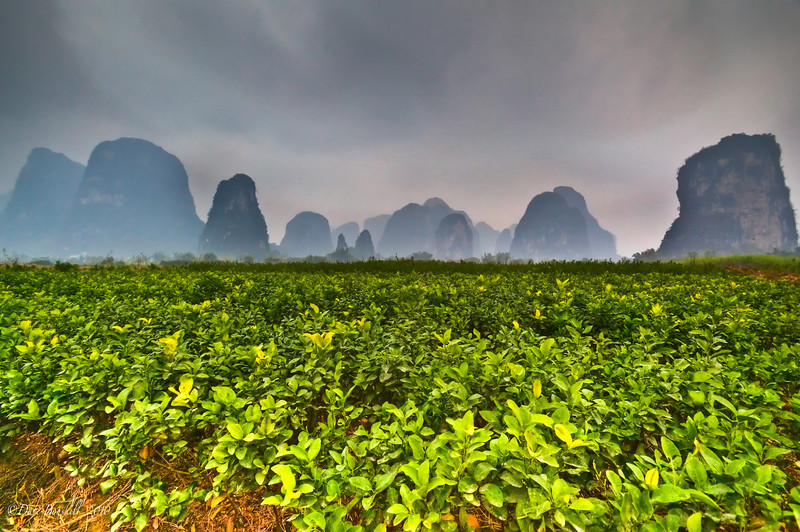 The streets were quiet in this small town by Chinese standards. Yangshuo has a population of only 30,000 people, but it is a favourite stop for most travelers to the Far East. The first place open to tourism in China, Yangshuo has made its mark as a very travel friendly destination.
Filled with stores selling copy outdoor gear, restaurants, coffee shops and Internet cafés, Yangshuo is the perfect base to explore the countryside and ease your way into travel in China. People speak English here and menus are written in both English and Mandarin. Backpackers roam the streets and hard-core climbers sit in one of the many climbing hangouts discussing their latest route that they finally conquered.
It feels like a quieter and smaller Kathmandu.
When you come to Yangshuo you come for the scenery and there is no better way to witness it than from the vantage point of a bicycle.
A bike hire costs a mere 10-Yuan explore on your own, but if you are willing to splurge a little for a private guide, you will weave your way through the rural countryside and enjoy an unforgettable experience.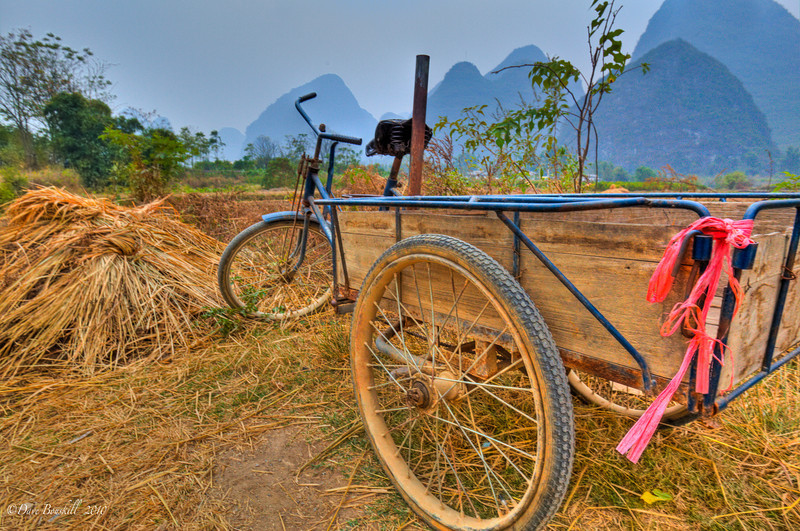 We met our guide Tang Gui Yang at 1:00 sharp. After fitting us with our mountain bikes and giving our gears a little tweak, we set off in our group of 7 to explore the great Kharst formations of central China.
Yang led the way steering us safely through town and once we hit the side roads, we were free to ride side by side chatting about how much we were enjoying ourselves and taking in the superb views.
Yang is a soft-spoken man that has been guiding tours in Yangshuo for over 10 years. Coming from a family of farmers, he spends his time showing tourists the sites during the high season but goes home to help with the rice harvest twice a year in Spring and Fall.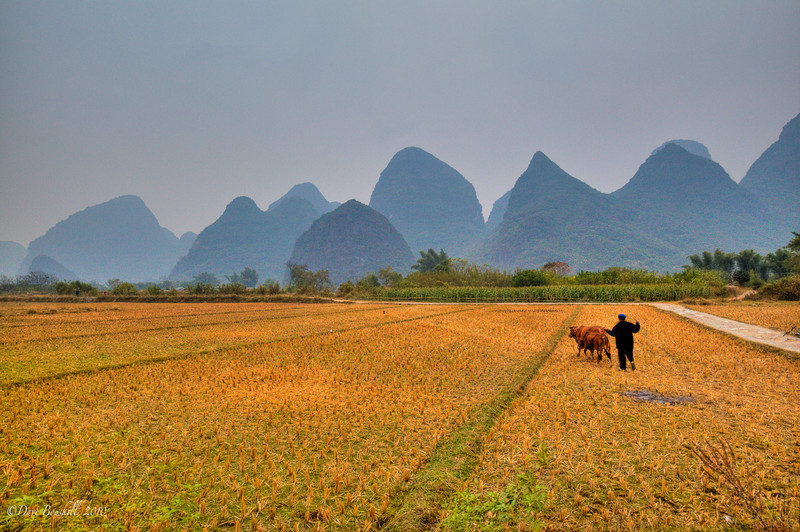 He knew precisely how long it would take us to get to each destination. "400 metres of bumpy roads ahead," he said. "Only 20 minutes to our next stop," "In 100 metres we will have a photo opportunity." "6-minutes until we are back in Yangshuo." Every statement was accurate.
We peddled through the rice fields, along the river and through different villages for 4 hours. Roads varied from busy traffic field city streets to rocky single lane trails. It was and excellent ride. As we ventured further into the countryside the mountains became more dense and striking. Slumbering giants with names like Camel Mountain, Dragon and Man Mountain surrounded us. With every turn we were treated to even more incredible views.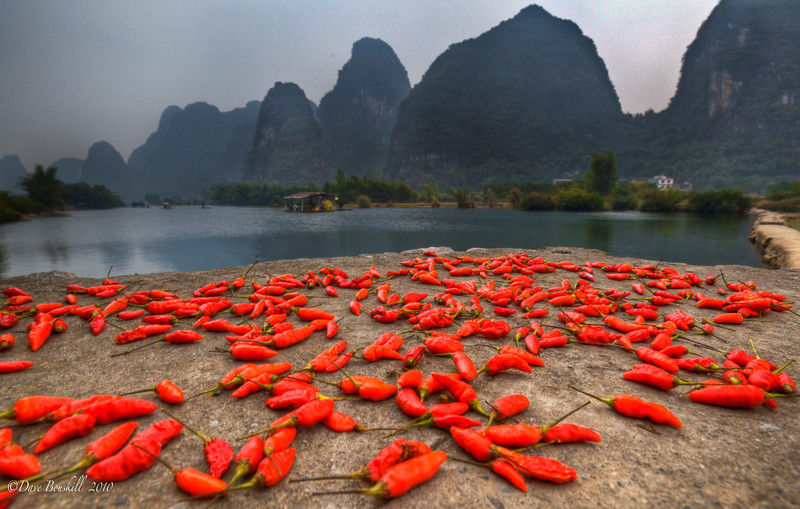 We stopped at a river to watch the bamboo rafts filled with Chinese tourists struggle over the dam. The water was low and the pilot, who steered only with a long pole, had his hands full trying to maneuver over the concrete lip. The Chinese tourists were definitely enjoying it though and they loved seeing us standing on the river banks as they floated by.
We cycled on and arrived at the star attraction of the day. Moon Hill is famous in these parts. It is a giant karst with a hole in its centre resembling a half moon. It is fascinating to imagine how it was formed over the centuries. You can climb up Moon Hill's 1200 steps, but we were running out of time and instead soaked in the view as we sipped hot ginger tea. The sun was soon to set and we still had an hour of cycling ahead.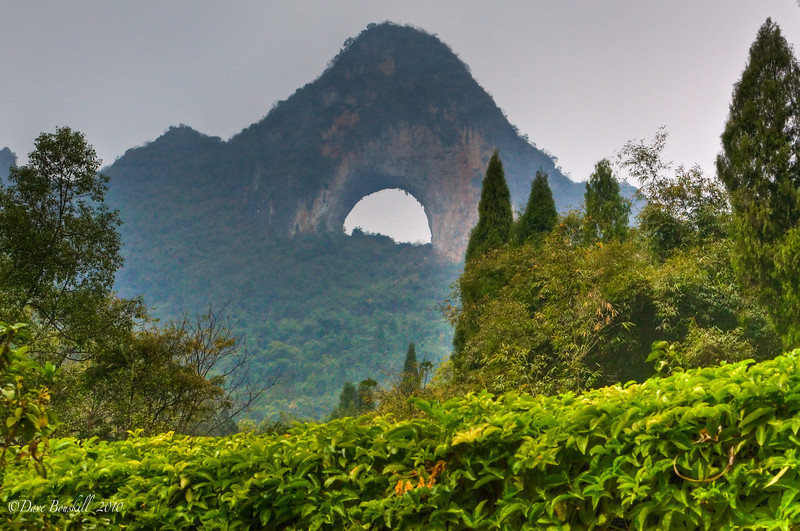 It was 5:30 when we made it back and the rain had started to come down. It was rush hour and we joined the parade of cars, motorbikes and fellow cyclists making their way home.
With a quick goodbye to Yang, our cycling day trip was over. He had to catch a bus home and after all the business was done he said "I think I'll go home now" and that was the last that we saw of our mild mannered and sweet Tang Gui Yang.
Gone but not forgotten, we will always remember our day of cycling through China's magical land of Yangshuo.